Treadle to the Metal
Apologia
Hello fellow weavers. Needless to say I have been a negligent blogger.  I used to tell my kids that apologizing for doing something without the intention of changing one's behavior is not really an apology. So starting every belated blog post with an apology seems somehow creepy.  I have a choice: stop being a negligent blogger or stop apologizing  . . . but it makes me realize what may have been going on with my kids . . . meaning I intend to be a responsible blogger every time I apologize, but then find myself caught up in the whirlwind, and 3 months pass.  So, I intend to be a better blogger, I apologize, and I sort of recognize that the next post could be in a couple weeks or maybe a couple of months.  I hope you bear with me . . .
I have been doing some weaverly stuff. I was hugely privileged to teach at CNCH (Conference of Northern Californian Handweavers).  The setting was Asilomar, the scenery was awe-inspiring, and the weavers were talented, enthusiastic, smart and funny. A true joy. I had Lillian Whipple in my class, and I can't describe the weird mix of excitement and terror there is in sending a warp and weaving instructions to one of your weaving idols.  Lillian turned out to be absolutely wonderful, humble, charming and lovely in every way (now even higher up on my idol roster).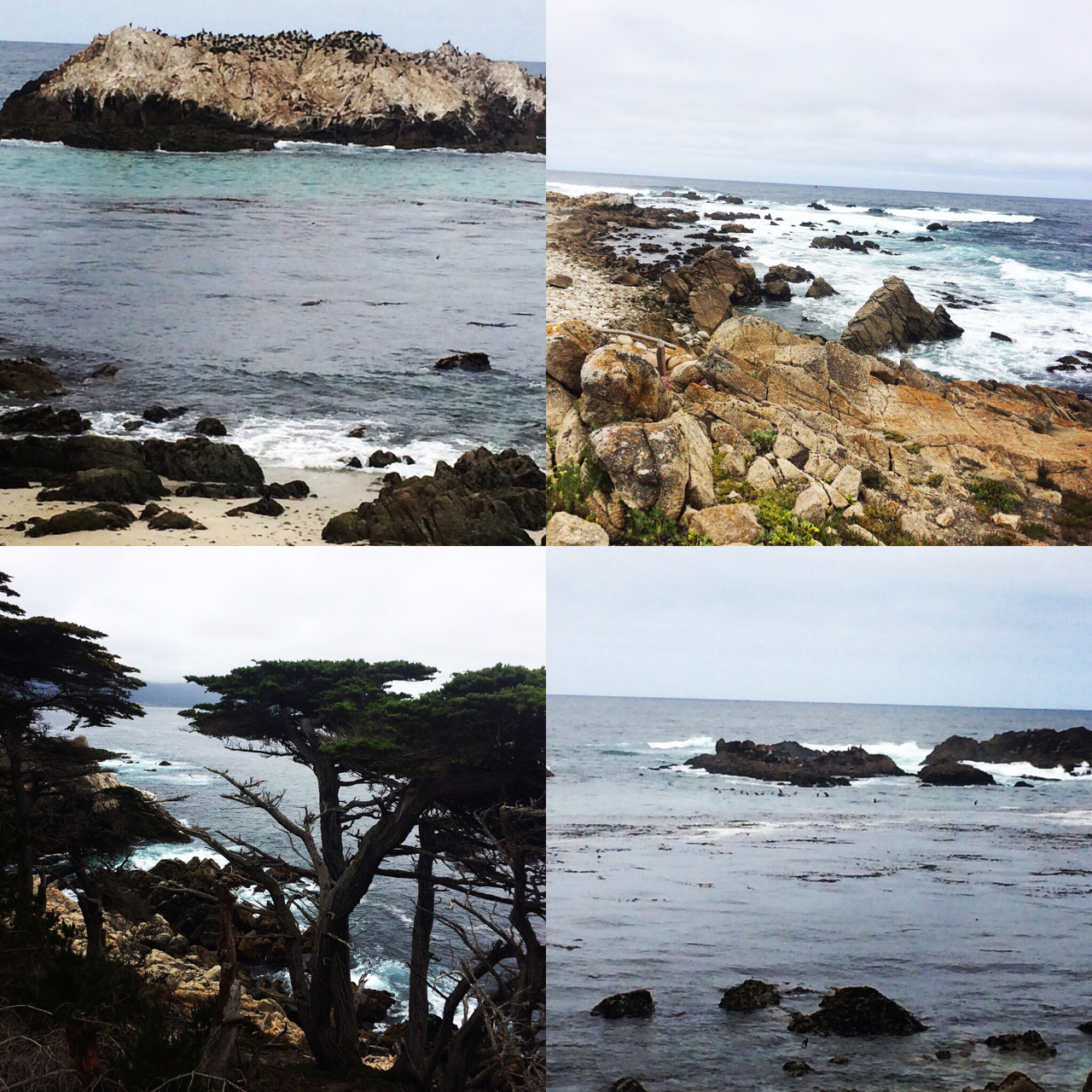 After CNCH, I had to dash home to prepare for upcoming classes at Vavstuga, JC Campbell and Triangle Weavers in Chapel Hill.  But I did have time for a quick jaunt to NYC to see my best friend's daughter KILL it as Becky Sharp in Vanity Fair, and my son's partner's paintings in the Whitney Biennial.
Kaileela Hobby before her performance modeling one of my cowls.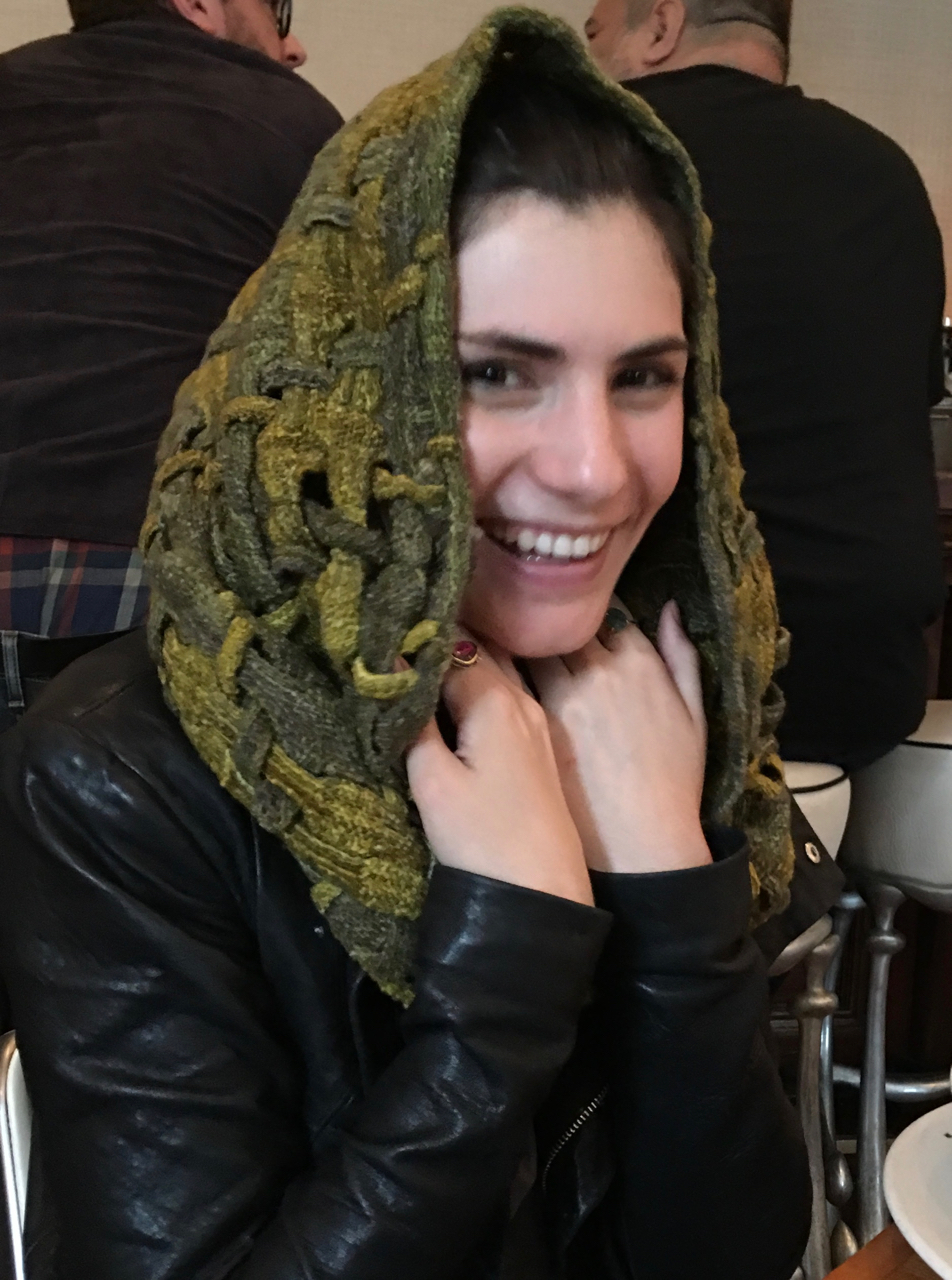 Two paintings by Julien Nguyen at the Whitney Biennial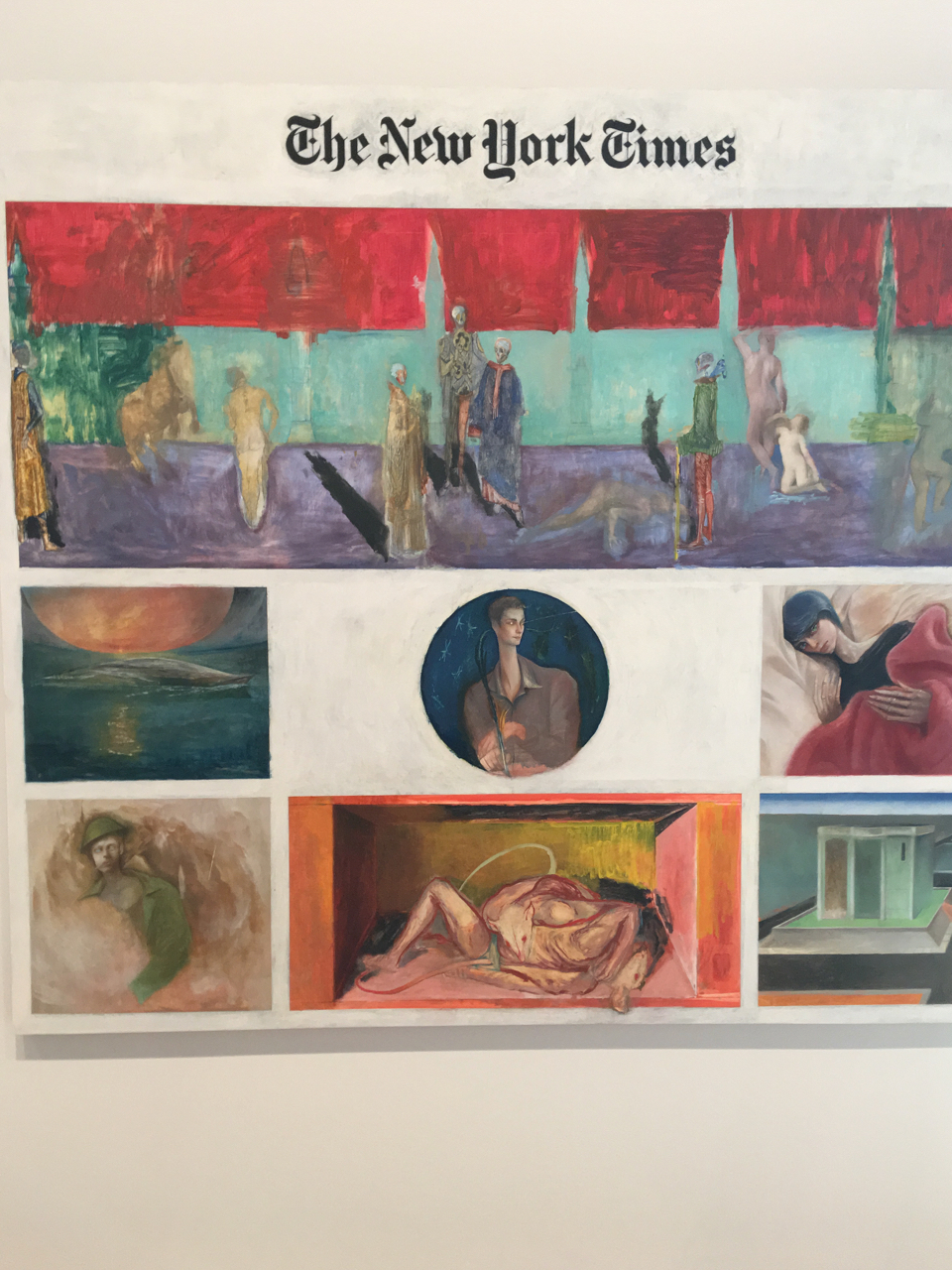 I then joined Becky at Vavstuga for our super-fun Kitchens class.  The new design of the class allows all the participants to choose colors for the warps they want to weave.  They then weave at a variety of widths to produce apron fabric, towels, runners, placemats, etc.  The products are gorgeous and the participants are gorgeous too!!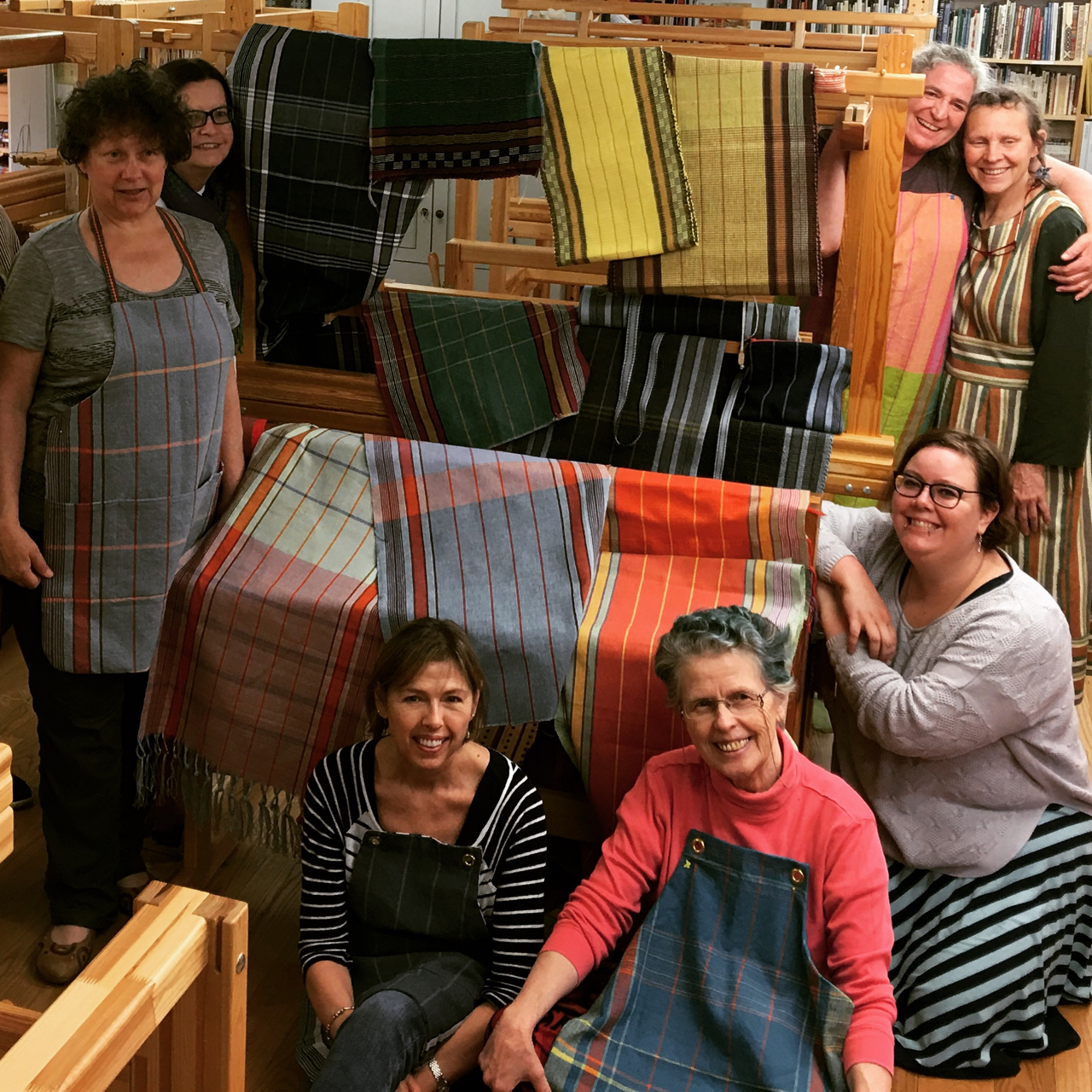 After Kitchens, I got ready for a trip south to teach at the Triangle Weavers Guild. We wove in what I called the "weaving cathedral". Oddly, when I posted this pic on Instagram my mom commented, "it looks like a weaving cathedral!"  I guess it's an apple/tree situation.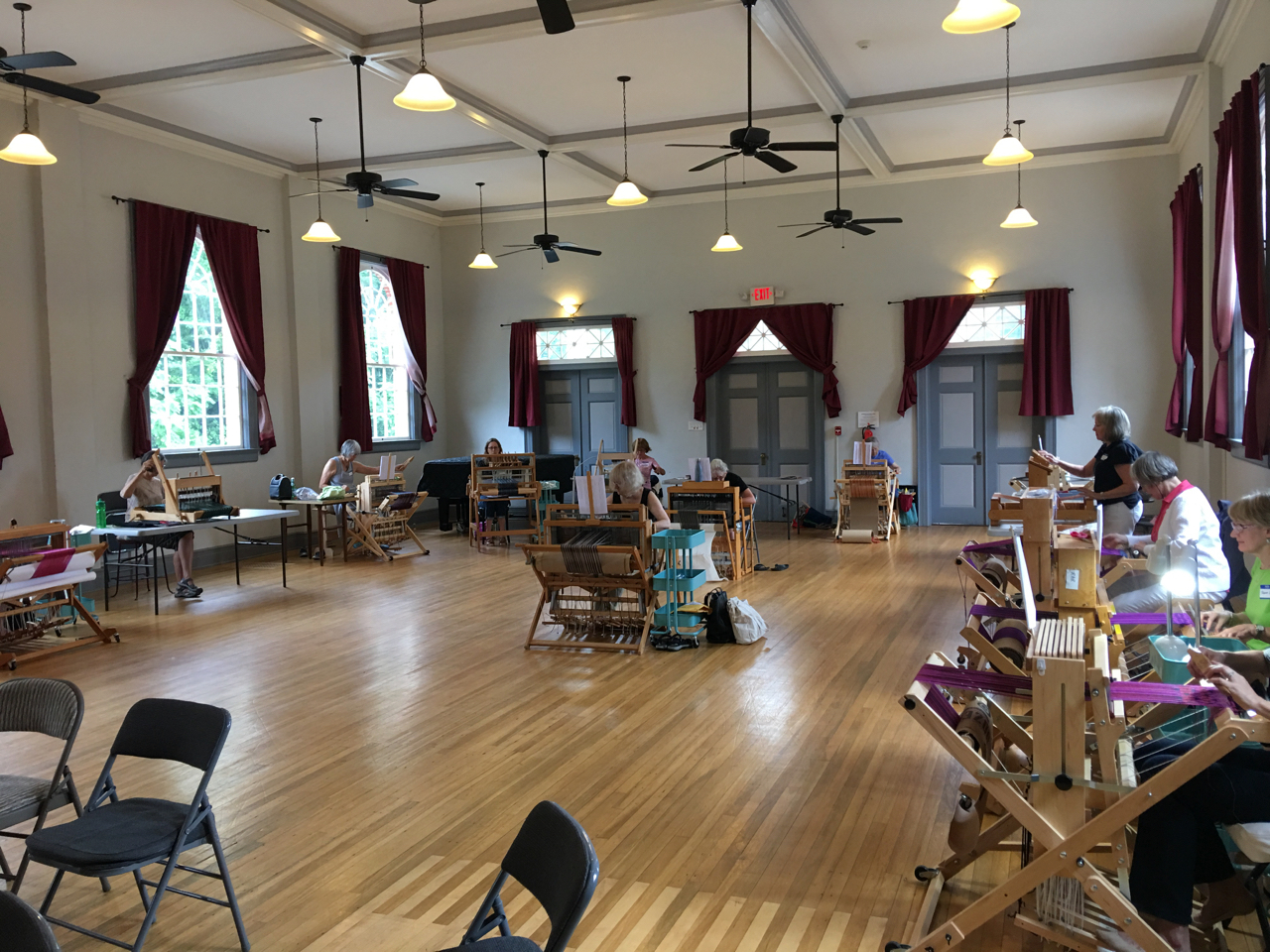 And I got to stay in the area for a few days thanks to a lovely weaver Alecia Willis who opened her home (filled with looms and fiber, so I was really at home) to me for a couple of days before I headed to Brasstown and John C Campbell.
My weaving buddy Mary Lou Splain joined me in Raleigh and we drove into the beautiful Blue Ridge Mountains to arrive in Brasstown for a week at John C Campbell. I have written about the Folk School before, but this visit confirmed my previous perceptions – it is a magical place, – the vibe is relaxed, supportive and creative, the weaving studio is absolutely fabulous and the weavers are a wonderful blend of hard-working, creative, good-humored and companionable.  A really good experience all around.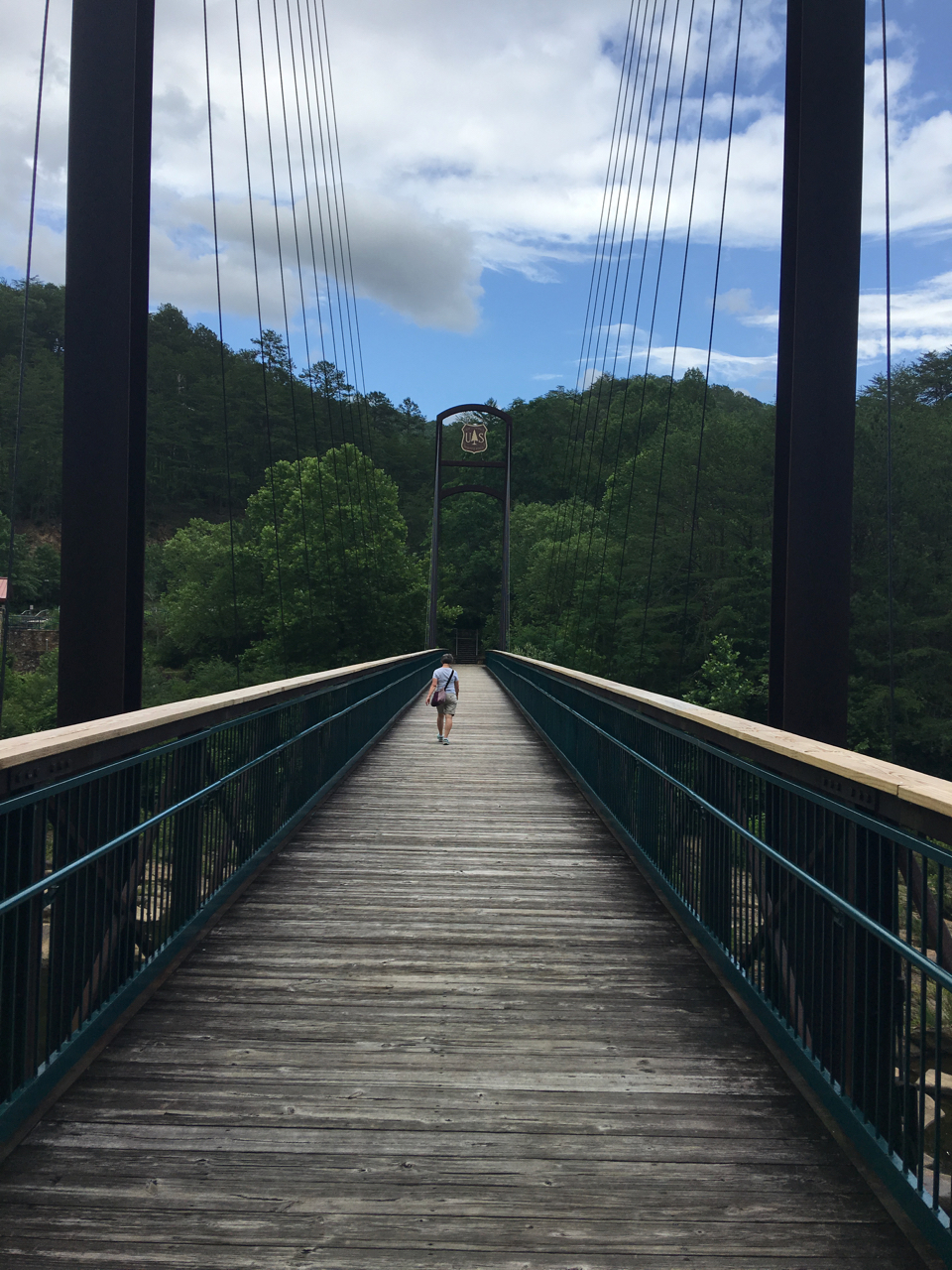 An amazing fungus that looks ready for S'mores near the folk school.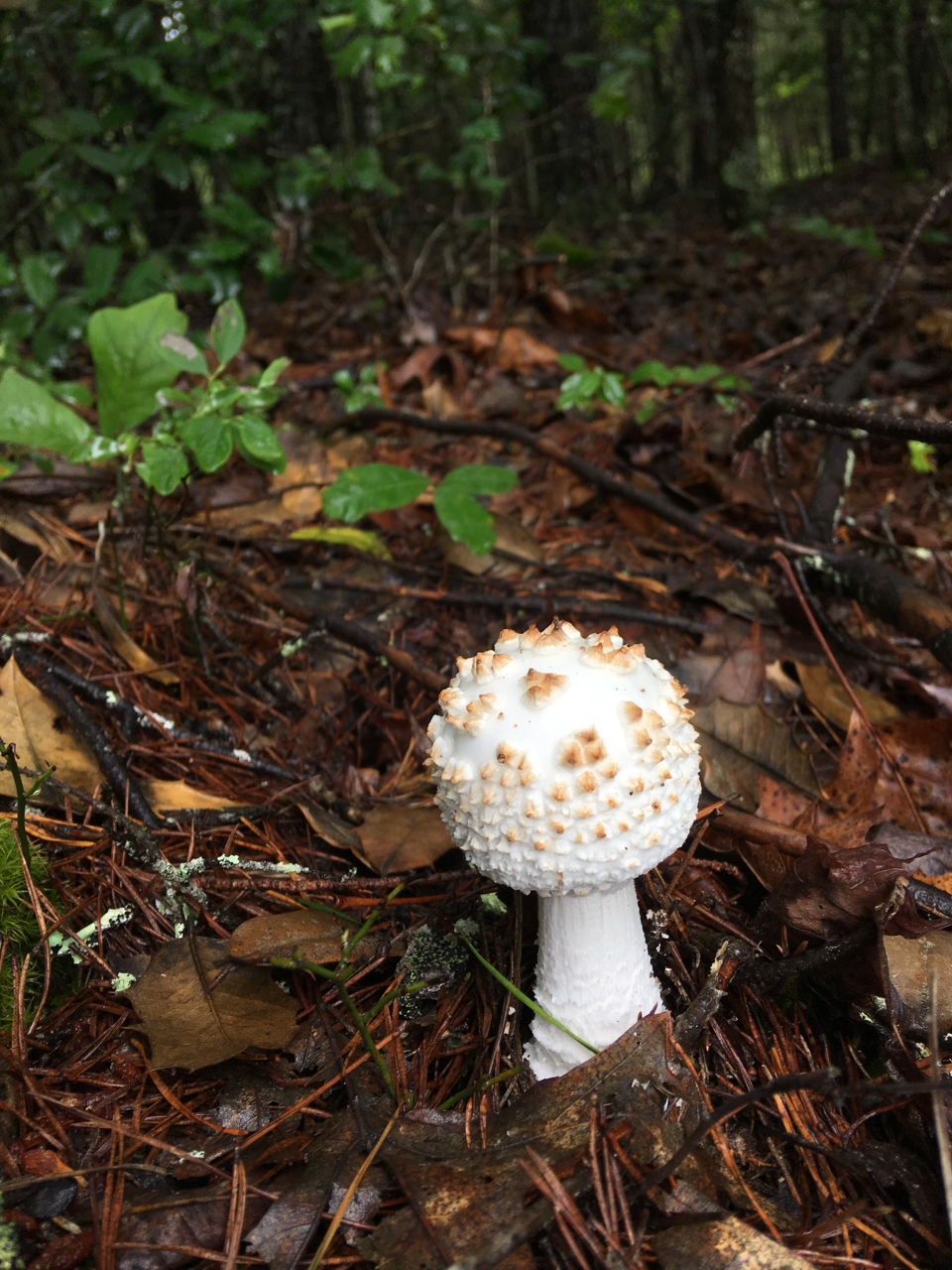 When I got home I taught a couple of days at the Fiber Frolic at Vavstuga. A week-long festival of creative fun for kids who learn to spin, weave, sew, dye.  An amazing experience with a group of wonderful kids and fellow fiber enthusiasts.
When I got back home I had a deadline for a Handwoven project for the upcoming issue on Eco-yarns. I got the privilege of using Eco-wool from Cascade for a double-width blanket. So much fun to design and weave – highly recommended!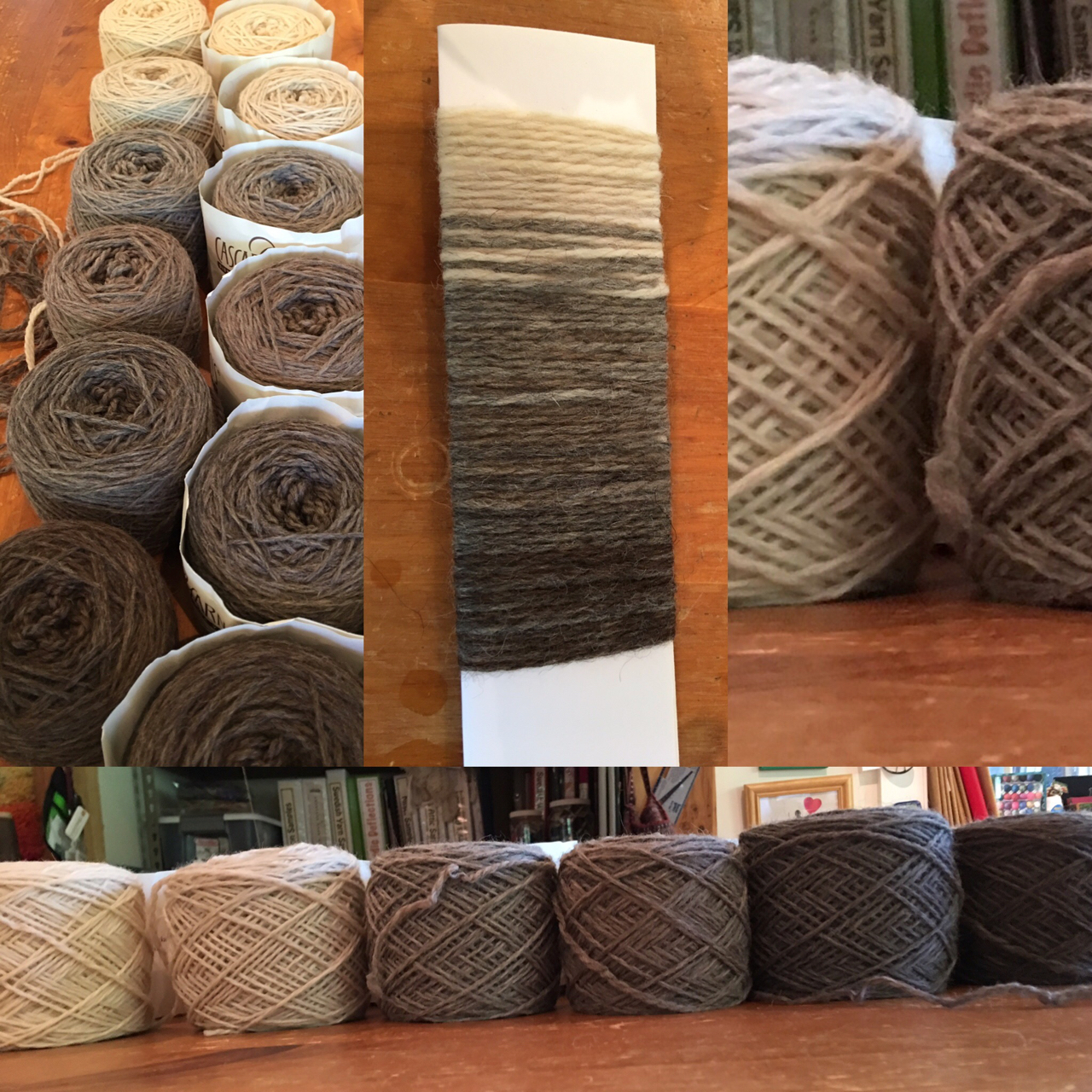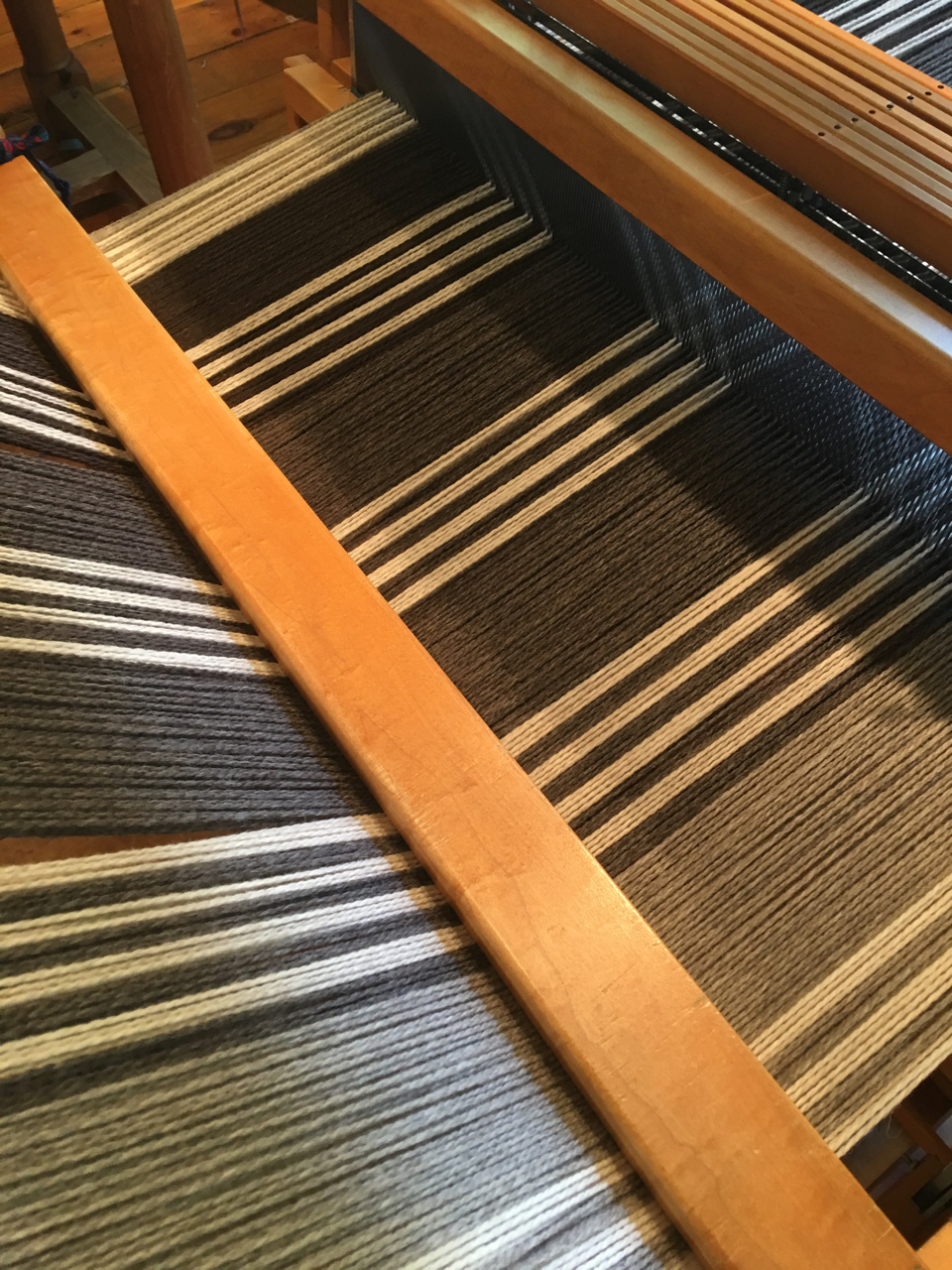 A few moments to enjoy summer in New England . . .
 And work on a present for my niece's wedding – yummmmy – cashmere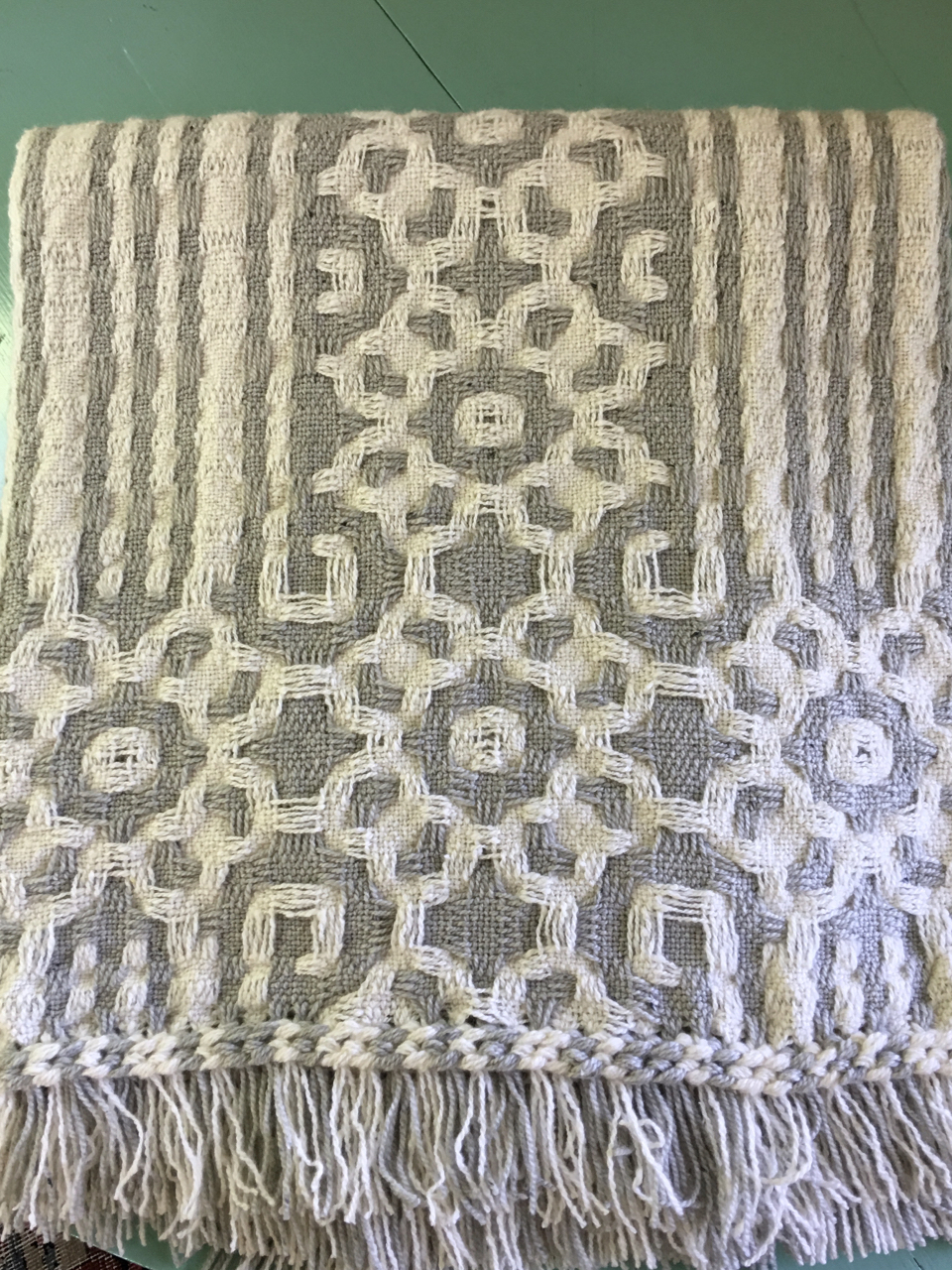 I used the leftovers to mess around with some doubleweave ideas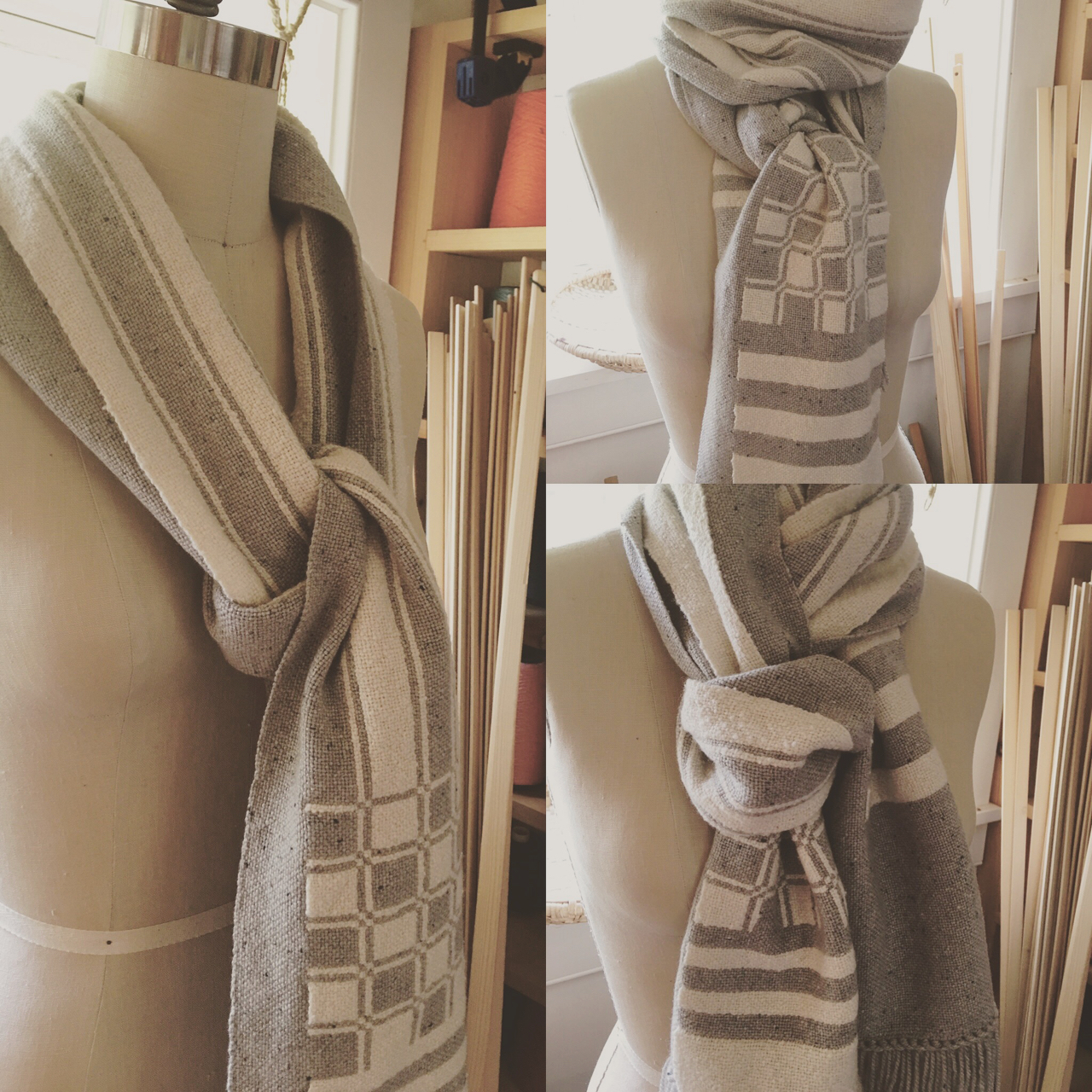 The day after my niece's wedding I flew off to Texas to help my mom. My dad's health had taken a turn, and we wanted to take a short family trip to Marfa TX – a place that held very fond memories for my dad. Both because of the desert scenery and the Judd art oasis. We stayed in vintage trailers at El Cosmico, and saw some amazing desert wildlife. My wonderful weaving buddy Karen who lives in Marfa met us there and was our true angel. Karen and her partner Paul brought us a fabulous dinner including gin and tonics  featuring her homemade tonic!! Weavers are magical people❣️
Once we returned to my parent's house we made a heart-breaking discovery in their garage. A tiny kitten we named Hubcap who was dehydrated and starving.  We fed her and she immediately plumped up and was a complete balm on our sad souls. We kept her for several days while putting the word out in the neighborhood. After several days two neighbor kids came by to claim her.  ? ?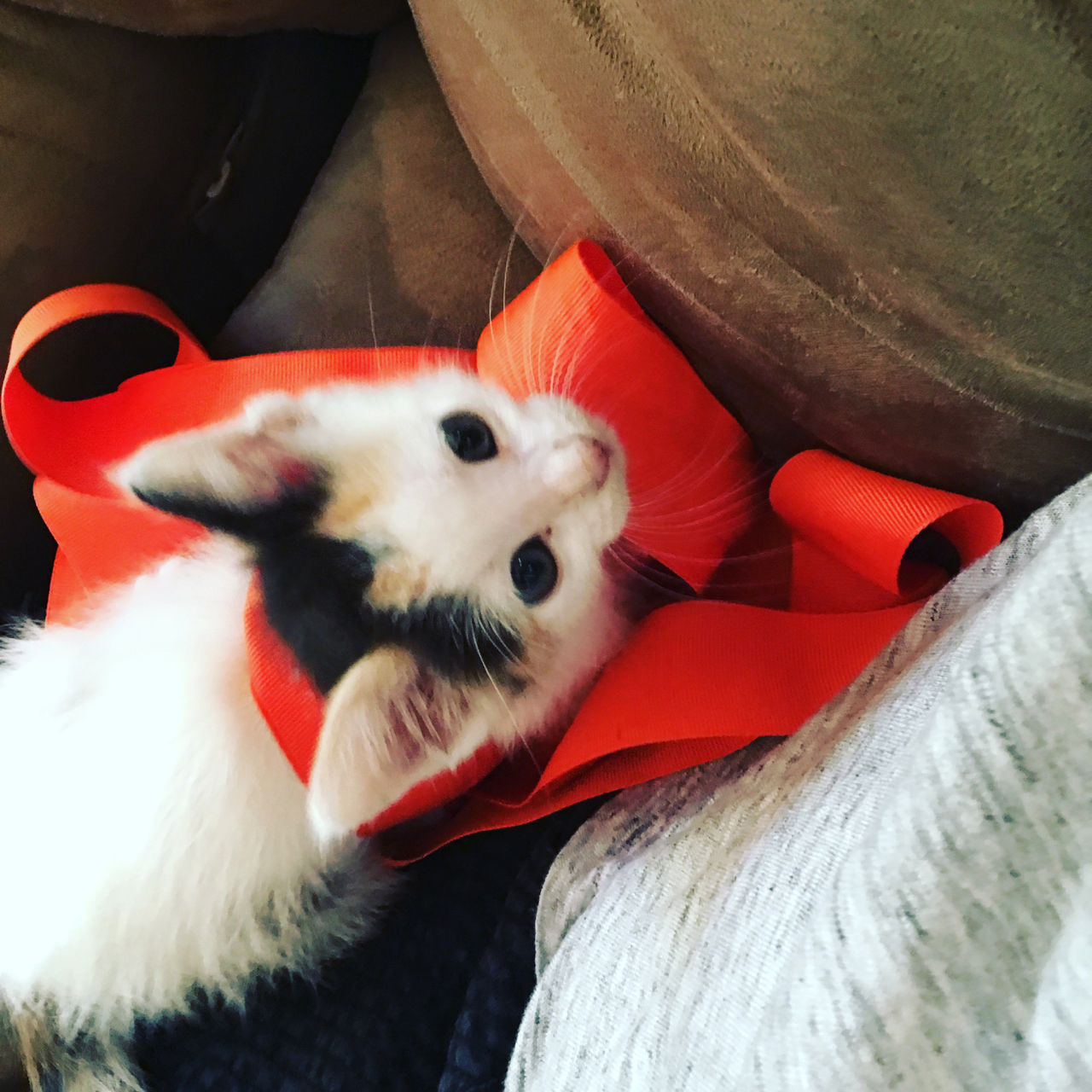 After we relinquished Hubcap we mourned for a week or so, but then found a little darling at the San Antonio rescue center. We were at a loss for names, and I sent a text to the family for ideas. My amazing little cousin (aged-4) immediately piped up with "Rycroft" – we have no idea how she came up with it, but it immediately stuck and little Rycroft went on to win our heart thoroughly.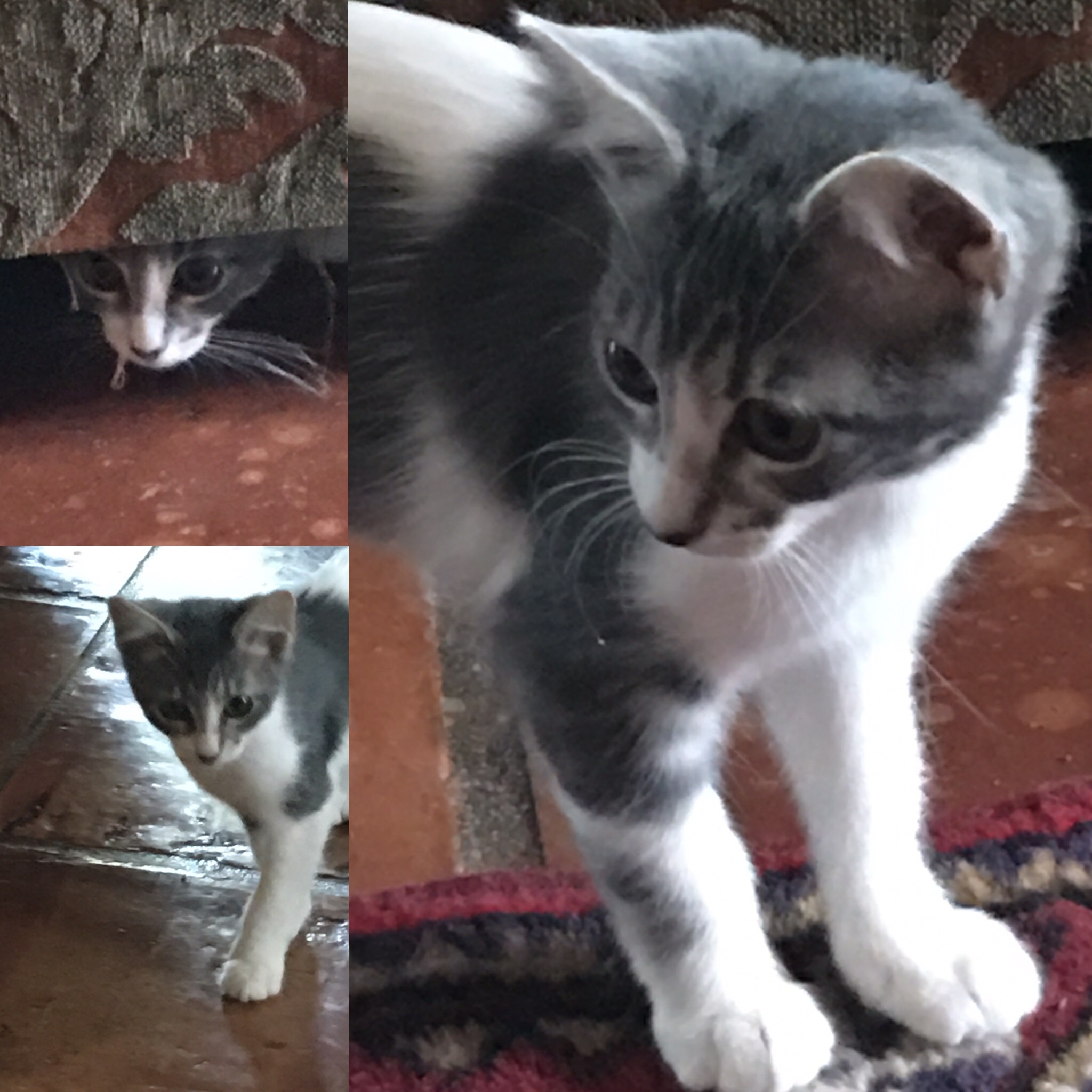 Back to weaving ( I could fill this whole blog with cute kitten pix, but will restrain myself) On the eco-weaving front, I put a warp of rep placemats on the loom in American Maid  color-grown cotton.  Slow weaving, but serene and therapeutic. I got the mop cotton in Tennessee for $16 . . . lifetime supply!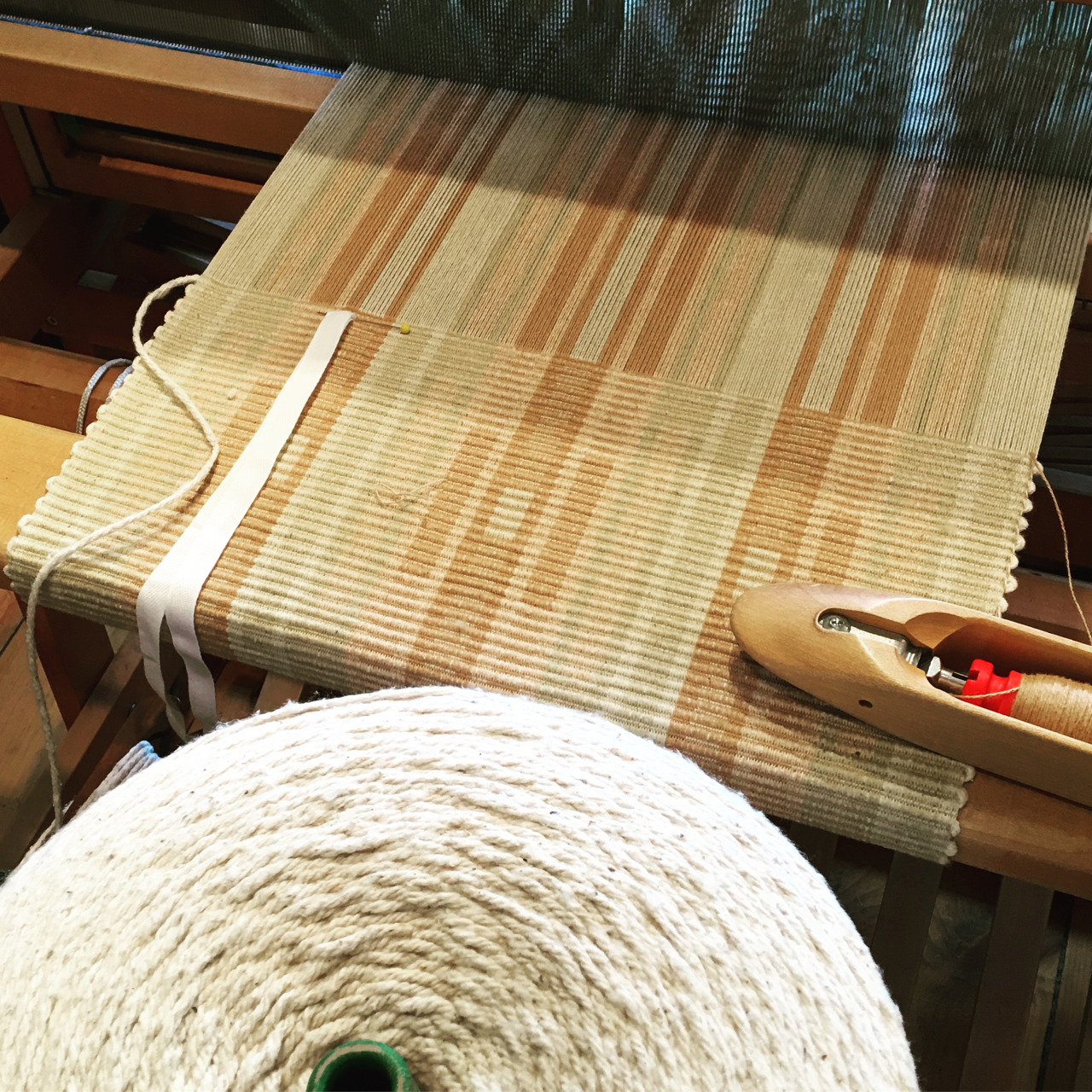 Throw back to I don't know when – hemp/linen towels and napkins for my other niece's new apartment.  I love the rustic look of this combo . . . more to come (I hope!)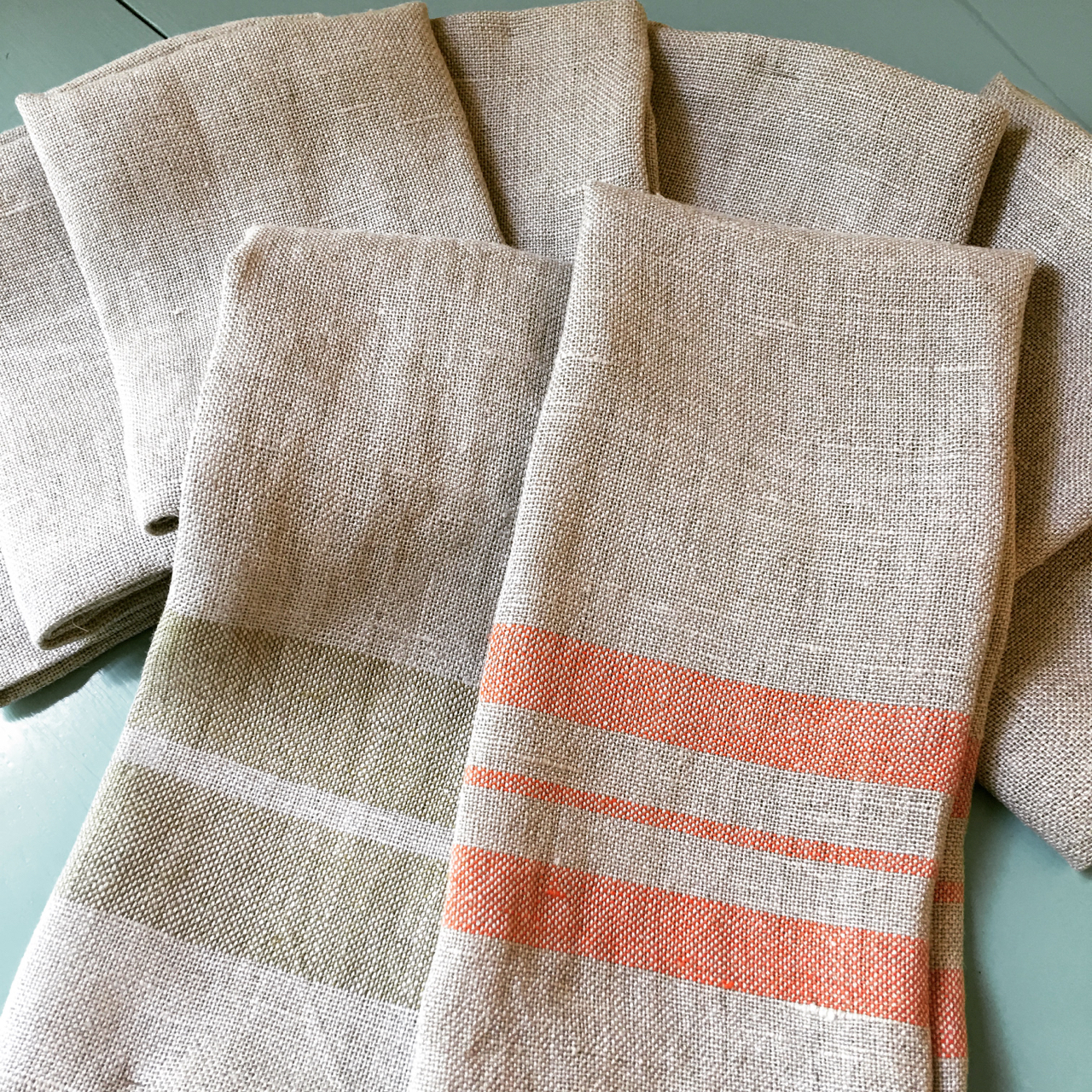 And I am finally back home and back to my looms for a couple of months with a couple of exciting events coming in the fall.  One is the Working Weavers Studio Trail.  A group of local weavers have come together to create a studio tour on October 14 & 15 2017. Please visit!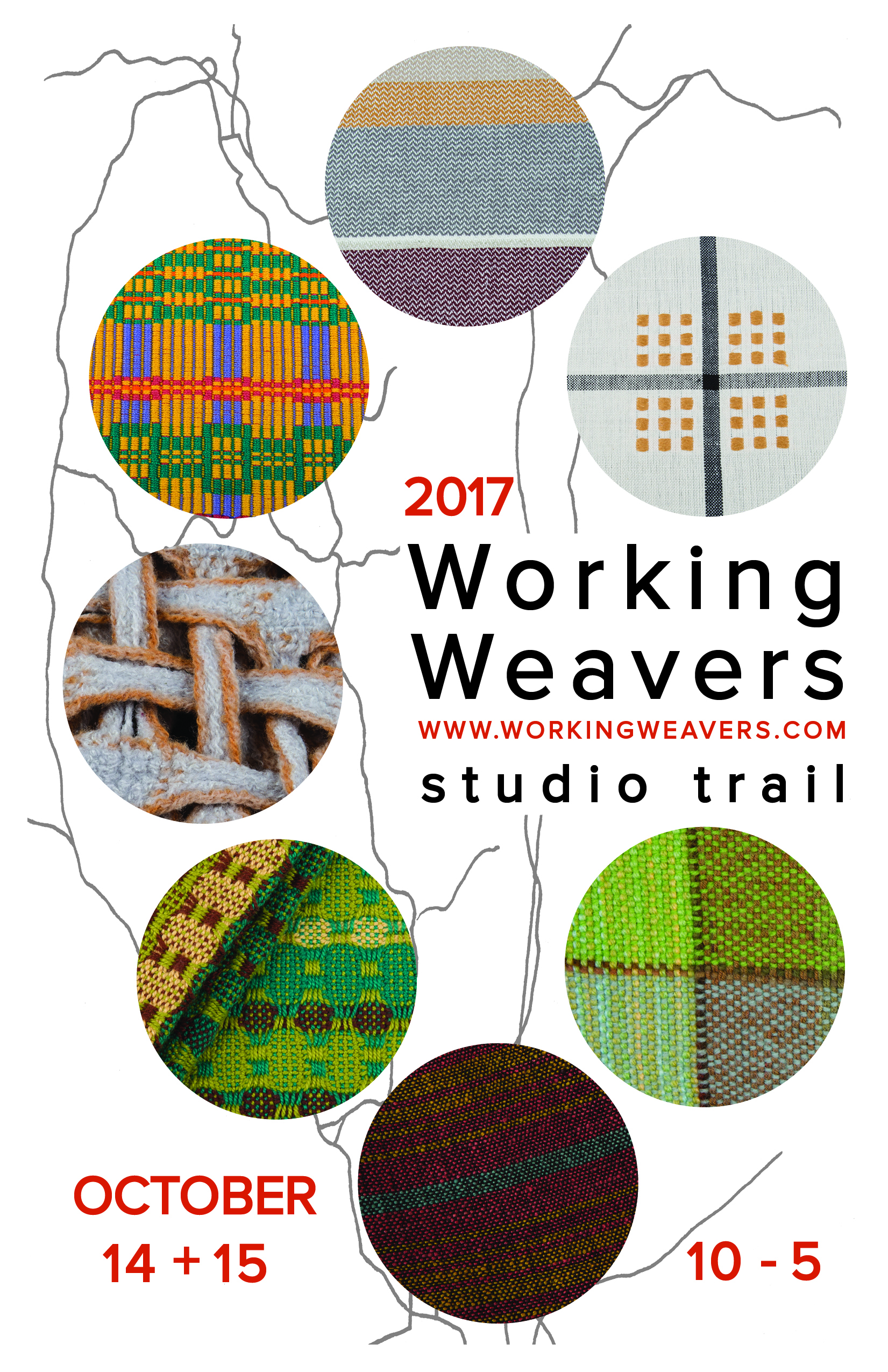 And some fun stuff in the works: A large delivery of color-grown cotton from Eco-butterfly arrived . . . oooh I haven't decided what my first project will be . . . but I am so excited to start winding warps. Ideas welcome . . . it's 10/2 btw.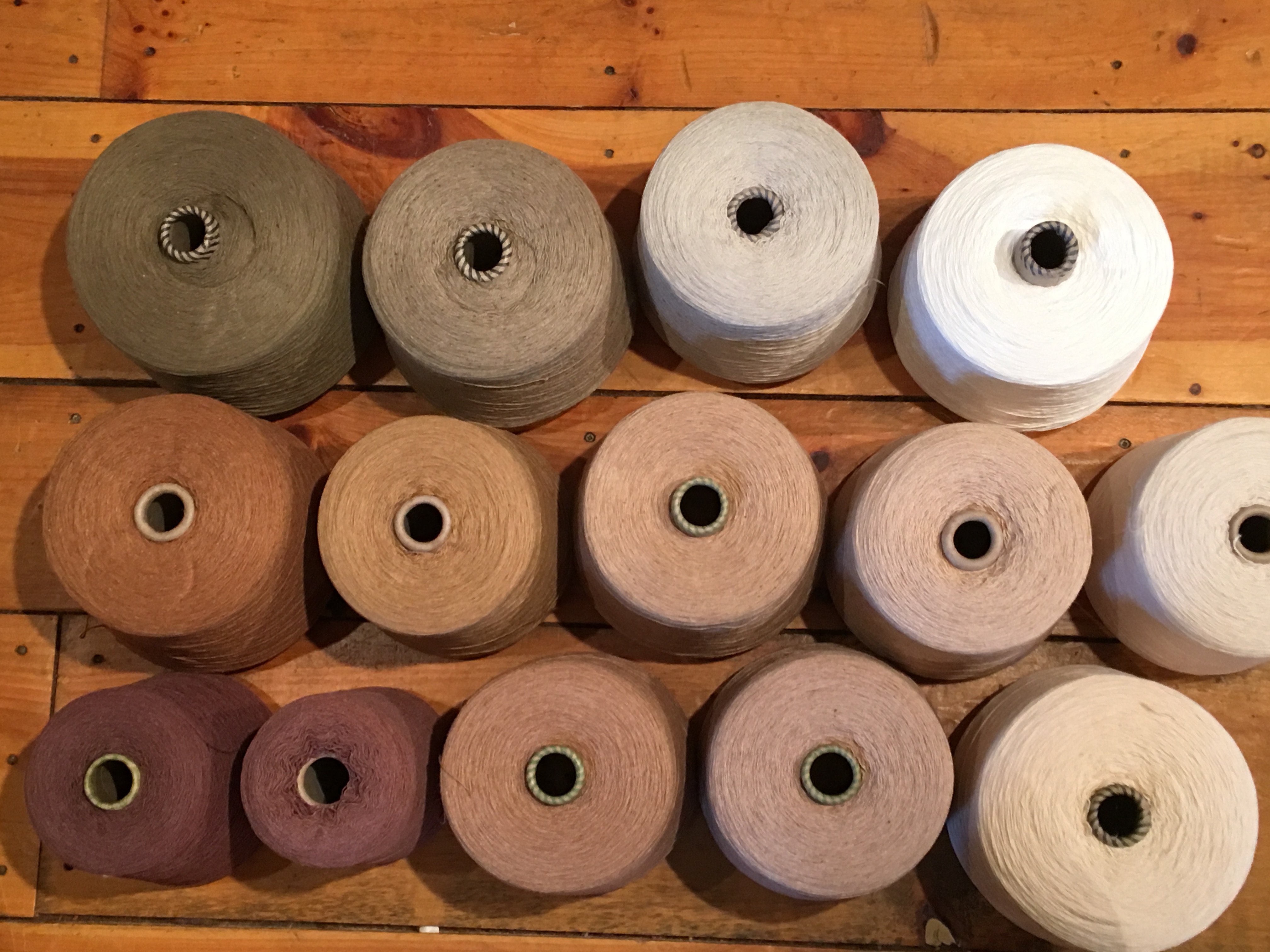 Another cashmere blanket rarin' to go on the toika . . .
A long warp of linen, eco-cotton napkins on the rigid heddle . . .
If there is some cohesive element to this post – I can't find it except that life is complicated – filled with joy and sadness, and throughout all of it I find that my looms, weaving and weaving friends make the joy more joyful and the sadness less overwhelming. Treadle to the metal.