"I Have a Beaver Problem . . ."
"I Have a Beaver Problem . . ."
This was the statement that my husband made to the very suspicious dispatcher at our local animal control center as I was unhelpfully and immaturely giggling helplessly in the background. But we did!  We have a very old 3 story barn that is built into the side of our road.  There is an odd sub-basement in part of the barn that we think was used as a kind of manure catchment area. It is composed of 5 foot-high concrete walls, and the odd part is that there isn't an opening which one would think necessary to get the manure out. Anyway, it is an "attractive nuisance" for local wildlife because little critters find their way in, but then can't get out.  We discovered this years ago (by following our noses) when we found several desperate skunks trapped. We created a ramp for them to get out and haven't had a problem since . . . until two day ago.  Fiona was losing her mind, and dragged my husband back to the aptly dubbed (by my son) "skunk dungeon", where he found two frightened and desperate beavers.  They are BIG, and couldn't or wouldn't use the skunk ramp to escape.  Hence my husband's call to animal control.  After a day spent lowering buckets of water and tender birch limbs to the forlorn pair, a team of heroic animal control officers came to the rescue.  Getting two angry, 50lb beavers out of a concrete enclosure with no door wasn't for the weak of heart. One of the officers started by using one of those dog-catching "catch poles" with noose-like loop on one end to catch the female beaver, but she yanked it right out of his grasp forcing him to climb into the dungeon. Yikes!! Anyway, after quite a bit of wrangling the two were freed and the male dashed right back into the marsh at high speed. The female was strangely hesitant to follow, so we searched high and low for beaver babies and found none – maybe she thought the dungeon was a potentially safe home, especially with food delivery . . .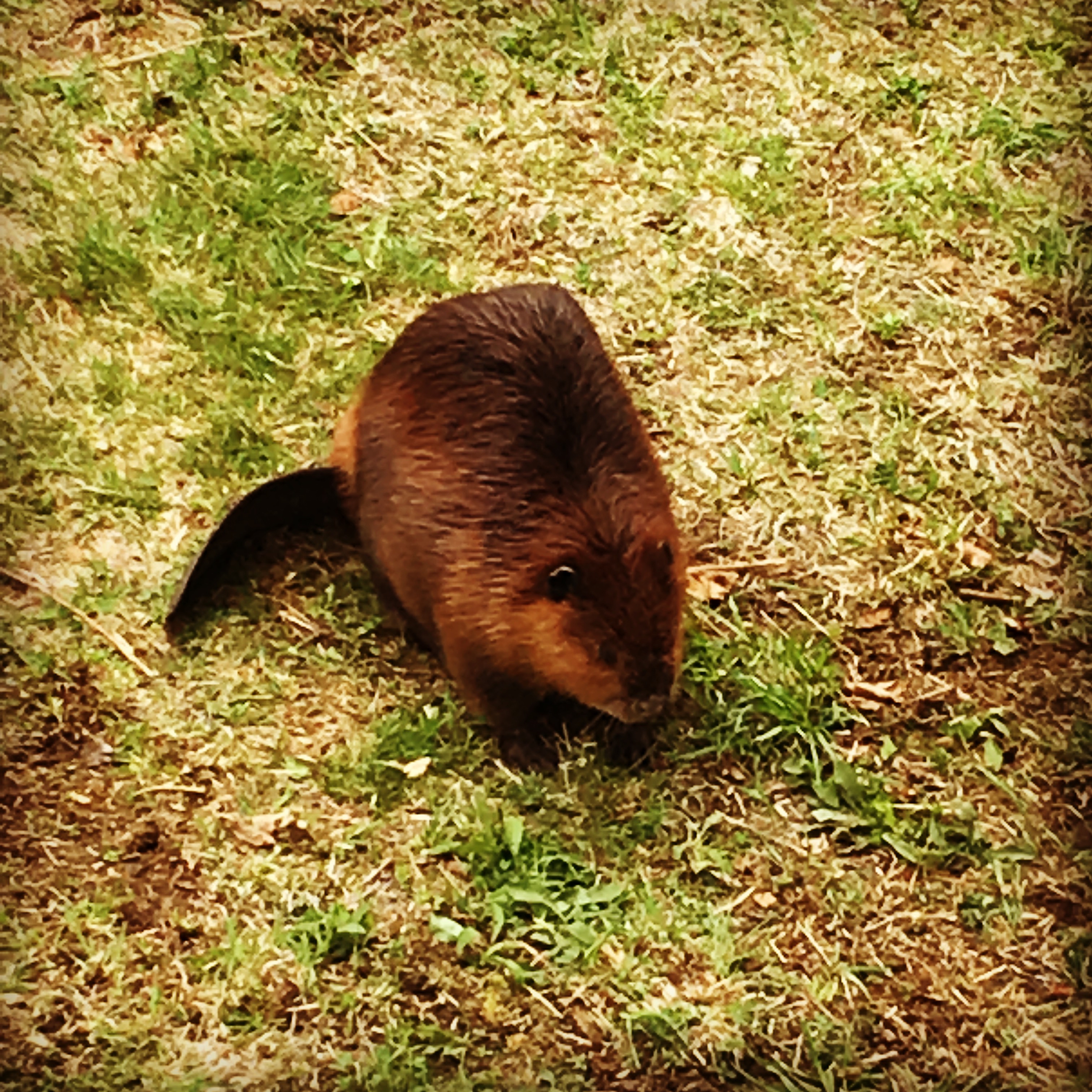 In weaving news, I just finished teaching a beginning weaving class at WEBS.  What a wonderful crew of new weavers.  It is so much fun to be a part of someone's first steps into the wonderful world of hand weaving. Even after all these years, I feel such enthusiasm for the whole endeavor, and am elated when I meet new recruits.  Of course my dark side emerges, and I find the creepy ditty from the oh-so-horribly-retrograde 1930's horror movie Freaks that I saw in the 70's playing in the back of my mind, "we accept you one of us, one of us, one of us . . . ."
This was a sample scarf I made as a demo for our final project – a 4-shaft twill scarf using alpaca-silk.  I played with using multiple rows of Philippine edging instead of fringe.  I like the knitted look.
And I used some mill-end slubby, singles from WEBS in a warping demo for a friend from TX.  I just used an old favorite draft for the demo, but the singles added some pep that I like. They also made the 10″ wide (in reed) scarf 5″ wide when washed.  Serious springiness!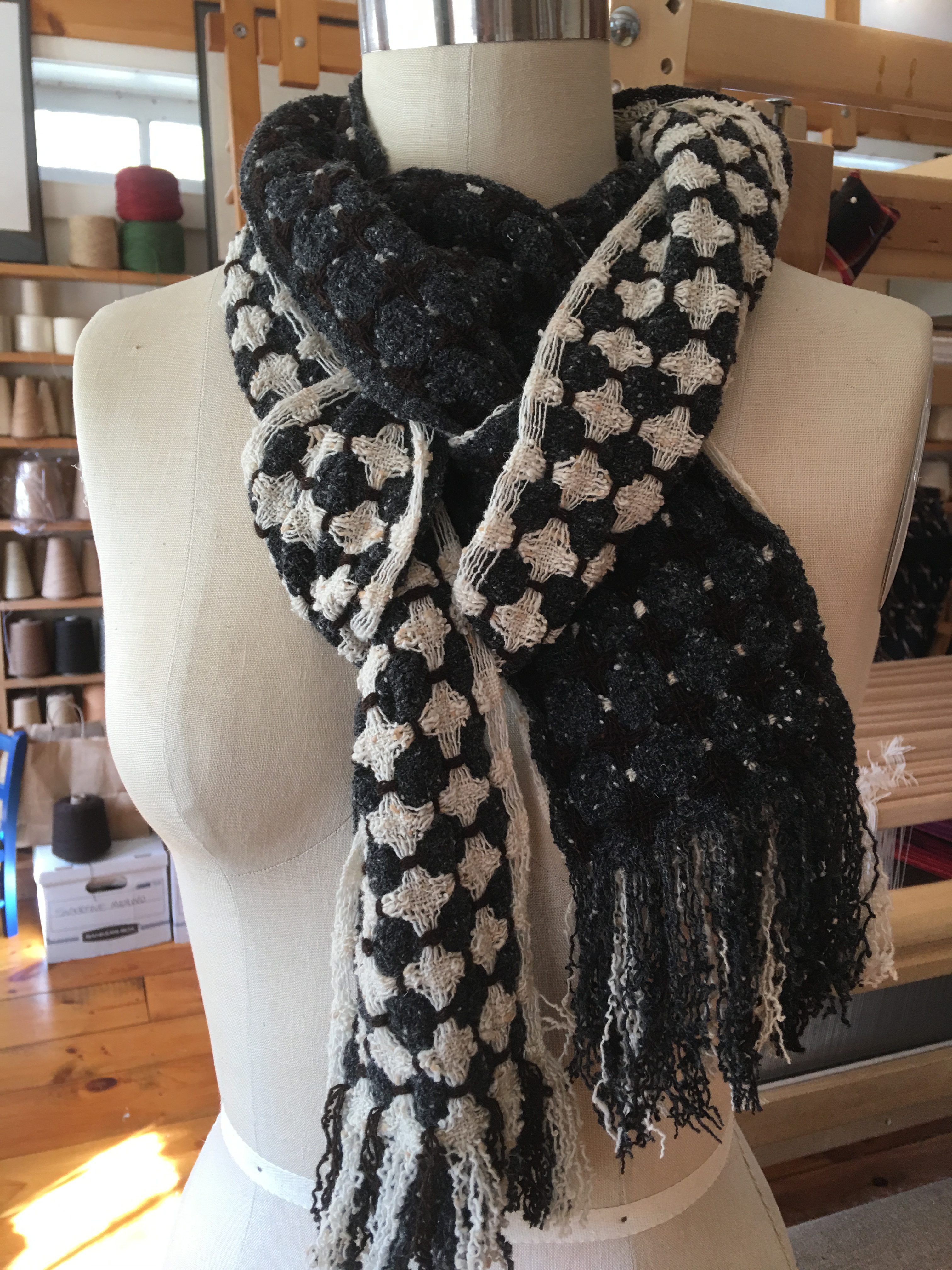 And on Easter Sunday, with no small children or grandchildren, sigh!  (do you hear that sigh kids?), I gave myself my own version of a spa-day, stayed in my PJs and wove some napkins on my rigid heddle until dinner time when we had a lovely Easter dinner (I did change out of my PJs for dinner – just so you know).
I've been experimenting with a few more of the "cowl herd" – different size yarns and block arrangements.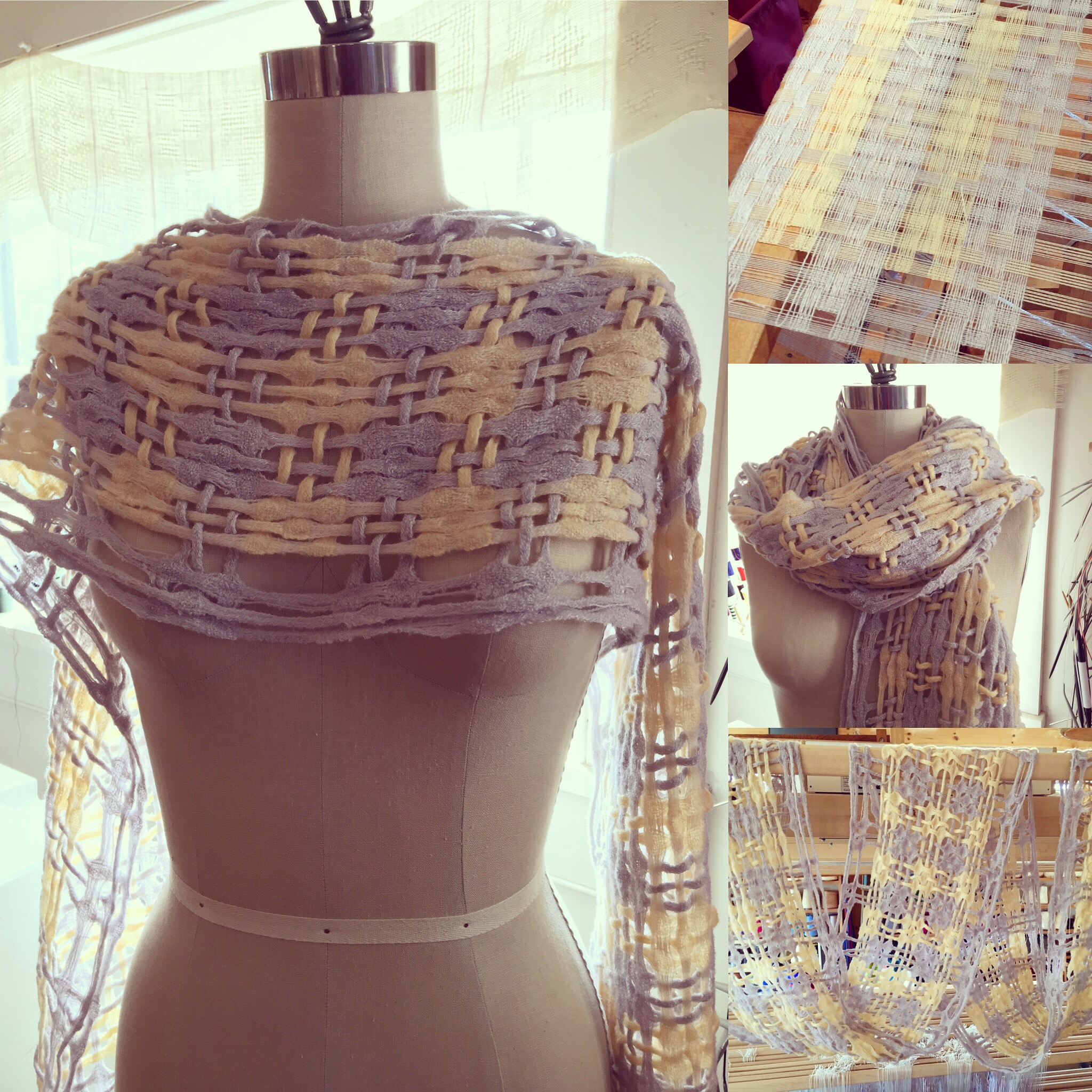 And in an epic fail, I tried one in a finer Malabrigo, 4 yards , un-skeined, wound, threaded,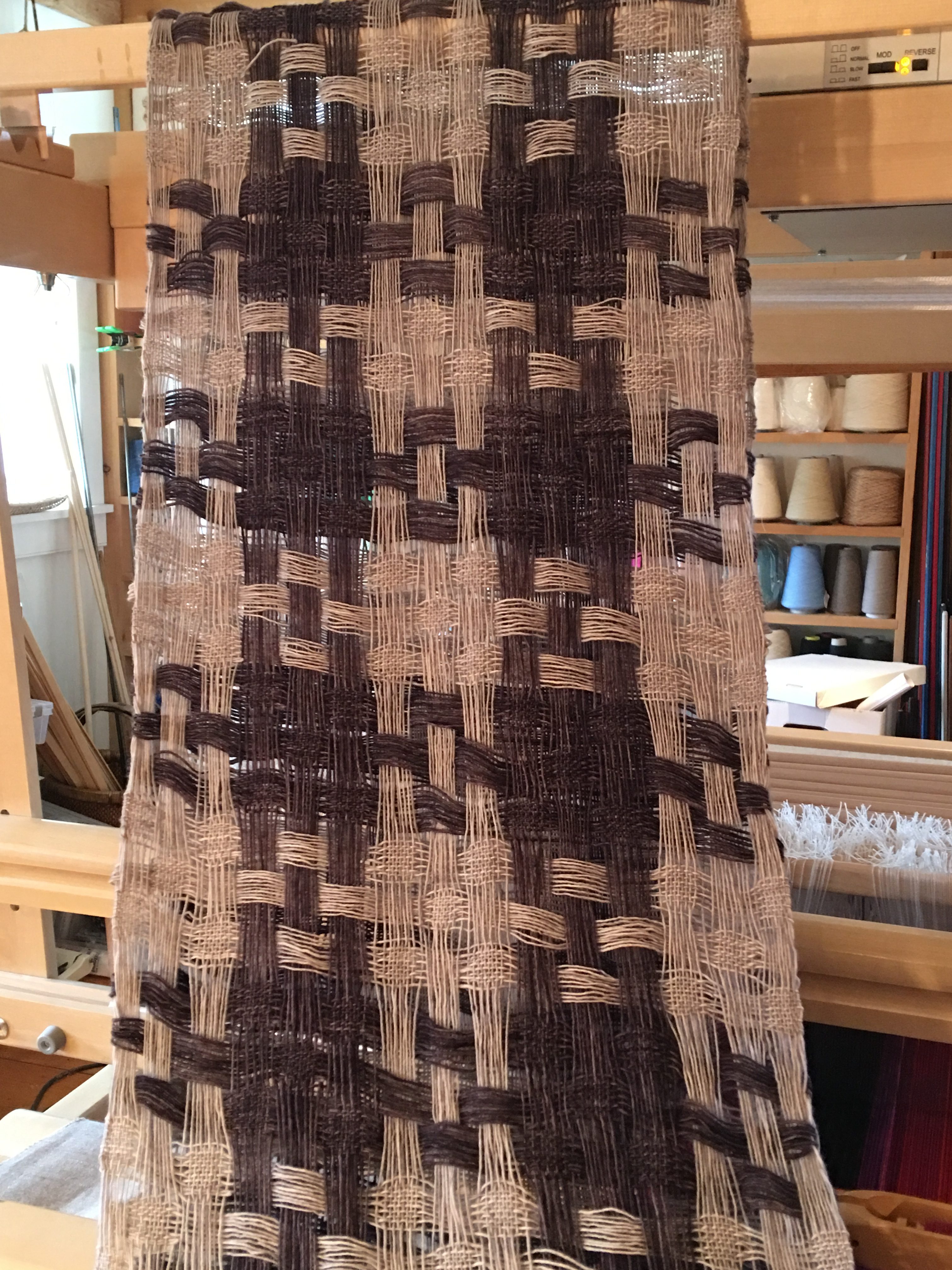 sleyed, wove, washed, and washed, and washed, in hotter and hotter water with more and more soap, then put it in the washer, then put it in the dryer . . . and only then did I look at the label. You guessed it- superwash. DOH!!!!!!
And I put Fiona on a pedestal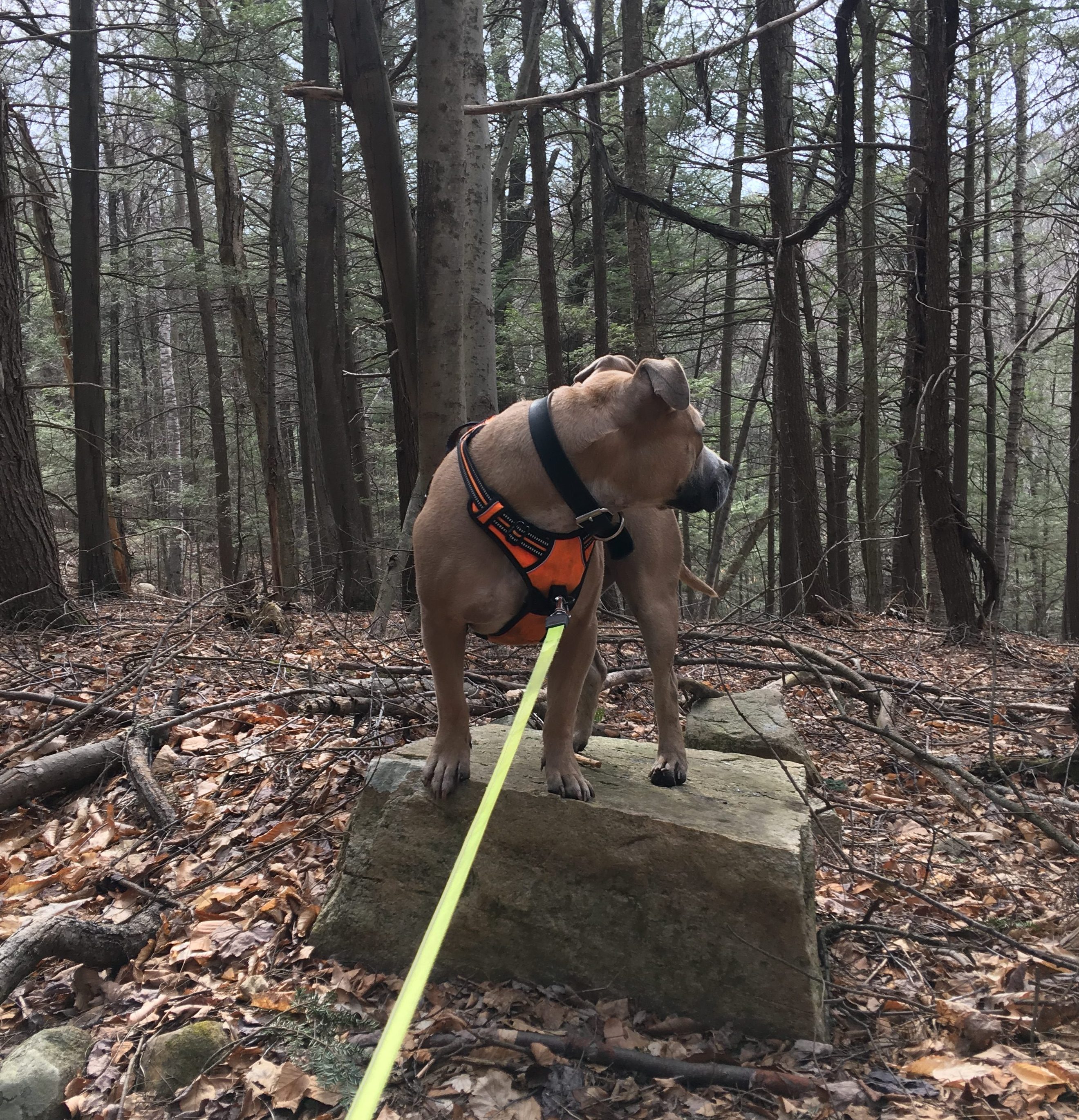 Ans spied some fungi
My fungi hunting got me into hot water (or cold water) because while trying to take a picture of a particularly interesting specimen on a fallen branch that was precariously poised over a vernal pool, I dropped my phone into the pool!  I had to jump into the deceptively-deep pool to retrieve it, filling my boots with very cold water, and sending me squelching dejectedly home without any audio to keep me company. I have to hand it to Apple though because even though my speaker didn't work, my phone still did, and after a day of healing it completely recovered! I scanned my camera hoping for an accidental underwater shot – no luck . . . too much to ask?
And on to plain weave. I love it, I have always loved it, and though I can't keep complex interlacements from creeping into my fevered brain, I am a plain weave woman at heart.
Here is a series of hemp and linen towels that I just finished hemming.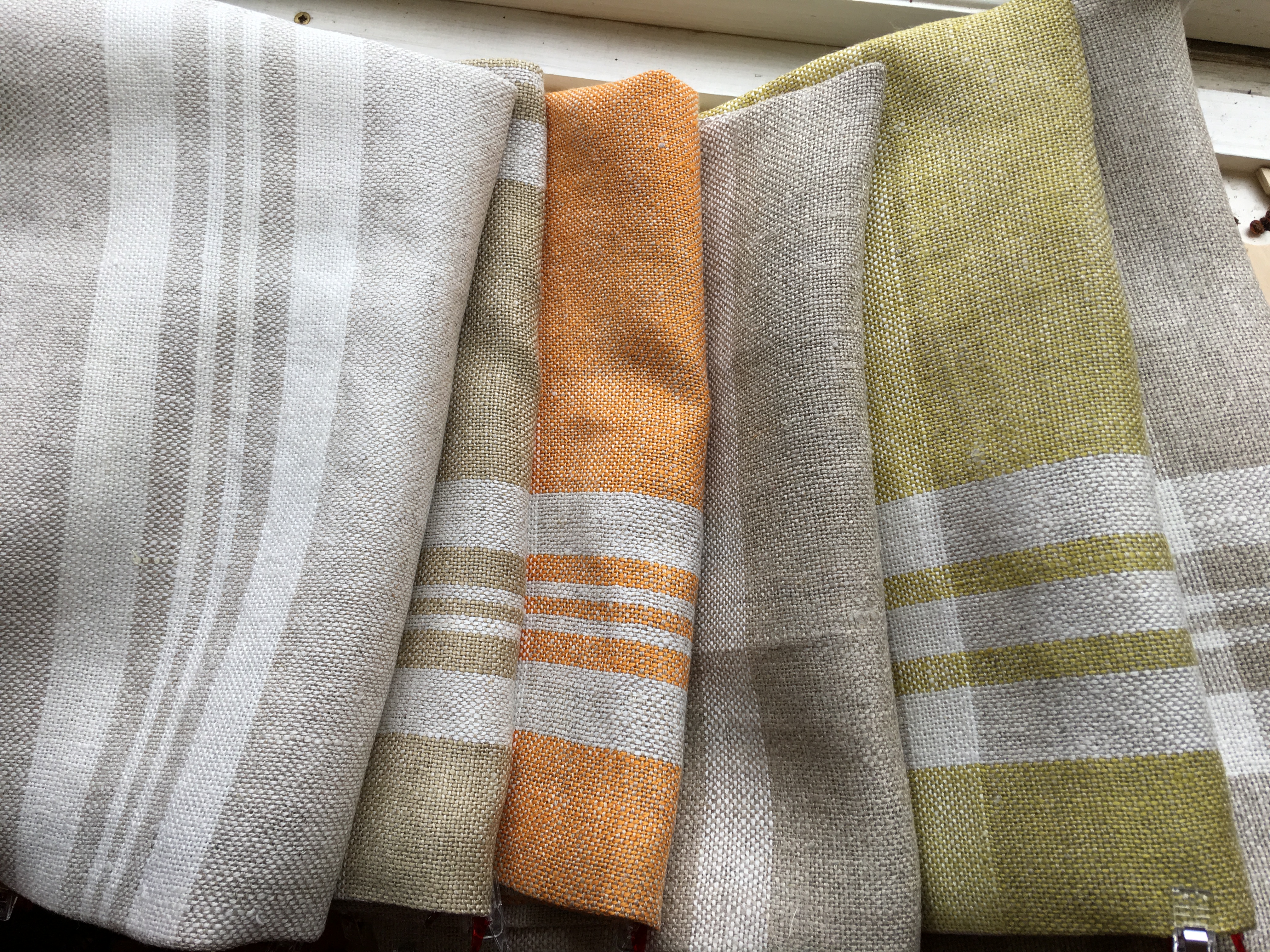 And I have another series just off the loom, ready to be cut apart and pressed.  I planned for 6, wasted a little warp with a tie-up error mid-warp, and finished the 6th towel by the skin of my teeth.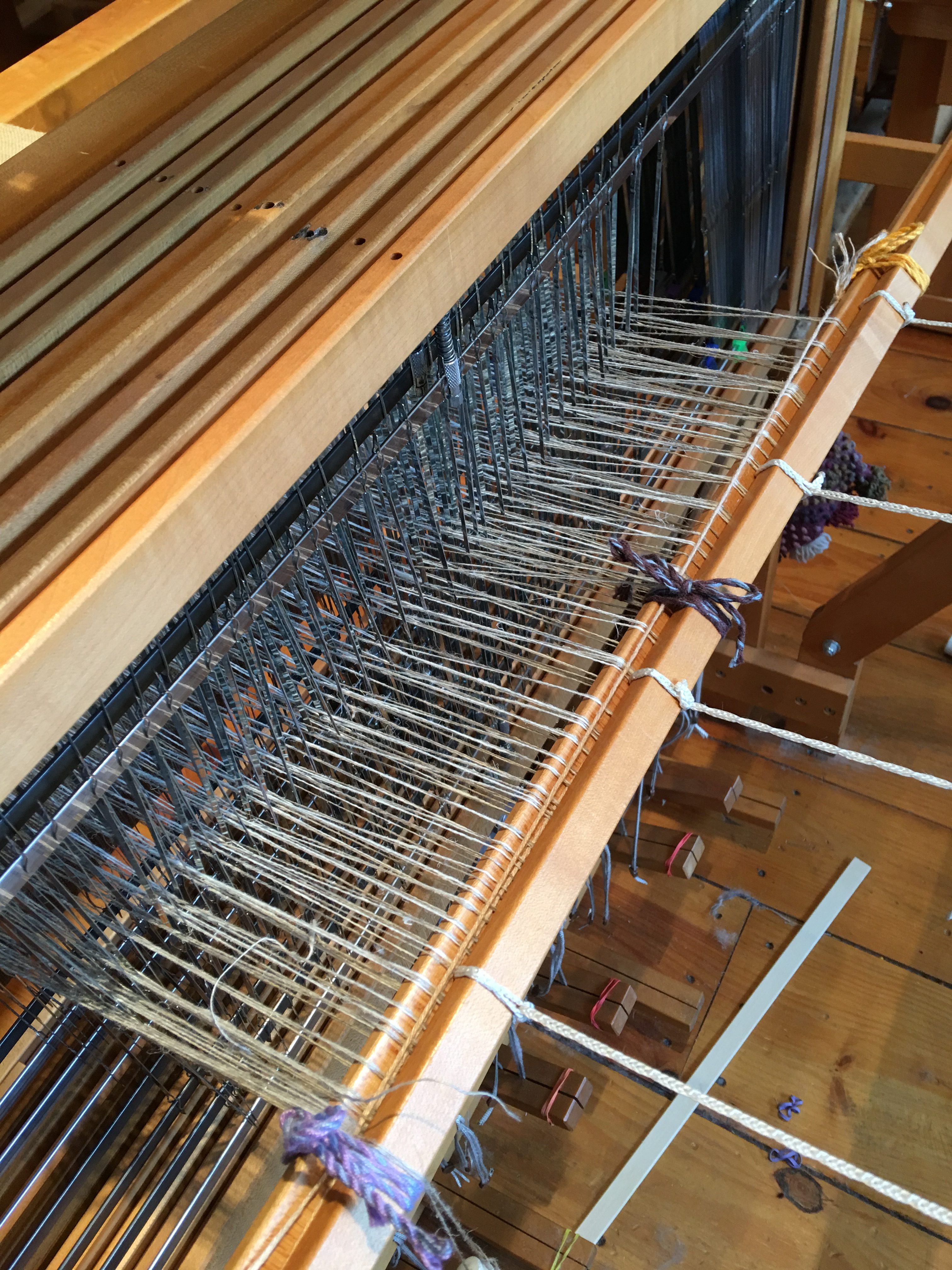 Happy weaving, happy spring, and if you aren't already, we will make you one of us . . . .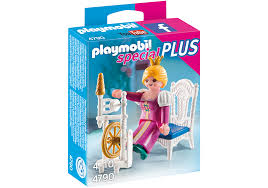 And I had to edit this post to add this gem I just saw on FB.  Listed as Princess with Weaving Wheel. The FB poster Heather Hutchinson added, "maybe I'm doing it wrong . . ." and made me spew my coffee.