Busy Bees
Since my last post I have been busy, but who hasn't?  I am tired of busy!  "Busy" can contain, engagement, curiosity, creativity, fellowship, community as well as worry, toil, and grind, but we always seem to condense it into "busy".  I read recently that responding with "busy" when asked how one is is defensive and pushes people away.  I think that that is true to some extent, but it also prevents us from moment to moment pleasure.  By thinking of ourselves as perpetually busy, we have already said no to the small joys in our daily lives like the softness of a well-worn kitchen towel or the smell of a summer tomato. . . .
One of the ways I have stepped outside of "busy" is by walking my dream-girl Fiona.  Walking the dog is part of my "busy" day, but it creates a strange kind of space for me not to be busy.  Fiona cannot be rushed.  Every clump of grass, pile of rocks and hollow log need to be fully investigated. While accompanying Fiona on her sniffing rounds (my husband calls it "checking her email") I get to look closely at the wild flowers, rocks and leaves in my path.  It is a way of defying busy while being busy, and I'm looking at many of my daily chores in a new light.  It is well-covered territory, i.e. "being in the moment", etc., but it is becoming more and more important to me as I age and think of how little time I/we have on this earth and how full of busy it is.
I have a few pics to share.
Sample woven in Vav Immersion "Nordic Deflections" class
I cleaned my studio thoroughly for the first time in . . . . nevermind.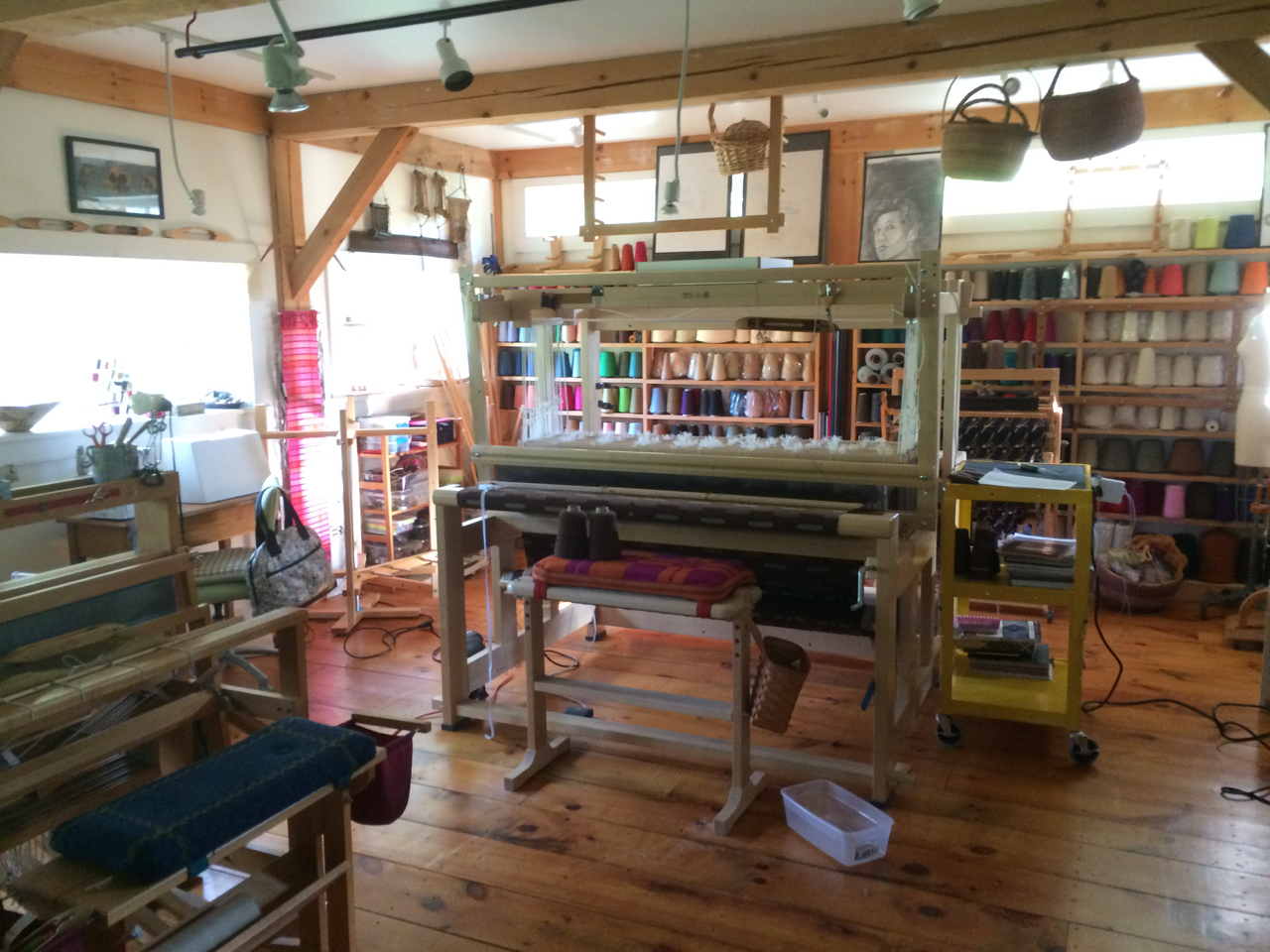 Towels woven on the "seagull" warp – fun in the tie-up playground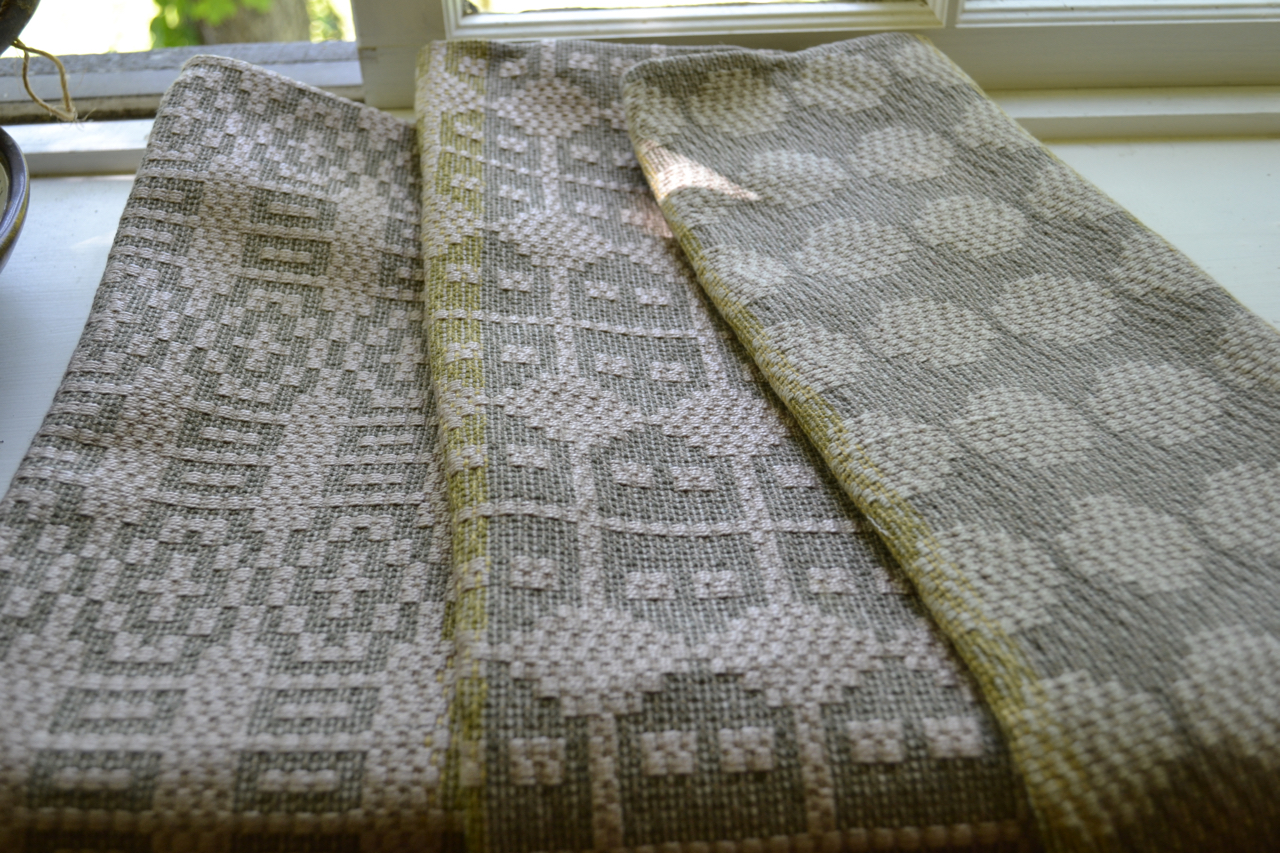 Happy Weavers of Western MA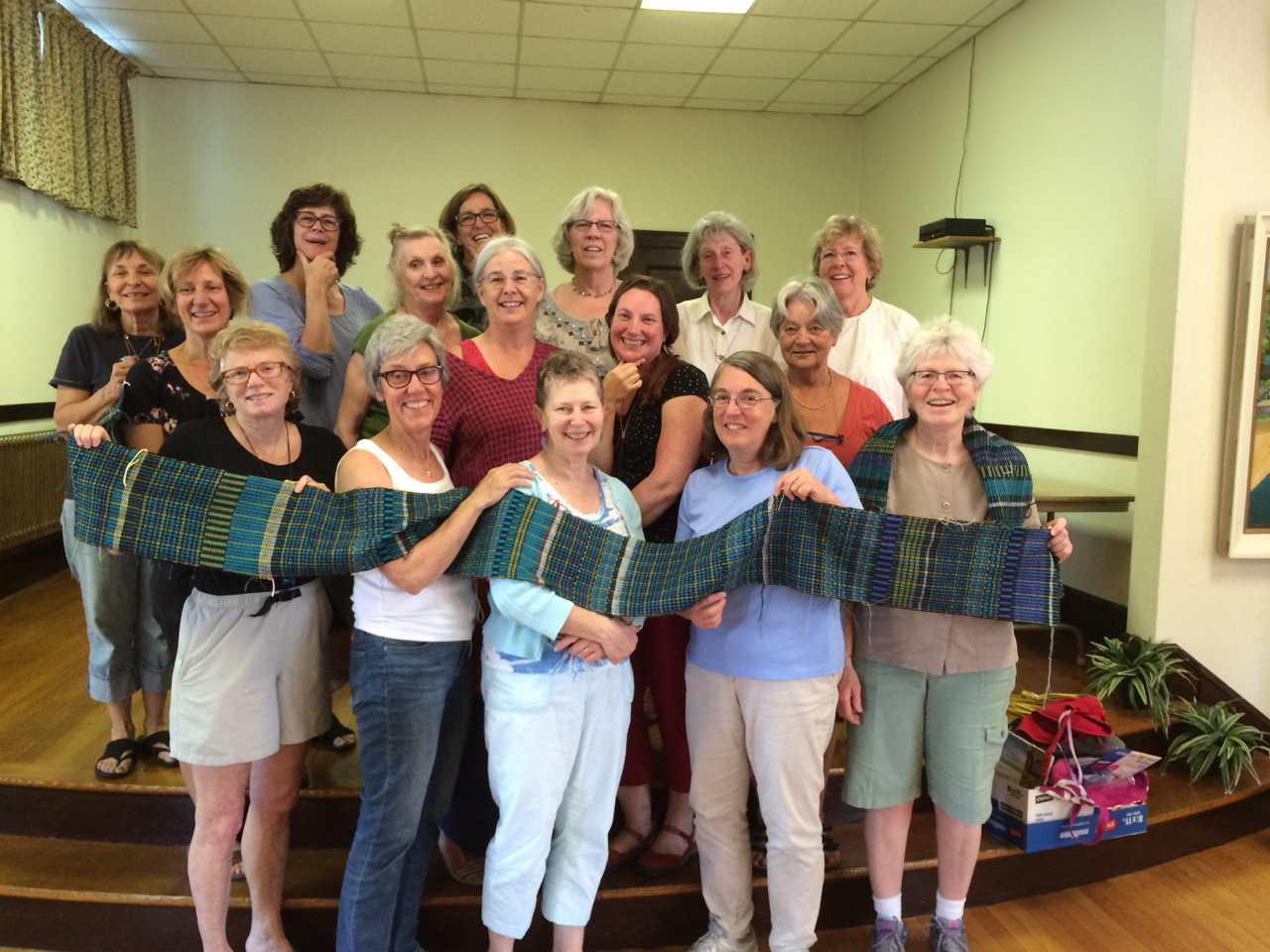 Bee Bag sewn from an old sample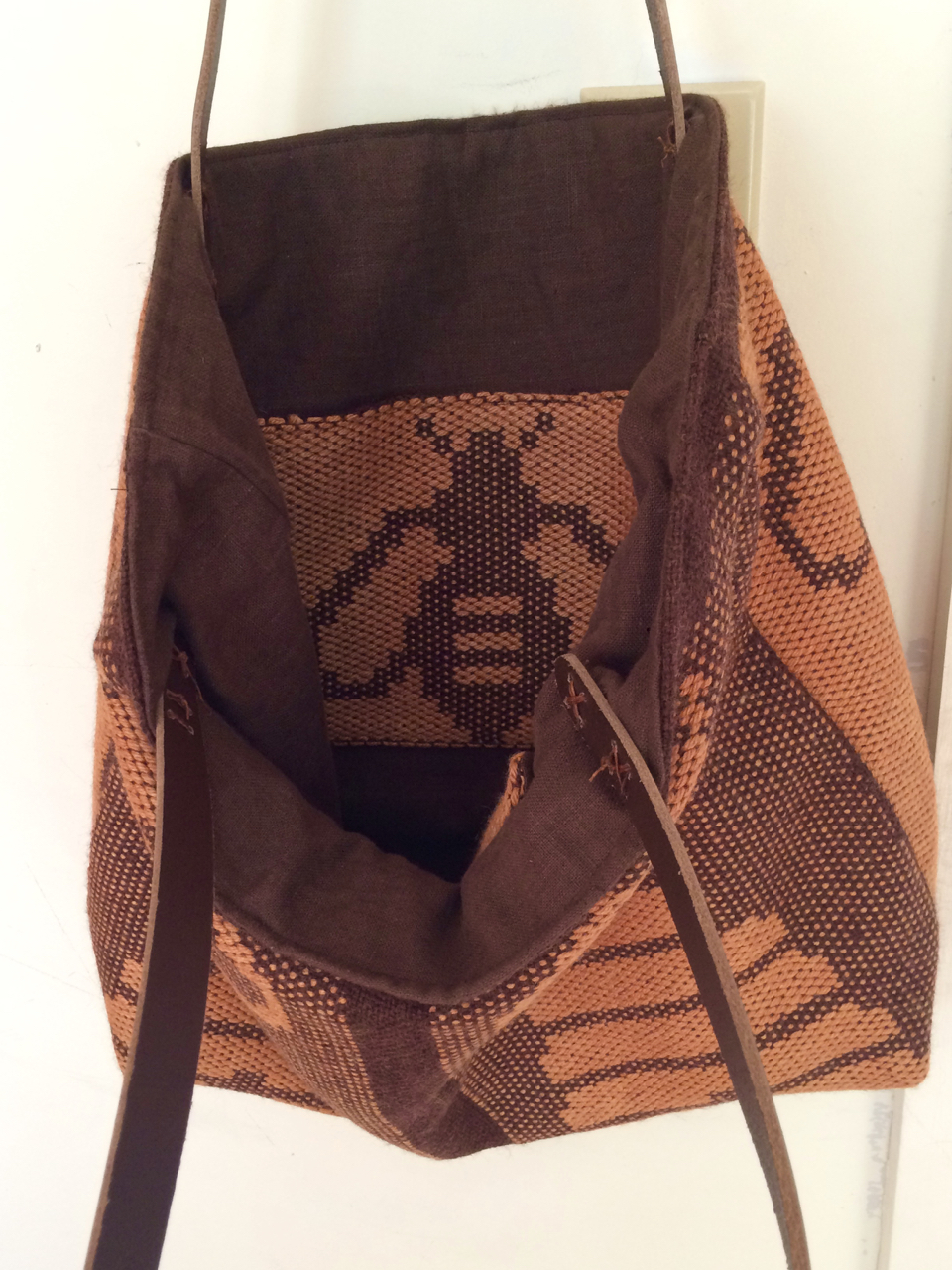 Little pouch sewn from another old sample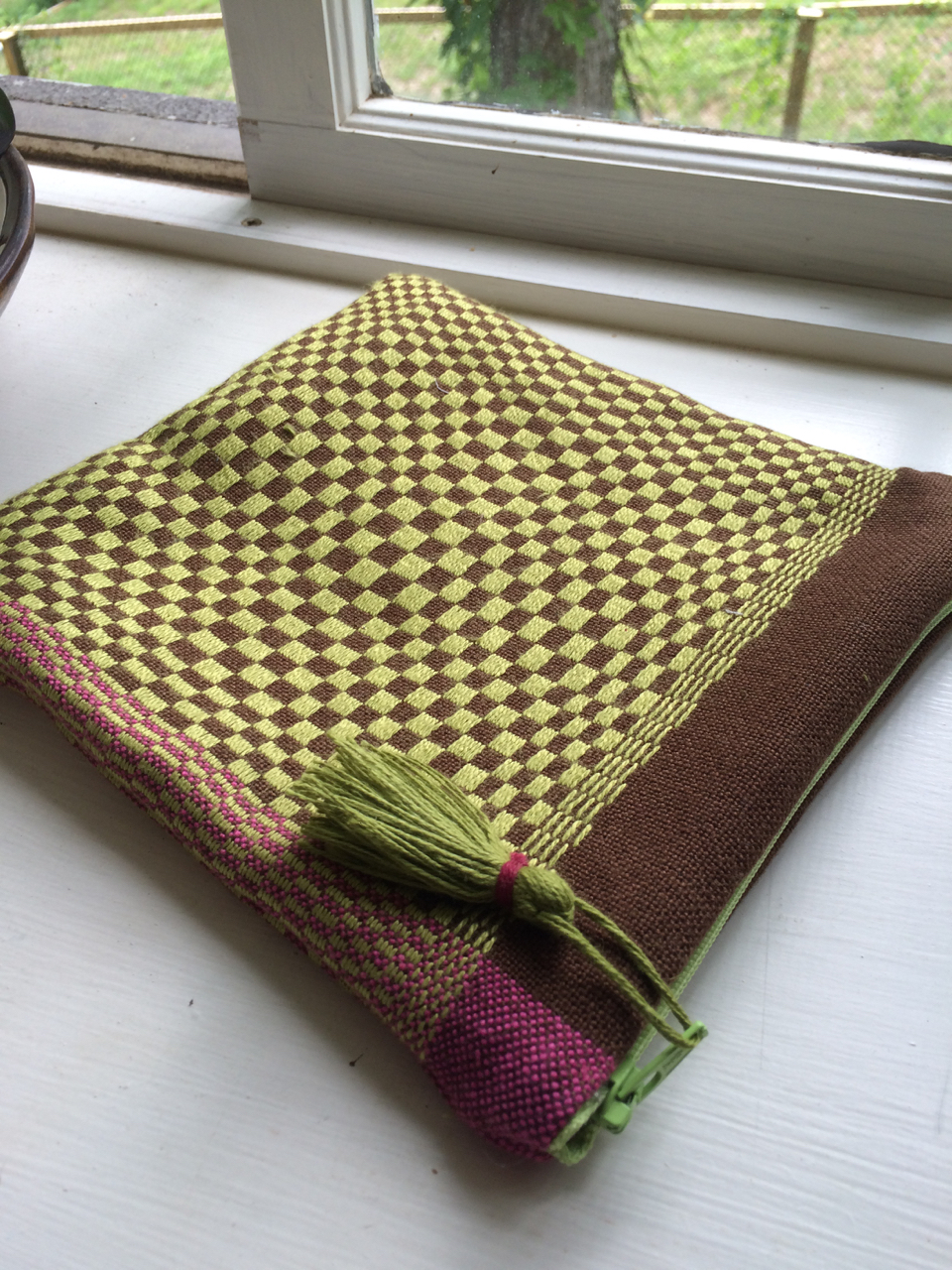 Sleepy fiona wearing her lovely Necklace made by Becky Jensen using split-ply braiding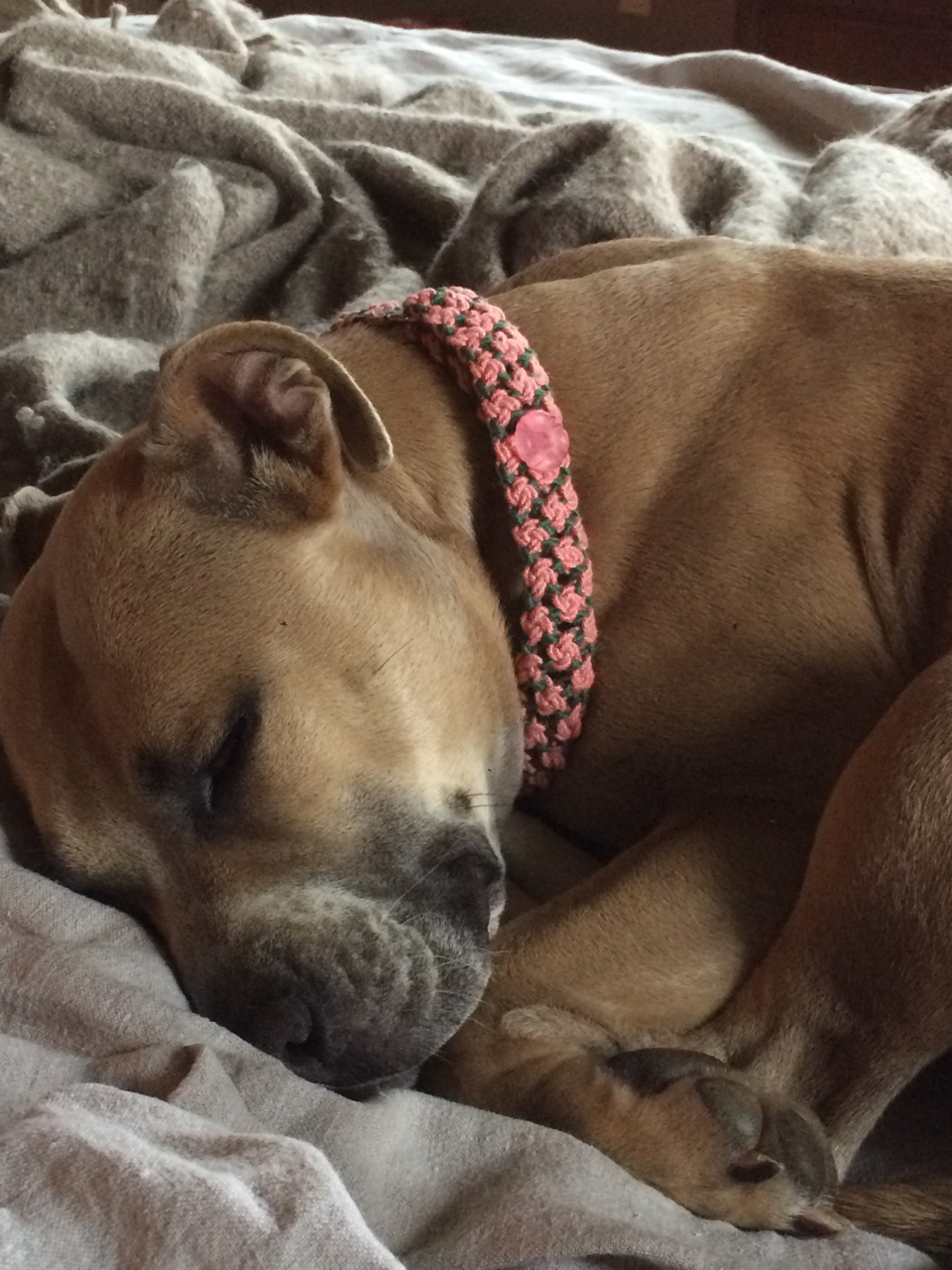 Natural dyeing at Fiber of Life camp.
Quiet moment at Fiber of Life – note warp weighted loom in background.
In process apron by Vavstuga apprentice Tonya. It's hard to see, but the pattern on the fabric is tiny tulips.  Adorable!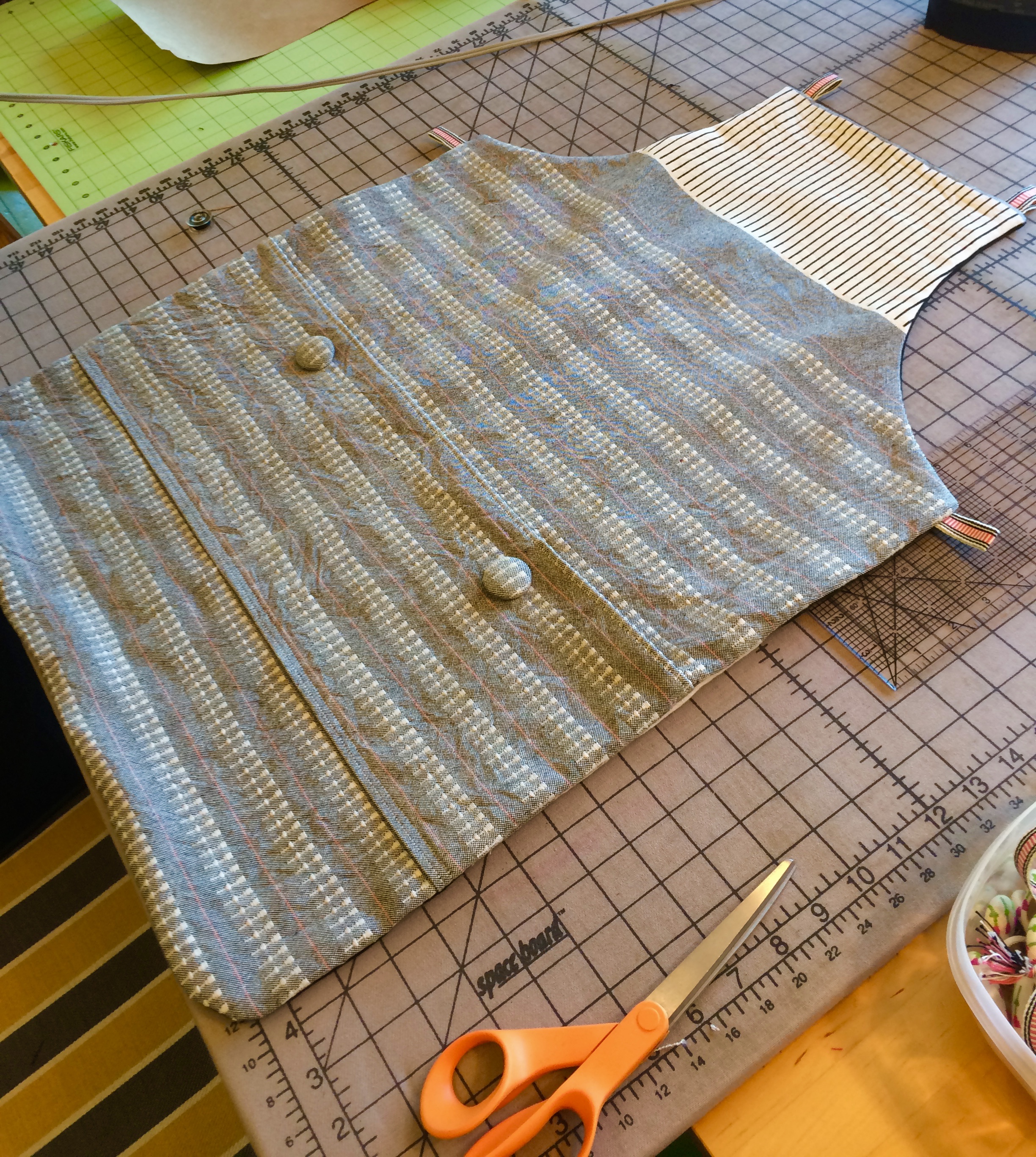 "Little House" coaster set made with my neighbor's wool (really her sheep's) by Sue Kranz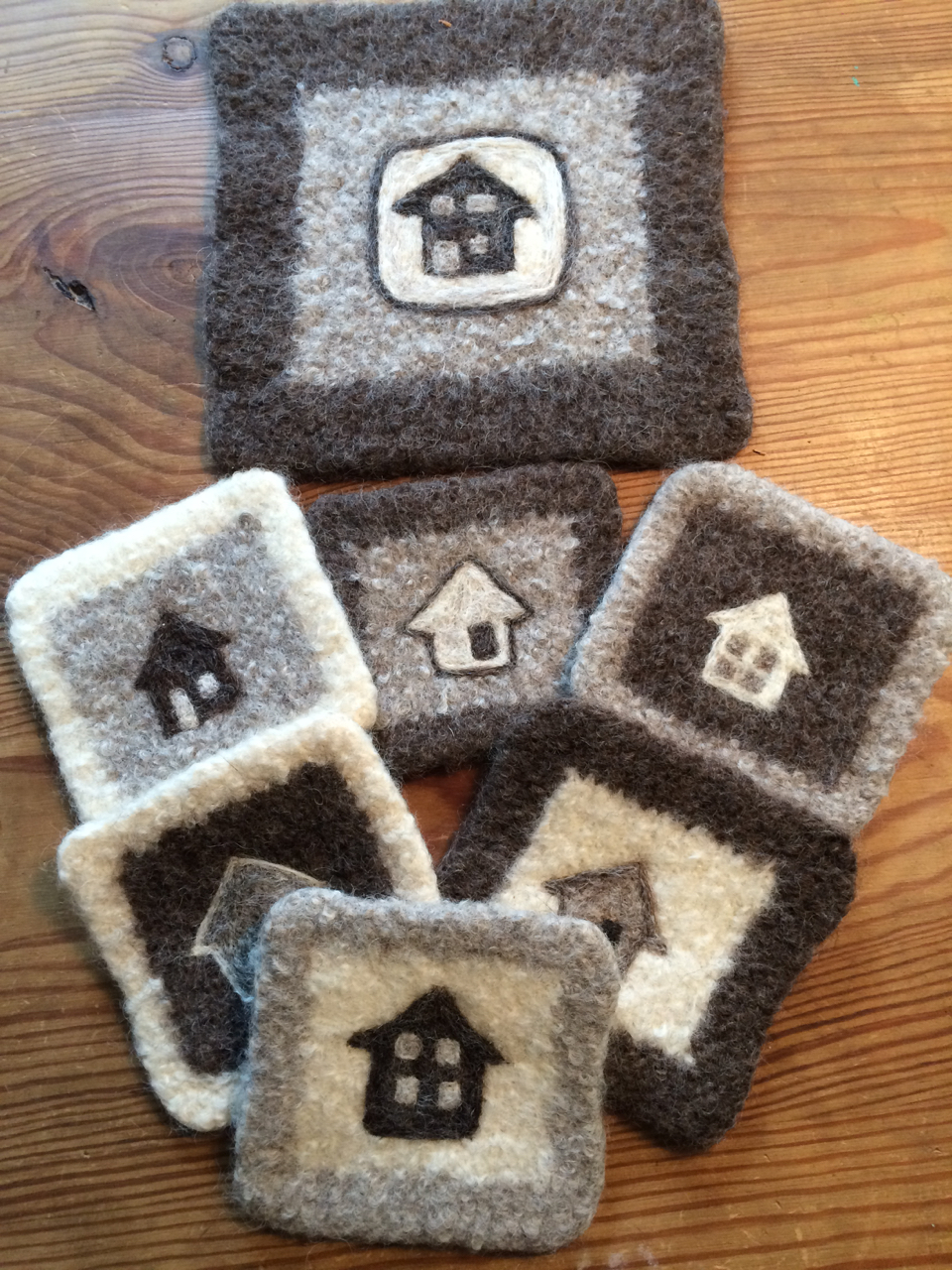 I had several wonderful classes since I returned from my mid-western odyssey.  I worked with the Immersion Class at Vavstuga (a 12-week weaving/spinning/tatting/linen/and more class) and it was a miraculous group of students who worked tirelessly for 12 weeks with Becky, all living, working, weaving together and accomplishing a huge array of projects including draw-loom pieces. I briefly worked with the group on a color/deflected structure class, and it was a pleasure to work with young women (some in age some in spirit) who are really determined to make weaving a big part of their future careers/lives.
I taught an Off-the-Grid class for my guild members (and a few equally fab non-guild members!) that was so collaborative and so much fun. The area where I live is in the hills surrounding the 5-college area of Western MA, often jokingly called "happy valley" because of the hippy ethos that abounds.  I set the goal of doing a stress-free, happy-valley-style round-robin and we succeeded in covering 15 different structures in 3 days virtually stress and panic free!  Everyone got on board, cooperated, helped each other, set themselves manageable goals, and boy was it a ball. Hooray for the wonderful Weavers of Western MA!
I also joined Becky for her annual Fiber of Life camp, where we (along with a group of pretty amazing middle-schoolers) collected natural dye stuffs from around her gorgeous property, sun-dyed hand-spun wool, did collaborative weaving on a warp-weighted loom, sewed, spun, wove and picnicked.  Becky even managed to have a maypole dance (in July) using handwoven ribbons for the maypole.
I then joined Becky for a Vavstuga Kitchen class as the apron lady.  The class all wove gorgeous kitchen textiles, while I assisted those that wove yardage for matching aprons.  Again, the spirit of collaboration and fun was ever present and made the textiles produced extra special.
I left immediately afterward to join my family for a pile-in on Cape Cod.  My kids came from near and far as did my parents, siblings, aunt, cousin, niece and new baby cousin to add the necessary baby fun to the mix.  Somehow, despite huge variation in age, temperament, politics and religion we had a great time, ate great food, yakked endlessly and even got my septuagenarian/octogenarian parents to try ocean kayaking and paddle boarding.
Now I am prepping for a much-anticipated trip to teach at John C Campbell folk school.  My mom is joining me for the road trip down (we may have even talked my New York lawyer brother to come with us and take a blue-grass mandolin class while I teach)  I have been reading about the origins of the Folk School, the commitment to a non-competitive, collaborative environment that fosters the perpetuation of the folk arts and music of the area, and it makes me more eager than ever to partake.
So instead of a "busy life", I am deciding to have a "full life".  And in an goofy, alliterative mood I will embrace a life full of fiber, food, family, flexibility, and fun and push away a life of brittle, bitter, blind, bland, bogus busyness.  Feel free to add to the list . . .