A Trip Takes Us
A journey is a person in itself; no two are alike . . . we do not take a trip; a trip takes us.
John Steinbeck
I just got home from a weaving journey to the midwest, and Steinbeck resonates!  The trip took me.  We drove from the first little signs of Spring here into a ice and snow storm in Kalamazoo which despite its extreme nastiness failed to keep the intrepid Michigan-ers from the workshop.  Like the Columbus and Connecticut Guilds before them, the Kalamazoo Guild experience was filled with "my people". People who do things with thread, who can chat about fiber and structure for intervals that would render civilians comatose and who are filled with inspiring ideas and experience that truly enrich my weaving life.  I was hosted by Cathy McCarthy, who not only beats my stash two or maybe three fold, but also has two Collingwood rugs and a houseful of things for weaverly eyes to rest on. I got to spend time with Mary Underwood whose weaving adventures (particularly those in Mongolia . . . on horseback!) I have been following for years. I got to re-meet fellow weavers from Vavstuga and newly meet a crop of weavers whose ideas, craftsmanship and free exploration of color amazes me. I have only included a few of the images from class – there are so many great ones, I had a hard time picking . . .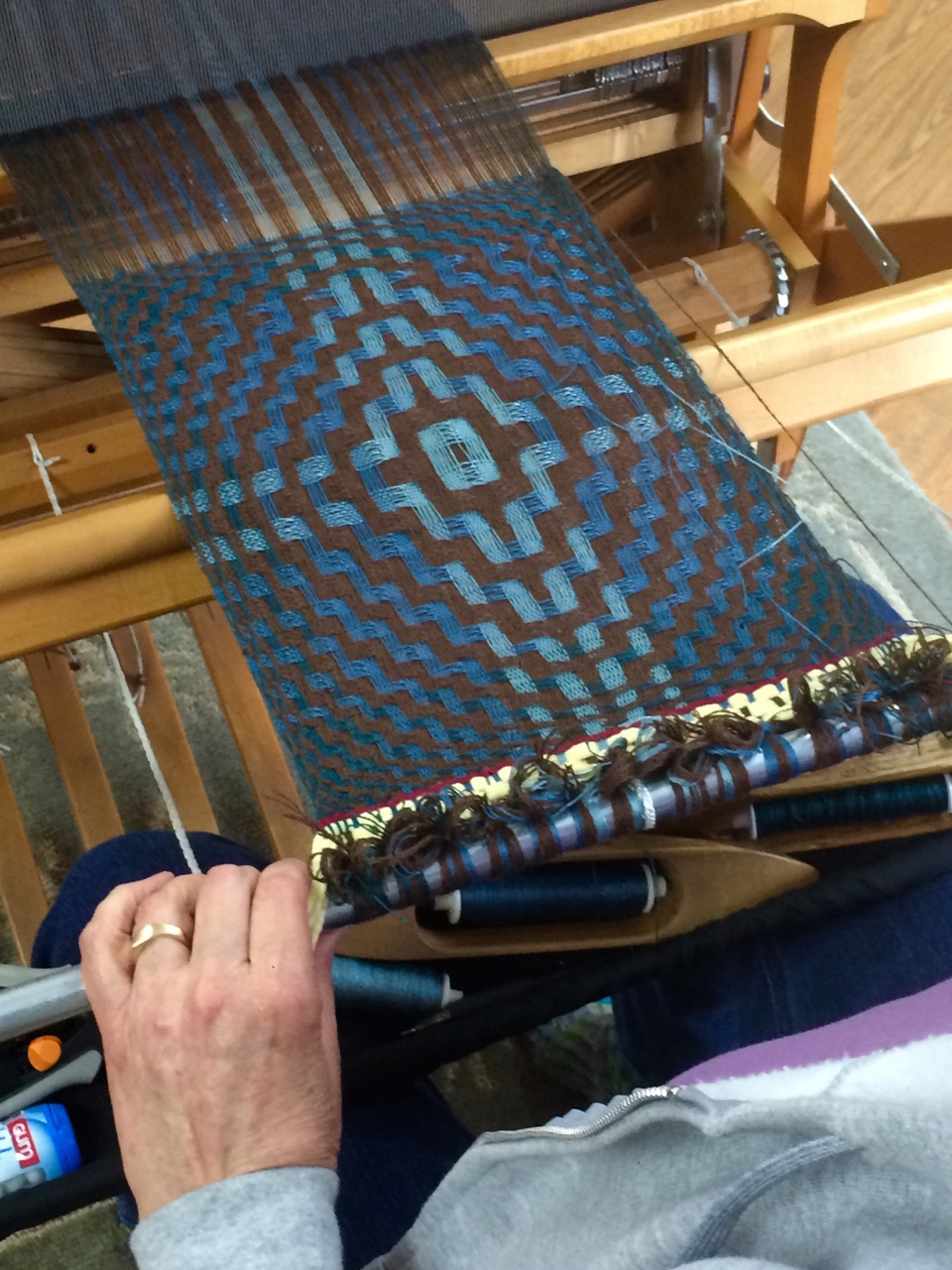 Cory Zann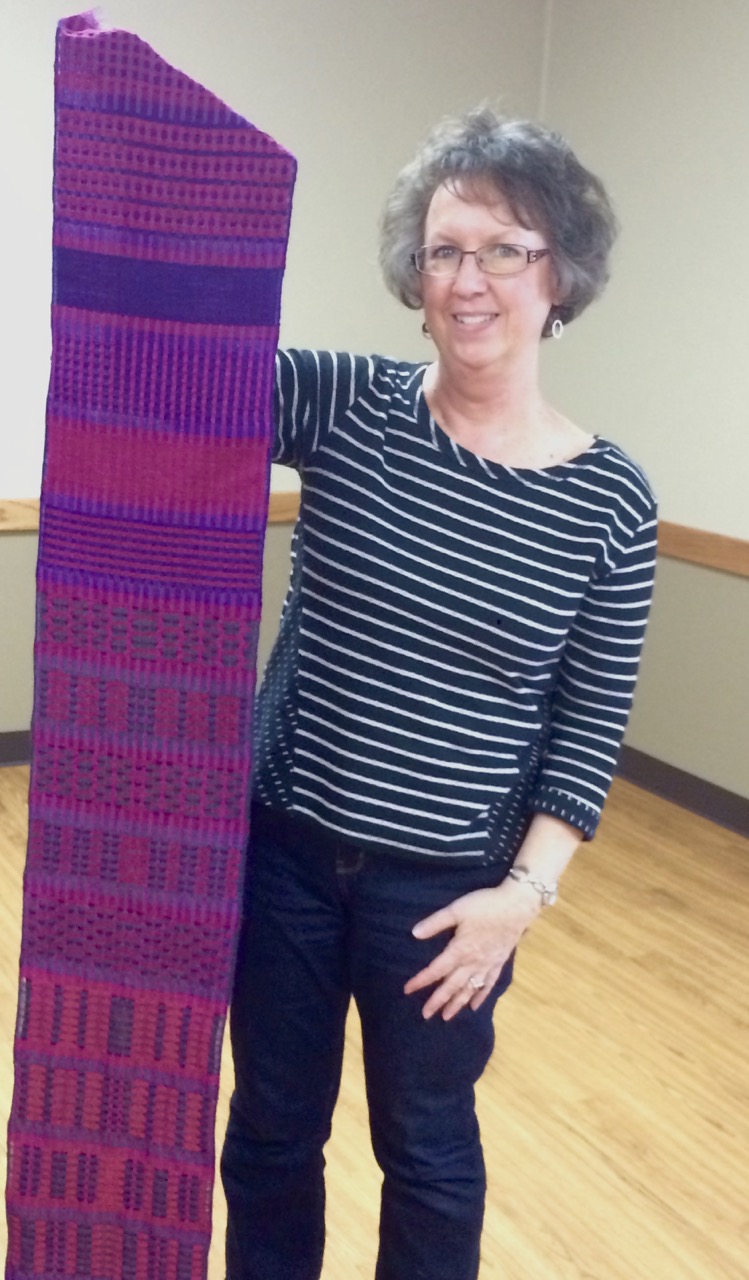 Martha Town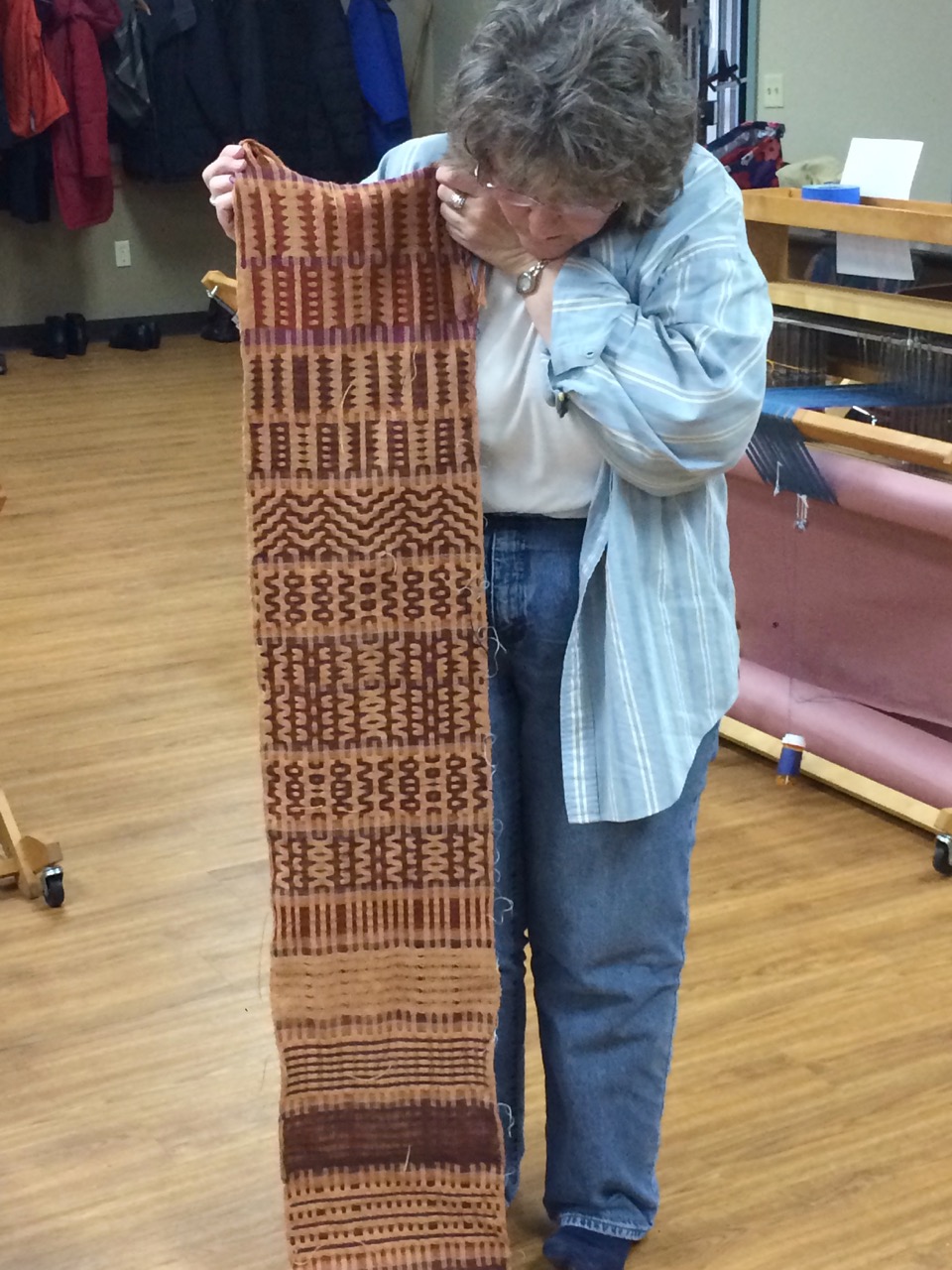 Nancy Reile
Marta Williams
Last day in Kalamazoo was still a little wintery as you can see above.
After leaving Kalamazoo, my husband and I headed to Minneapolis and back into Spring. We had a couple of days between workshops to roam the city blessed by beautiful warm weather and sunshine. We saw the Walker and the Weisman and the Mill City Museum 
The Minnesota Weavers Guild meets at the Textile Center which is a weavers dream come true.  It is located on the edge of Dinkytown, a part of Minneapolis surrounding the University Campus, and it is a TREASURE! They have a Gallery, a fiber library to die for, fully equipped classrooms, a dye lab, a gift shop and a staff of young, energetic fiber enthusiasts . . . if I didn't have a child/dogs still at home I might have taken up residence, sleeping on piles of yarn . . . enough of my fantasy life . . . When I lead these workshops I find that more often than not (again Steinbeck) the weavers lead me.  They are energetic and enthusiastic and take the warps/drafts that I have provided into unexpected and thrilling places. They ask questions that make me think more deeply about the structure and its possibilities, and share insights and ideas that makes the experience richer and deeper than I could have planned or executed on my own. Below are two pics that illustrate this phenomenon.  One of the Minneapolis weavers was Robert Bulthuis, a relatively new weaver. He got a black and white warp with an asymmetrical threading.  While I do many asymmetrical drafts, I usually balance the edge blocks, but in this case I didn't.  One edge block was white and one black.  Robert serendipitously started his white shuttle on the white side and black shuttle on the black side and Voila! invented the "Bulthuis Technique".  By starting his shuttle on opposite sides on an asymmetrical threading he was able to completely avoid the "selvedge issues" that usual go with this structure (see youTube videos on Deflected Doubleweave). As a result he was able to finish his sampler and his scarf during our 3-day class.  As you can see it is dramatic and beautifully woven – Congrats Robert!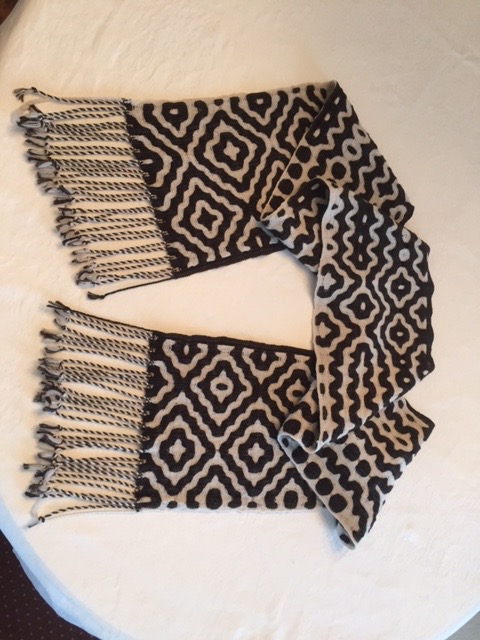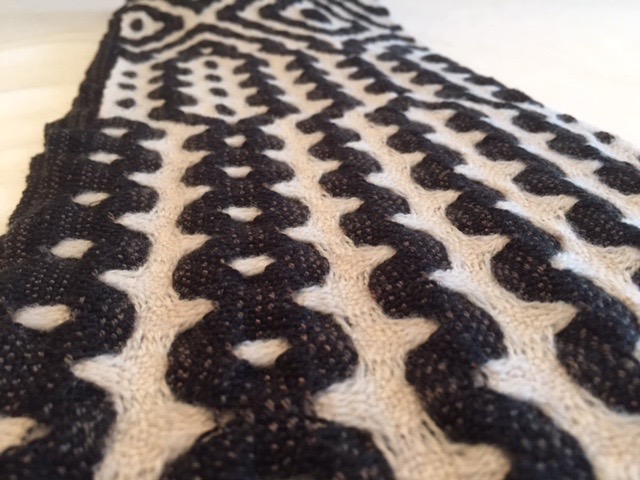 And look how well it goes with a piece at the Weisman!!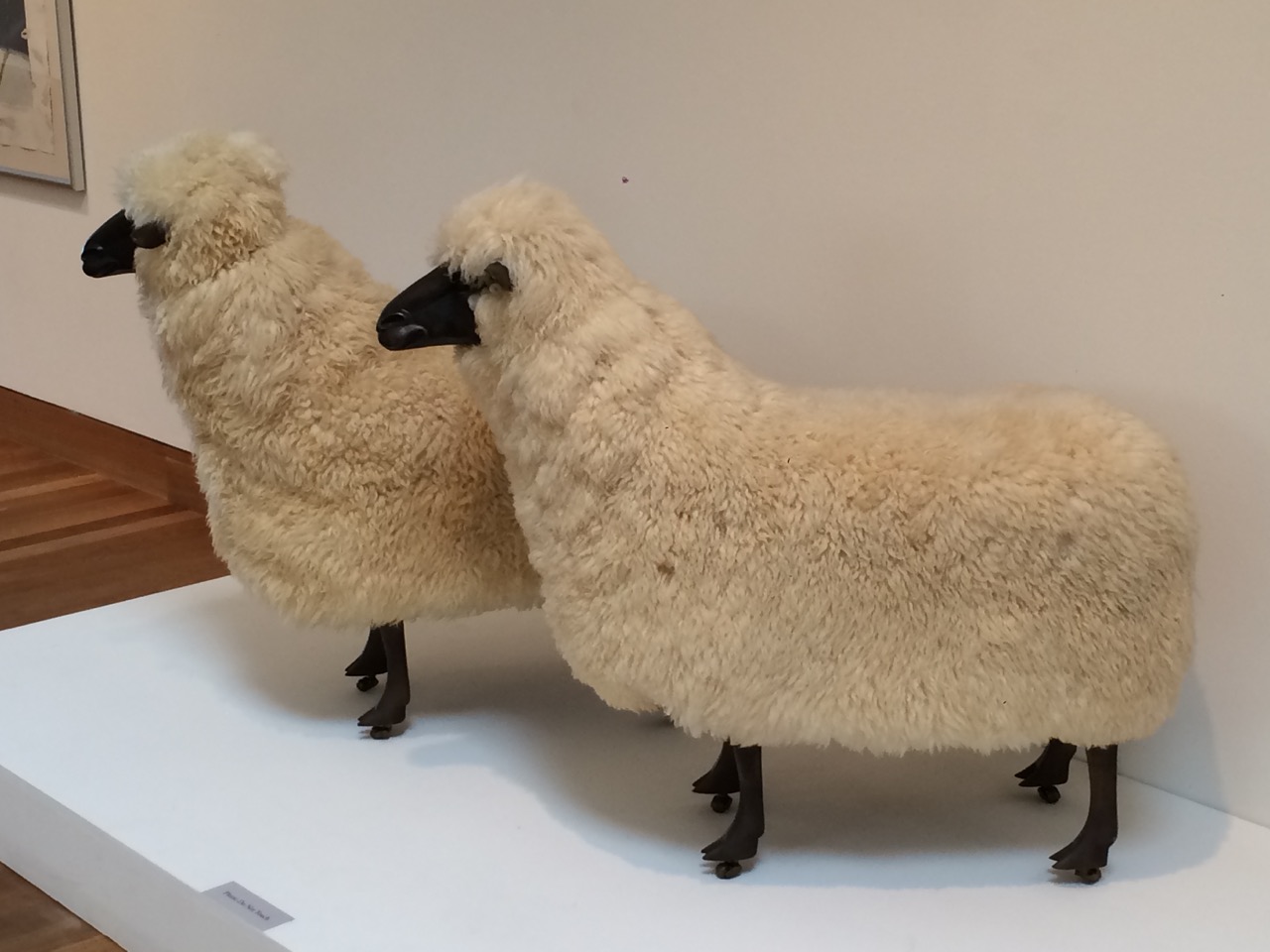 Below is more eye candy from the Minneapolis class: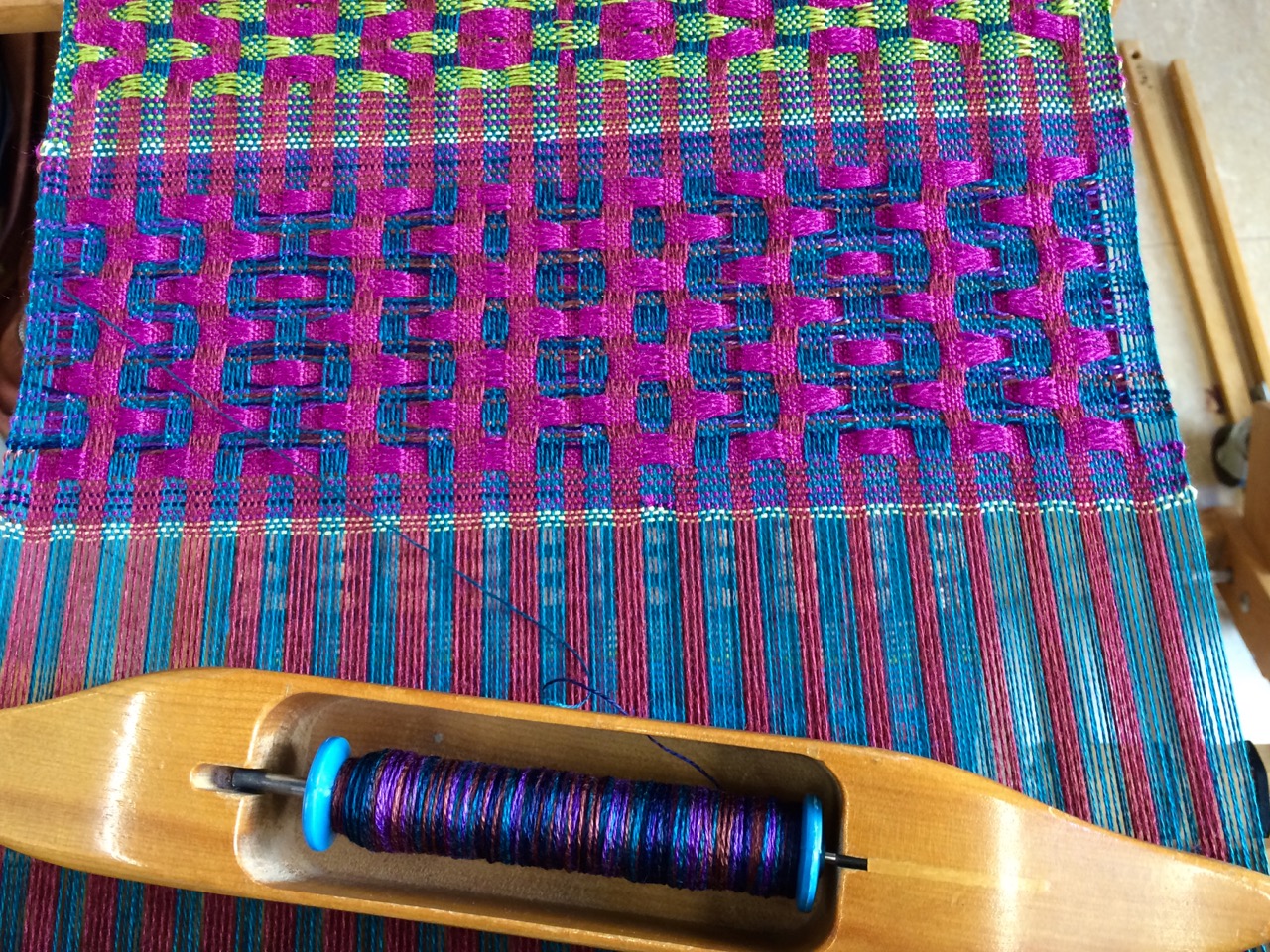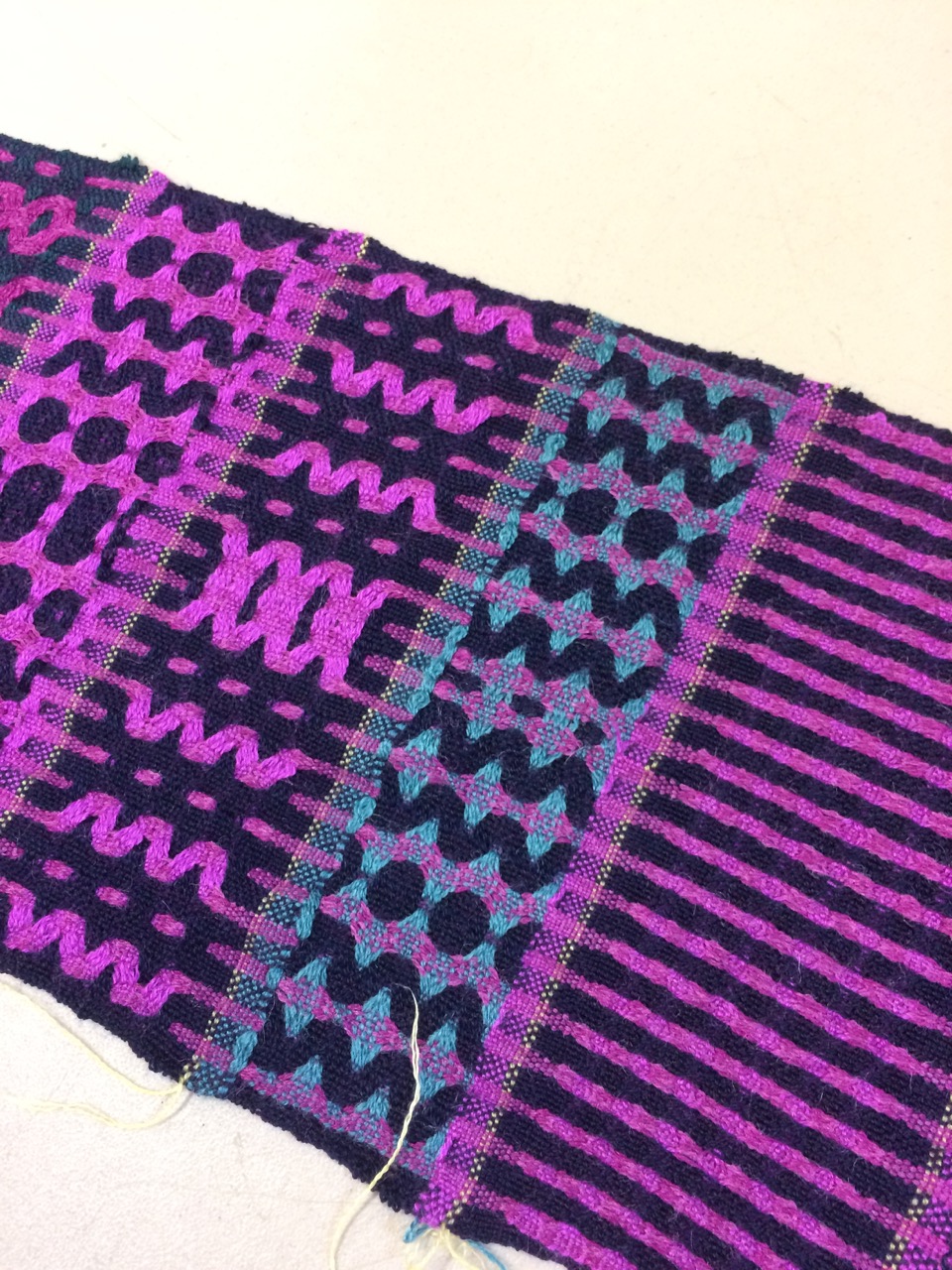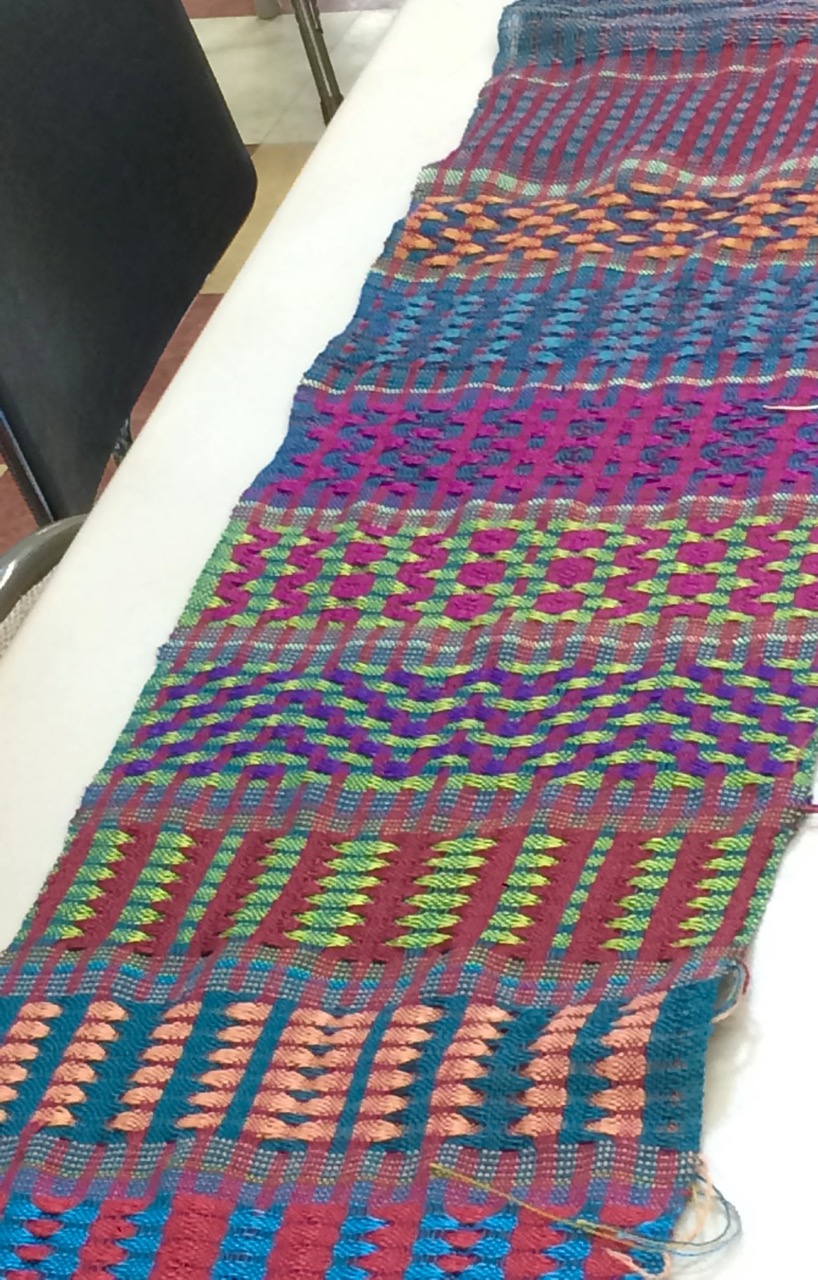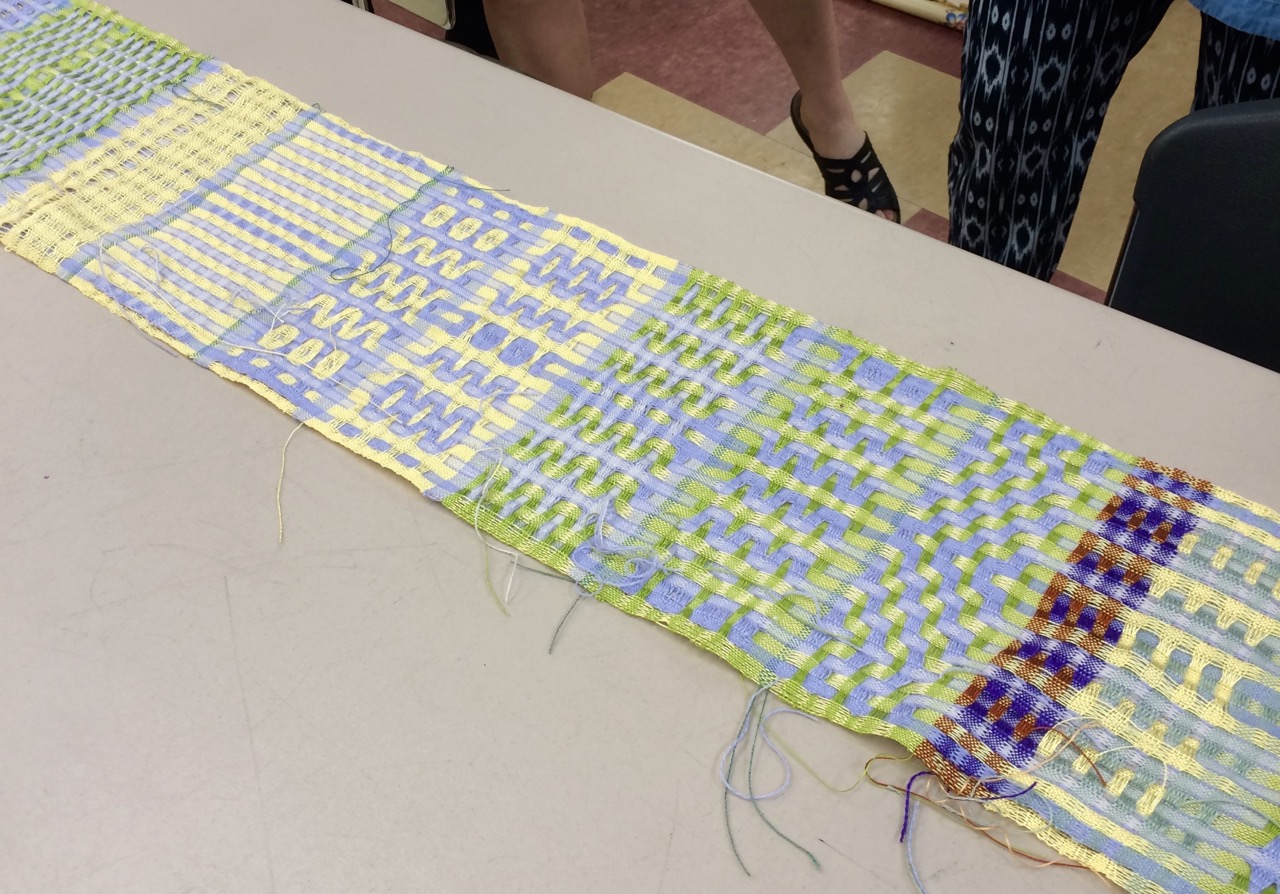 Look how the brick work on the wall of the Jewish Fraternity of U of Minnesota looks like the structure above!
My husband and I stopped by our alma mater in Oberlin Ohio to break up our 20-hour drive home and walked down Morgan Street where we both lived and first met . . . how many years ago . . . for a sweet finish to the trip that took us.
Forgot to add best road food ever at Jack's Barcelona Drive-in on the shore of Lake Erie – FRESH lake perch sandwich with homemade sweet potato fries and a super friendly atmosphere . . . thought we'd left the highway into heaven. Don't let the unassuming exterior fool you!