Convergence 2014
I just got home from a week in Providence, RI totally immersed in the world of hand-weaving.  Where else can you walk down a city street, stop to observe an interesting textile in a shop/gallery window and have several people converge to discuss the weave structure?
My daughter and her husband live very close to RISD/Brown, and so they retreated to the quiet, green of the country (my house) while I bach-ed it in their beautiful little condo on the third floor of a large Victorian House just a few blocks from RISD and just a mile from the RI Convention center. I have to say being a bachelorette for a week was really enjoyable! I would get back to the apt. after 10:00 pm after an intense day of weaving, drafting, talking & thinking textiles, drop my clothes on the floor, get my comfy pjs on and then have a PB & J if I hadn't had dinner with friends or colleagues. No dinner to make, no food shopping, no need to check on anyone else's needs or schedules. I genuinely missed the fam while simultaneously LOVING the freedom!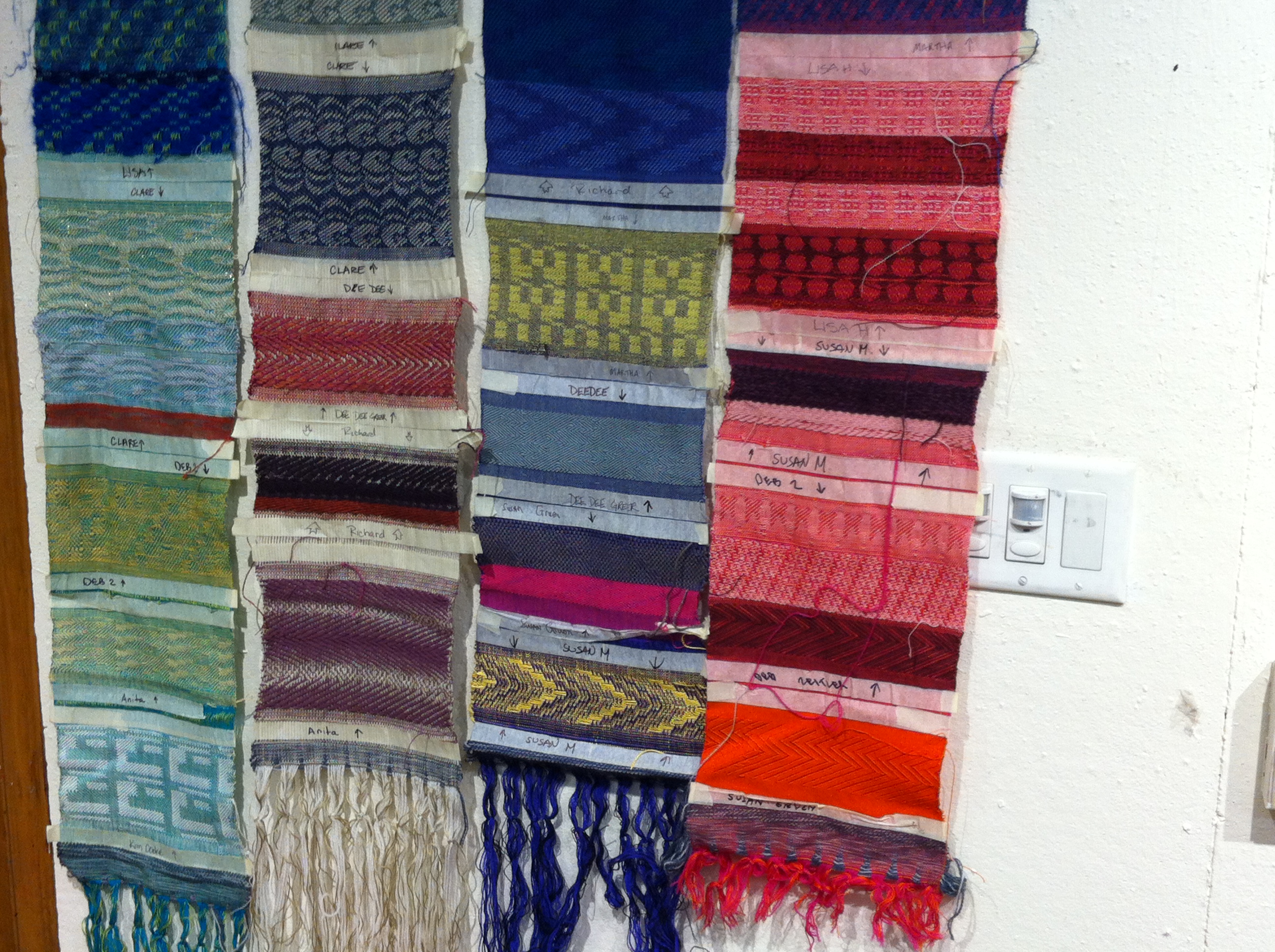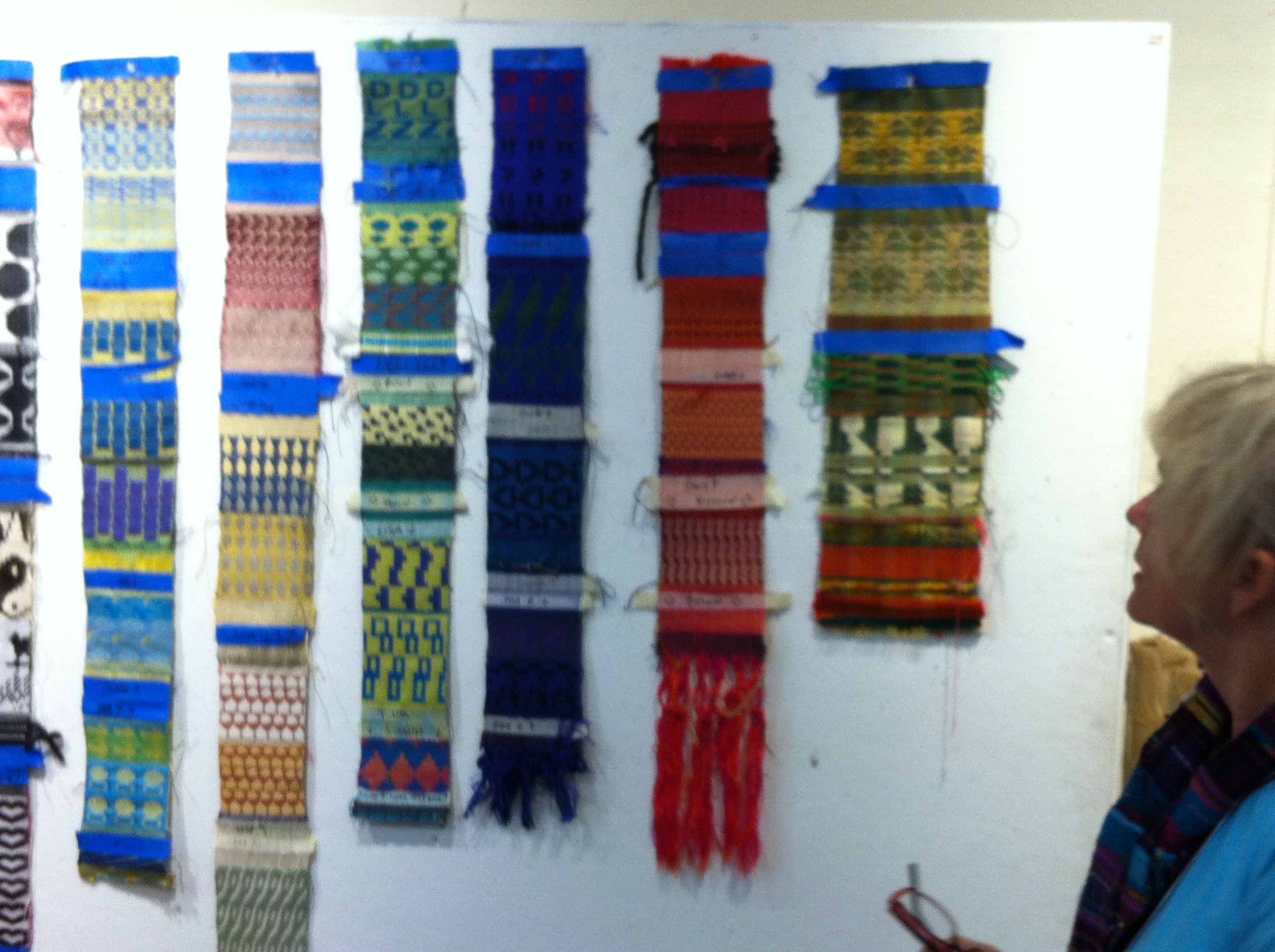 My first class, which ran from Sun. thru Wed. was a 24-shaft compu dobby class that is usually taught over 4 weeks as a summer session or 6 weeks as part of a textiles major at RISD.  It was intense, and the content was stellar.  It was called Design, Draft and Weave on a Dobby Loom.  We got deep into drafting.  It could have been called Advanced Weavepoint. However the design part was given pretty short shrift and the weave part was fairly limited as well – which I will explain in a minute. We had lecture from 9 – 12 and then again from 1 to 4 at which point we were told that we were free to draft and then weave. The studio was open until midnight.  The problem was two-fold.  First, we were not spring chickens, and the idea that we would be in a pretty intense class for 6 hours and then buckle down to design and weave using the VAST info we had just been awash in was pretty overwhelming for many of us.  On top of that was the fact that it hadn't been mentioned in the course description, so that many of us had made plans to meet friends and collegues after class – something that I don't think the teacher was aware of.  We felt that Convergence is both a not-to-be-missed opportunity to take great classes, but seeing and talking to our fellow weavers from across the country was equally important to us.  I ended up scrambling to get something designed, run downtown to have dinner with long-lost weaving buddies as well as friends with whom I am working, then (after a single glass of wine) zooming back up to the studio to work from 7-9 or 10 then trying to get back to the studio to weave from 7-8 before class.  The consequence other than being very tired was that thoughtful design and execution was pretty impossible. Some of our samples from the final critique are above, and you can see that there aren't many mind-blowing ideas – just not enough time or brain cells at the end of the day to execute them.
After finishing with the RISD class I met up with long-time guild-ie Laurie Autio and a wonderful (smart!) weaver named Angela Schneider who provided me with a wee bit of wisdom that might sound sentimental at first, but is really important especially for those of us trying to go beyond our comfort zone in our weaving endeavors. She told me about being in a music group at John C Campbell and playing her flute in public for the first time in a long time.  She said that she had terrible butterflies and was so nervous, but kept the notion in her head that "butterflies mean metamorphosis" and succeeded in playing in public and with other musicians. Go Angela!
We then attended the Fashion Show which offered a couple of surprises.  There was a runway, so it was easier to see details of the garments if you had a close seat, the music was really good and interesting, there was a mixture of models, young & medium:), super thin & medium, and mixed races all good to see.  Then came the male models, who were giant and ripped!! There was a gasp from the ladies, and I almost lost it I heard a pair of elegant, silver-haired ladies next to me say, "Did you see the closures on that vest? to which the other replied "What vest?" Nothing like a jolt of testosterone in a sea of estrogen! At the end of the show there was another surprise when Bradon McDonald from Project Runway appeared as our judge and emcee.  I am a happy fan of Project Runway, and it was great to see both Braden and some of his designs come down the runway.
The day after the runway show I took a bunch of samples and projects for my upcoming "Moving Threads/Masters of Deflection class" to the Vavstuga booth. The booth was lovely and apparently set up by Becky in speed demon mode (I'm learning that "10" is Becky's standard speed:) I joined Becky and Linda in the booth for most of the day and for "Twilight Madness" (I will repeat my lame-ish joke that it is no coincidence that is was Twilight Madness instead of Midnight Madness – we needed to be in bed so we could be ready for brain busting the next day.)
I took a break long enough to have lunch with one of my favorite-ist weaving buds Suzanne and her husband who told me a story about Suzanne's father that resonated so much with my new-found understanding of how important familiarity with your materials is to good design that I'm going to write another blog post about it later. It was so great to see Suzanne who has been through an incredible physical ordeal, but has maintained her passion for weaving and is planning her next warp for as soon as she's able.
Back at the booth after lunch, it was a treat to see the flow of weavers into the booth – so many familiar faces and names – all enthusiastic about Vavstuga weaving. The pieces in the booth were numerous and stunning.  Becky and Linda also had a cold mangle for demonstration. Cold mangles are no longer available new in the US, so Linda is working hard to convince the Swedish makers that there is enough interest for them to brave the US liability laws and start importing again.  If anyone has an interest – let Becky know so she can add another name to the list of potentially interested parties and get those mangles flowing.
On Friday, I took two classes.  The first was a Networked Drafting class with Robin Spady. I knew a lot of what Robin presented, but I love to attend her classes because she is such a great teacher.  In terms of classroom mood, she's a master. She makes her students feel happy and confident and totally able to ask any question – not so easy!  If they added stand-up to the Convergence roster – Robin would be perfect.  I then had a class with my fellow Handwoven tech editor Sarah Jackson.  The class was on sewing with handwovens, and Sarah is a fearless and meticulous garment maker.  It was a lecture class, and I got some invaluable tips and tricks – some from Sarah and some from other students.  The sign of a good teacher – confident enough to allow an exchange of ideas – especially at Convergence where you have a super accomplished student body.
In every tiny break in activity, I would try to see the amazing shows and exhibits that were part of Convergence. Below are a teeny sampling of the great pieces on view: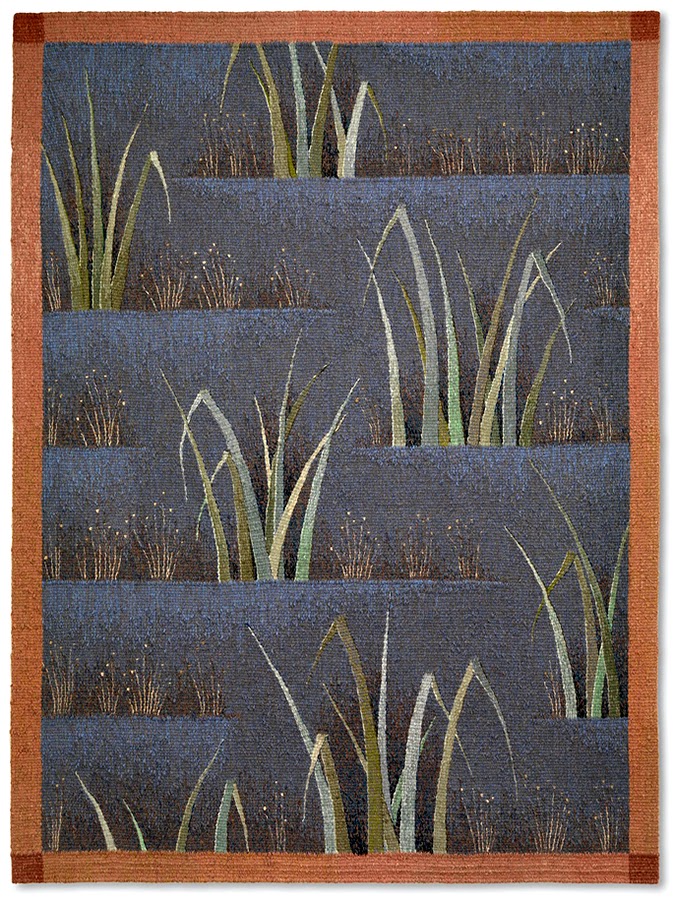 Julia Mitchell – Blue Grasses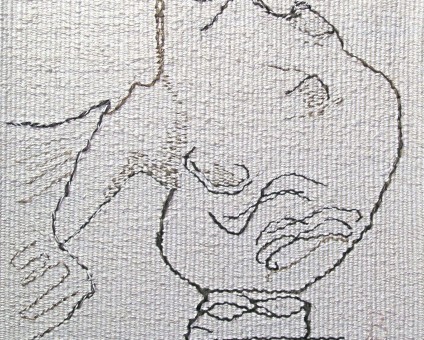 Barbara Burns KING AMENHOTEP
On Saturday, I played hooky packed my bags, cleaned up any signs of my bachelorette messiness and headed to the show Complexity for a last treat before coming home.  There were some real beauties in the show (Laurie – I need pictures!) that inspired and fired me up to get to my loom! I planned to go straight to the studio first thing today until I realized that I had scheduled a crew to come in to sand and re-finish the floors in my kitchen (have been down to bare wood for a couple of years now) and dining room.  After spending the entire day moving everything out – I understood why I had waited 20 years to get to it.  Now the refrigerator and stove are encased in plastic – so I guess I won't cooking . . . small blessings:))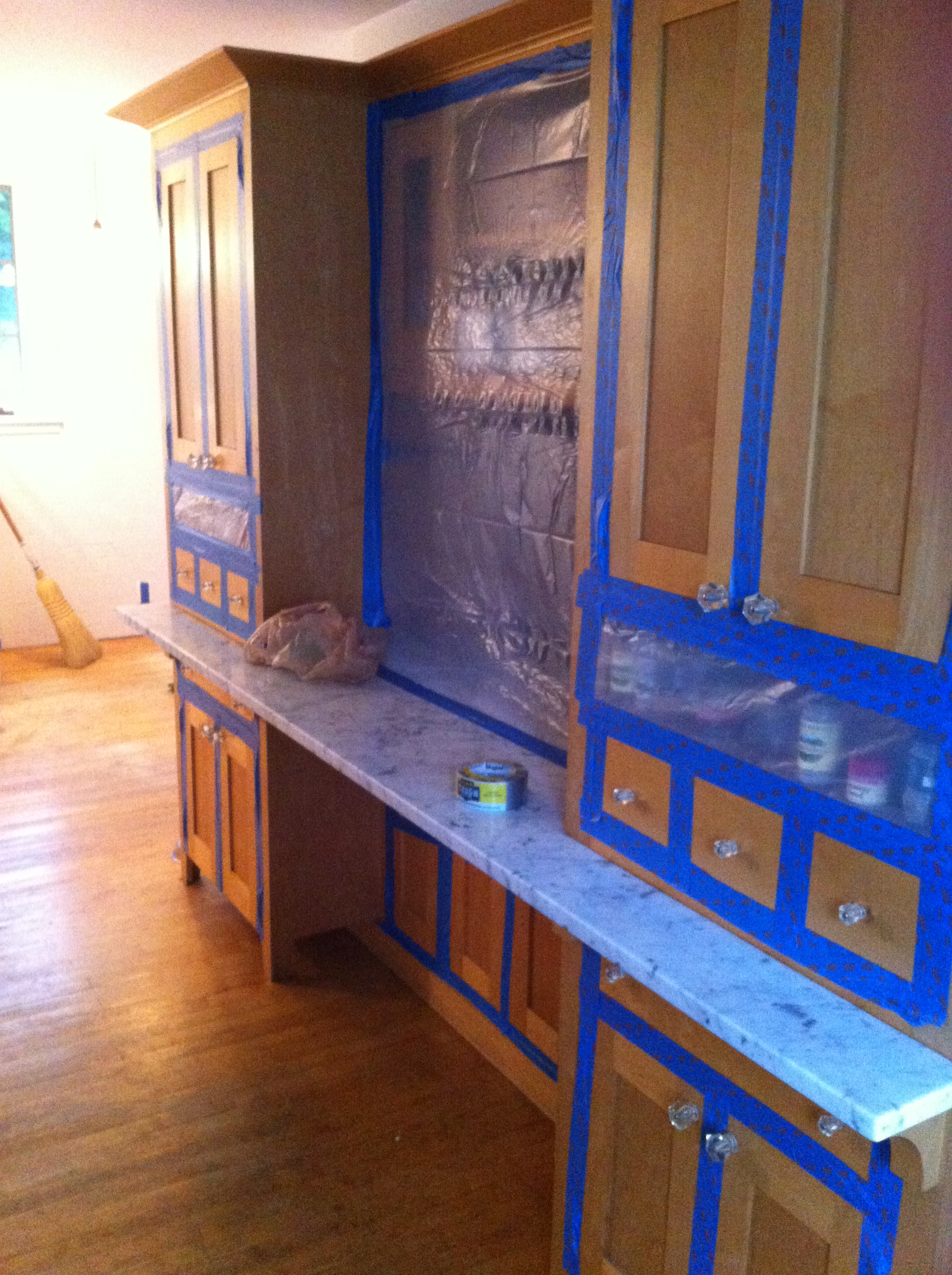 All in all – great!  I missed a few of my weaving buddies who I wish could have come, and I deepened my appreciation for the ones I got to spend wonderfully exhausting time with.
Start planning for 2016!!!