Peruvian Peregrinations
"One's destination is never a place, but a new way of seeing things." – Henry Miller
I had the opportunity to join my niece in Peru in early August. She had a grant to study and write about the collection of Machu Picchu artifacts collected by Hiram Bingham in the early 1900's. Over 40,000 items and fragments that had been at Yale since Bingham collected them were returned to Cusco in 2011/12 and are now at Casa Concha in Cusco under the supervision of San Antonio Abad del Cusco National University (UNSAAC).  The whole story is of great interest for students of Museum Studies (my niece) because it represents a successful repatriation of artifacts that had been taken during a time when it was common practice for developed countries to take and keep art and artifacts from developing countries. This was justified by the notion that the developed countries had the systems and resources to protect and display the items.  In recent years there has been strong movement toward the repatriation of many of these pieces.  My niece is a strong advocate and student of this movement.  I was fascinated to go back to Peru, and to visit sites and museums that I have visited before, but to see them again through my niece's perspective.
La Iglesia y Convento de San Francisco, Lima.
We spent one day in Lima, visiting the Cathedral at the Plaza de Armas, having lunch with a lovely Peruvian family and going to the Larco Museum, which is a beautiful private museum with an amazing collection of Incan and pre-Incan art as well as a pretty fascinating Erotic Archeological collection (sorry no images:)
The next day we flew into Cusco and began a wonderful series of adventures that included visits to the Center for Traditional Textiles.  If you haven't visited their website, I encourage you to do it.  Nilda Callanaupa founded the center in 1996 to honor and preserve the rich, amazing textile traditions of the Andes.  Having been to Peru 11 years ago, this visit underlined the importance of Nilda's work.  The textiles that are woven and sold at CTTC are beautifully woven, dyed with natural dyes and employ techniques that are harder and harder to find in the markets.  I found that the textiles sold in the markets are now (even more that 11 years ago) almost completely skewed toward tourist audiences – cheaper, more homogenous, faster to produce.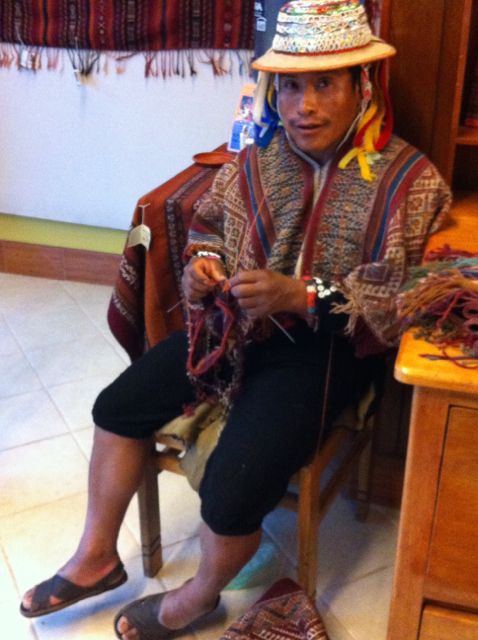 The knitters at CTTC are almost always men – this fellow was knitting when we stopped by at 8:00 am and still knitting when our bus dropped us off that evening at 8:00 pm.
These weavers were having a ball, laughing and talking while somehow miraculously keeping track of their intricate pick-up patterns.
The day after we arrived in Cusco, we took a fabulous train ride to Aguas Calientes.  This wasn't even the "fancy" train, but we had beautiful handwoven cloths and fresh flowers put on out trays for breakfast.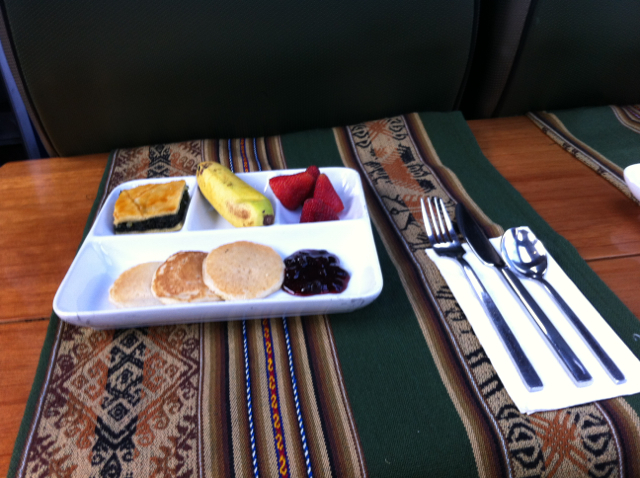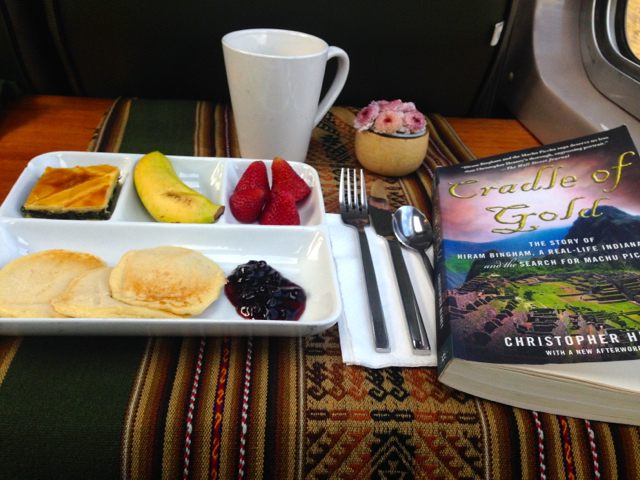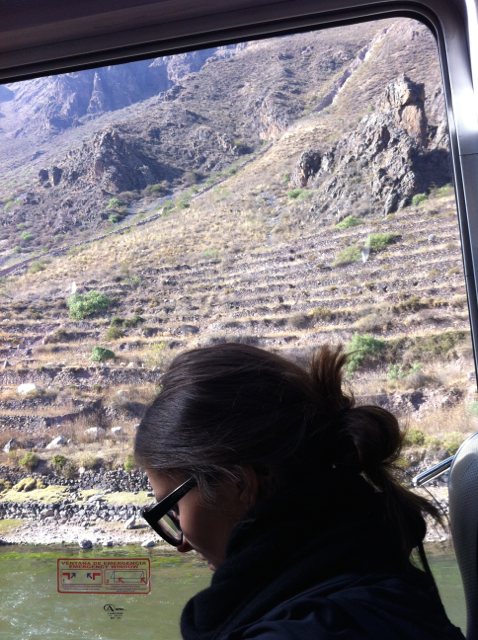 My niece – studying while this vista whizzed by.
We arrived at Aguas Calientes and took a bus up to Machu Picchu.  The site is (of course) breathtaking. One of the reasons it is of such importance to the Peruvian people is that is the only Incan site that wasn't destroyed/altered by the Spanish. It is now thought to have been a country retreat for Incan Royalty, but because it was so remote housing, workshops and terraced agricultural areas were built so that everything the population needed could be produced on site.The collection of artifacts that were repatriated from Yale are of essential importance because they can be studied and restudied as science advances to reveal more details of how the people lived at Machu Picchu.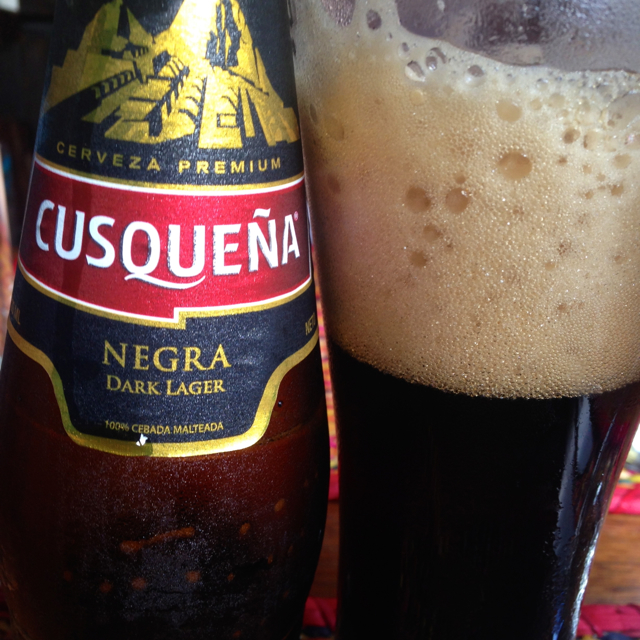 Then some refreshments . . .
The next day my niece and I visited the Inka museum in Cusco, the main Cathedral in the Plaza de Armas and MAP which is a subsidiary of the Larco museum, and has a wonderful cafe!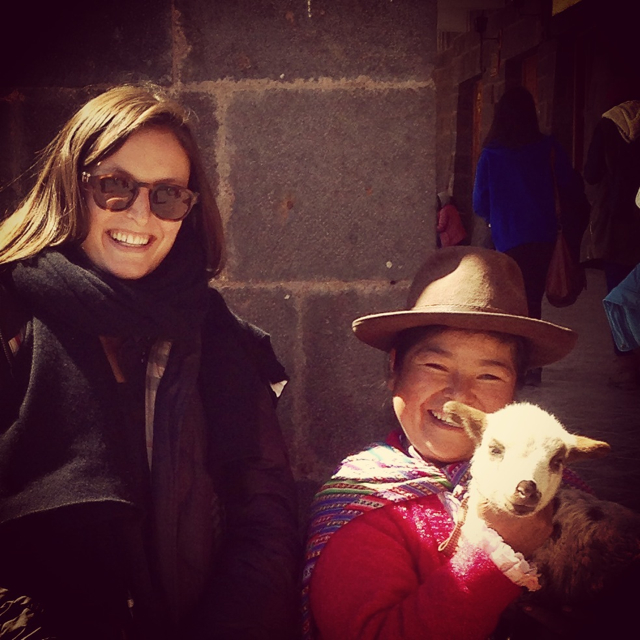 I am a little unsure of our exact sequence, but on one of our days we walked from our hotel up the Circunvalacion to Sacsayhuaman.  This is a walk I would not recommend.  A twisty, 2-way highway with very little shoulder and speedy bus drivers whizzing by.  We did have a few companions on our walk such as a few chickens, many stray dogs, and a couple of abuelas who put us to shame carrying giant bundles with equanimity while we huffed and puffed up the long, slow climb.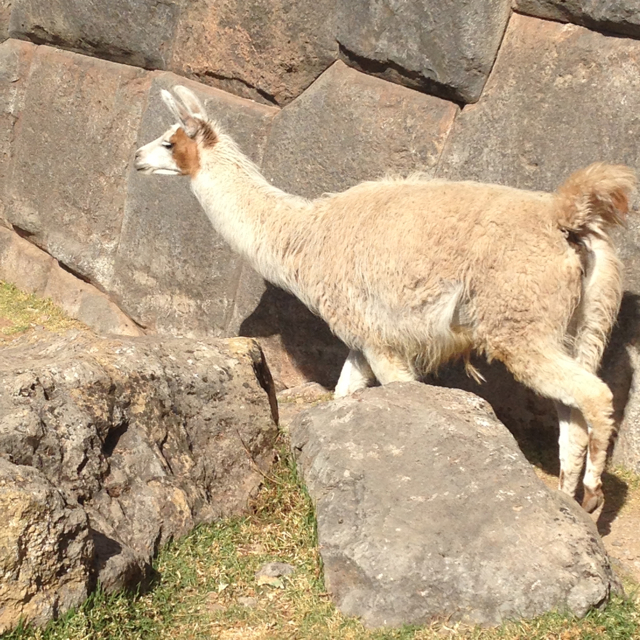 Sacsayhuaman is another breathtaking site in Cusco (if the altitude doesn't take your breath – the many, many awe-inspiring sites will!)
The next day was spent on a bus ride through the Sacred Valley – Pisac, Ollantaytambo, Urubamba and Chinchero. We could have spent the whole week easily. More amazing Incan constructions, more mind-blowing vistas everywhere and we ended as the sun set in Chinchero at a small, 17th-century church. It is one of my favorites – very time worn and humble in its way – entirely frescoed on the interior with beautiful floral frescoes that extend over the wooden beams. I would have loved a day in Chinchero because it is the home of Nilda and a very vivid weaving community – or so I've heard.
More refreshments on the bus – anis, coca and maca liquor bought out of a charming young man's backpack on the bus home.
Anyway, there are so many more tales to tell, but I just wanted to give a quick overview before I get back to my "life of a weaver" blog topics.
I will be writing about adventures with the rigid heddle in the next few months because I have been ordered to stay on crutches for the next 6 weeks in an attempt to figure out my ongoing hip problems . . . lesson . . . think hard about how your looms work with your body . . .