Squaresville
For some reason there has been a confluence of overshot in the studio these last few days, and the issue of "Squaring" has arisen.  As I mentioned in my last blog post we have a new baby in the extended family, and I wanted to weave her a "blankie".  I thought way back to when I was a new mom, and I remembered how sensitive and concerned I was about providing a healthy environment for my wee ones.  I immediately decided that I wanted to use the "American Maid" yarns from Lunatic Fringe for this blanket.  They are naturally-colored cottons grown and spun in the US using integrated pest management/sensitive water use and low chemical input. The awesome bonus is that they are BEAUTIFUL and very soft.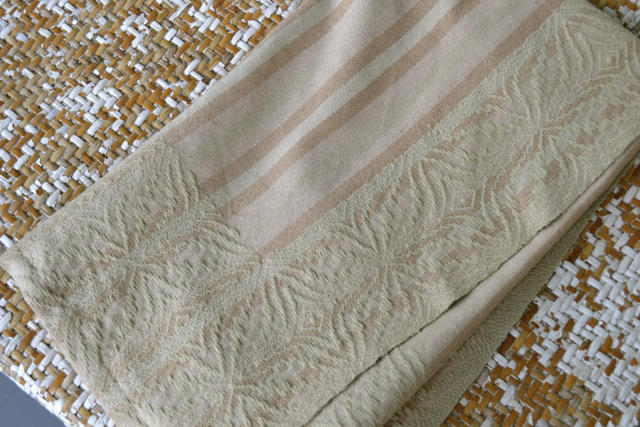 There are four colors of 10/2 in the warp – dark green, light green dark brown and light brown.  I used the light brown as the tabby weft and the dark green doubled as the pattern weft.  As you can see "dark" and "light" are relative.  I wanted to have an overshot border with the plain weave stripes as the center.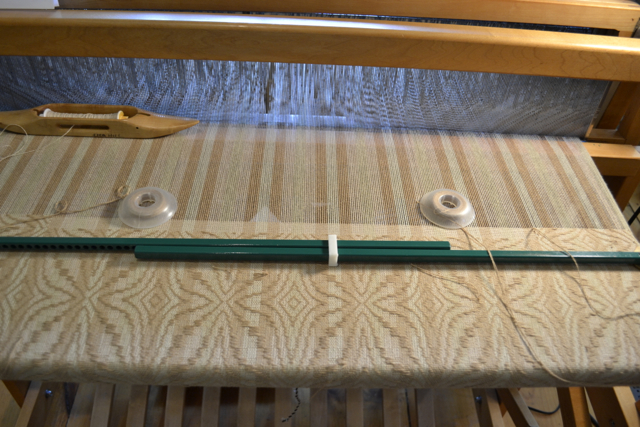 so I used the little plastic bobbins (above) to carry my pattern weft for the side borders.  Here's where the squaring question comes in – as you can see the bottom border is not squared.  I beat it hard, set it for plain weave and used a tabby weft half the size of the pattern, but couldn't square it.  I didn't want to use a finer tabby because I wanted to use only the American Maid and they don't have finer than 10/2 at Lunatic Fringe.  I used a temple to make sure draw-in didn't prevent me from beating the weft in, but I still couldn't square it.  When I proceeded to weave the side borders, I got a much better square because there was only pattern resistance at the borders.
The same thing happened with a towel that one of my students designed – totally beautiful, but not square.  I realize that opening the sett might help, but other than that what advice??? I tried removing a couple of treadling repeats, but the design doesn't have the same flow.  Please weigh in if you have answers.  
Other projects:  I wanted another project for my September "Shifting Threads" class at Vavstuga, and I wanted to use the Mobelatta, tightly-spun wool yarn.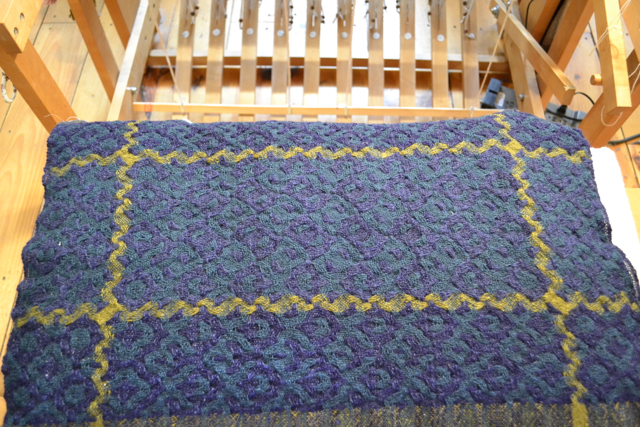 I thought a loom bench cover might be perfect.  The tightly-spun yarn would wear well, and if i put a relatively wide warp on the student would only have to weave 15″ for the top and 16 – 17″ in plain weave for the bottom.  I don't think we will have time for the bands, but they work great as straps with snaps.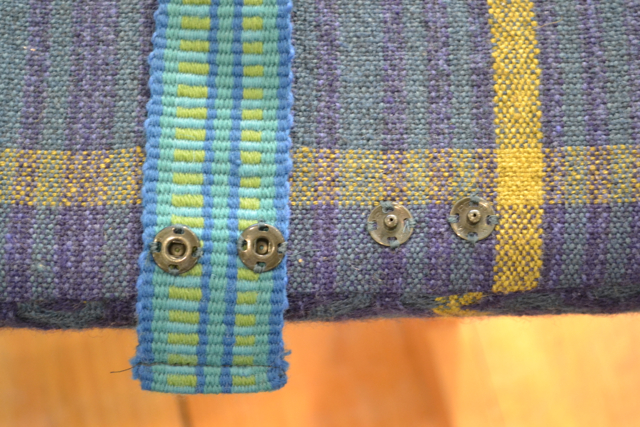 Remind me to clip threads before the "photo shoot" next time.
I also use a rug pad to prevent slipping.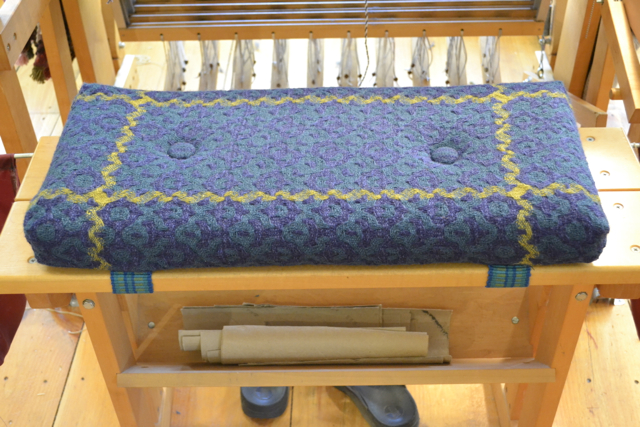 The photo makes the buttons look askew – but they're not. Do you think it looks strange that it isn't as wide as the bench. I like the ric rac effect – not sure about the yellow green though.