Launch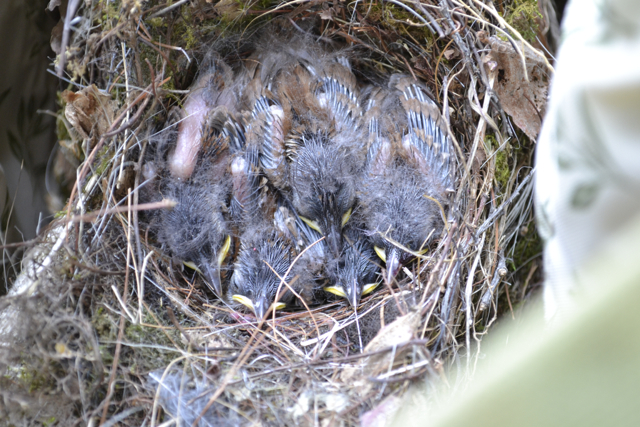 There has been a launch-y feeling around here lately.  My middle son is home from college (rising senior- oh lord!) ready to head to Germany. My youngest just "graduated" from 8th grade and is a rising high-schooler. Our German exchange student is finishing his year-long visit and is preparing to go back to Bavaria. And to top it all off we discovered an amazing surprise in our mudroom.  Heading out the door for the last day of school we heard a crazy peeping frenzy from somewhere in the mudroom. After a little investigation we found (the above) little beauties in my canvas garden tote.  We were so worried that Mama bird had abandoned the nest that we tried to feed them with blueberry mush, but after hanging them back up we saw a wily Mama sneaking back into the mudroom to take care of her babes.
Today, I was heading out to the barn when I saw this little adventurer heading into the world.  We confined our cat to quarters and watched as each little traveler left "home" and headed into the wide world with a quick stop on the car bumper.
I had my own joyful travel adventure last week.  My son and I headed north to Portland, Maine so I could do a Apron presentation for Mainely Weavers. I asked that members bring aprons to talk about and share, and I was delighted to have almost every member bring an apron or two or three that had a memories or stories attached. It was a delightful, sparky group, and I had a ball!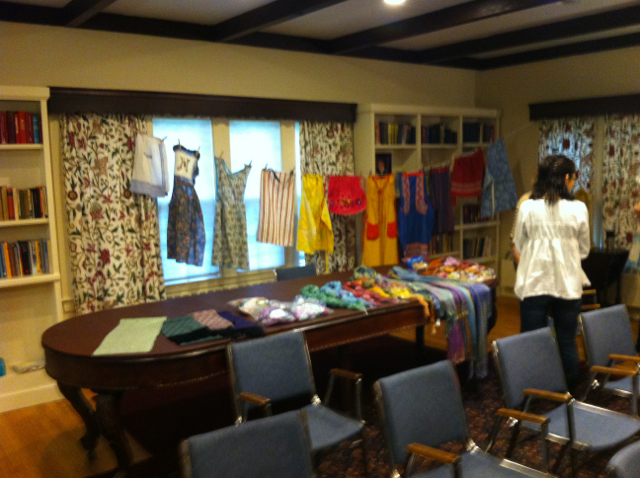 Portland was beautiful, the drive was gorgeous and a chance for uninterrupted busy-son time is a blessing.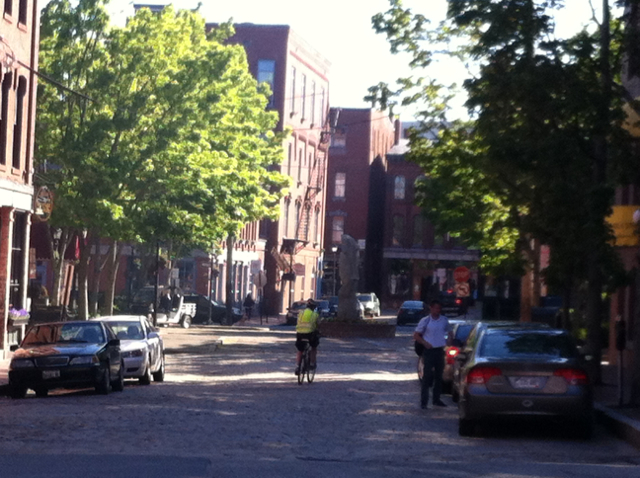 In weaving news, I have started something I've been wanted to weave for a long time.  A merino/linen deflected doubleweave throw.  It is going slowly because I have been tortured by arthritis/tendonitis in my treadling leg and the AVL is a challenge. One treadle, lifting 1 to 16-60″-wide shafts repeatedly is not recommended by my PT person.  Anyway, it is a tricky project because the motif is completely invisible to me except through the camera.  When I look through the viewfinder I can see the motif (which I believe-hope) will emerge once the throw is washed.  Hard to see mistakes tho'!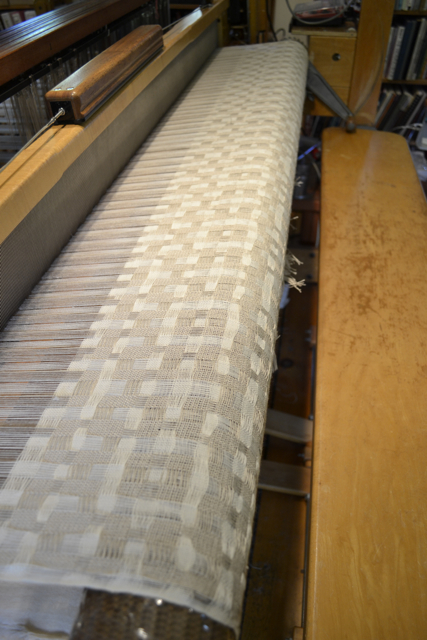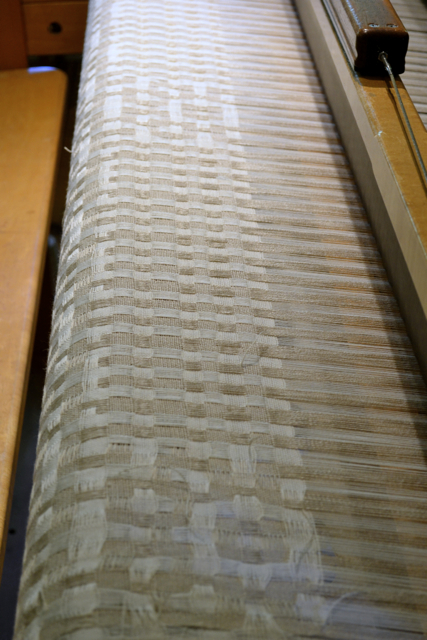 Can you see it?
On my "wee" Schacht, I did a sample for my June class. I wanted to demonstrate changing the size of the threading blocks, and this is the result.  It has an old-fashioned overshot-y feel at the same time as being a little op-art-y, but it is soft and drapey because of all the floats.