Dimity – Dark and Diabolical or Heddle Hell
I have just finished dressing the big Harrisville with a 58″ warp of 30/2 silk noil for some dimity dress fabric.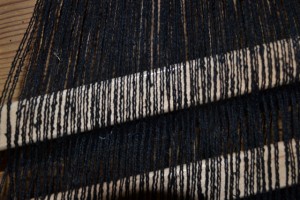 I wound the warp months ago, but it languished in plastic salad containers because of a number of reasons. There was a rug warp on the big Harrisville that I couldn't seem to get to.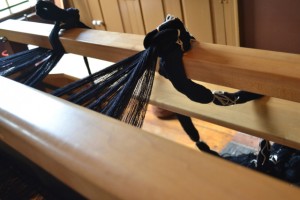 Also I had to add about 400 heddles to each shaft – a task I dread like the gates of hell. Why are heddles chores so horrible?  It can't be tedium because weaving is rife with tedious tasks that I don't mind. I recently read an old Weavers magazine in which Madelyn van der Hoogt writes about how she will do any number of crazy, unweaverly maneuvers to avoid counting heddles. Again, I wonder why.  I keep my looms well maintained and will spend time setting things up so that weaving is smooth and easy . . . but if you look at the heddles on any of my looms you will see a mish mash of varieties, facing in different directions, random and chaotic. I would love some feedback on other people's heddle habits.
Anyway,  I now have 5 yards of black warp on the loom in my husband's home office for my (totally gorgeous – in my mind) dress fabric.
My obstacles are that I CANNOT see anything unless it is before noon on a sunny day.  The loom is in a room painted chocolate brown with windows on one side – east.  I get great light from about 5:00 am until noon, and things get dinmmer and dimmer after that
.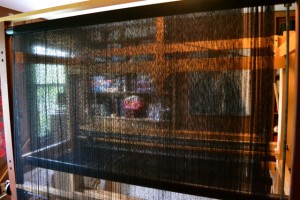 Electric light?  I hear someone say.  Yes,  but the degree to which the black sucks light is astonishing.  I will start weaving on Monday  – hoping that the weighted beater will make the weaving go fairly easily.  I am going to weave the majority of the warp in simple dimity, but I will weave  about 1/2 yarn in honeycomb for accents and I think I might weave a small section of the warp with some glitz in case I get the impulse to add a sparkly hem or sleeve edge.  All in my imagination at the moment.