Diminishing Dimity
The dimity warp is diminishing as the dimity fabric grows!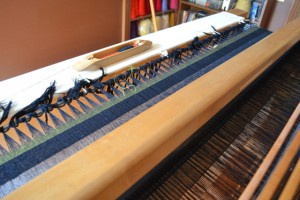 Several things have come to my attention as I wove today.  One is . . . now I remember why my beloved mostly black wardrobe got shelved . . . every flying fiber visibly embeds itself into this black fabric.  I guess flying animal hair is a more apparent sign of Spring in our house than the fragrant lilacs (I am blaming spring shedding rather then face all-season lax housekeeping).
Another issue is  . . . I seem to be shrinking – bummer! I don't use my big Harrisville rug loom as much as I used to.  I wove miles of mohair throws on it before I got my AVL.  I am tall, and the 60″ width wasn't much of a problem, neither was the fixed bench height which places the weavers body over the fabric as one weaves.  Again, this wasn't a problem before . . . now it is a sadly comic sight to see myself throw the shuttle and slide my bum back and forth across the bench to catch, then reach down to treadle with my tip toes.  Has anyone ever seen the Laurel and Hardy short "Brats"?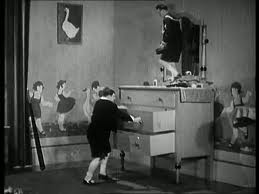 sort of like that.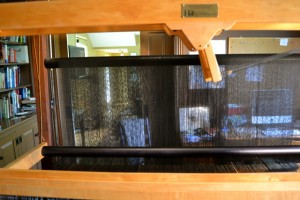 Finally, I became re-aware of how much I love Dimity. Thanks Ute!  It really is a miracle structure.  The side facing up in the picture is the back side.  The ribs are composed of threading blocks that weave plain weave next to blocks that weave intermittent plain weave.  Meaning that the weft weaves in those blocks twice and then floats twice.  So it is not a reversible structure, but it is so textural and can also be woven as honeycomb for an even more textured surface.