Hanging by a Thread
I saw this poor lost bear hanging in a tree on a walk recently – and somehow it resonated . . .
I am working on a blanket/pillow set called Dots and Dashes.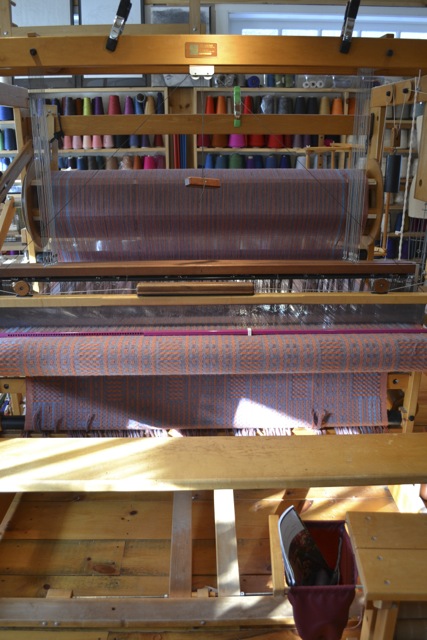 I used a combination of wool and an alpaca/modal yarn I bought years ago on Ebay when it (Ebay) was new and one could find all kinds of unusual, interesting deals from around the world. Modal is a type of rayon – one of the "natural/man-mades" often created from beech pulp.  I wound a 6 yard warp with the intention of weaving a blanket, 2 pillow fronts and 2 pillow backs on one warp.  I have been very pleased with the color departure from the super saturates that I have been using lately to these dusty colors.  The mixed warp has been challenging me with tension issues, but so far so good.
I have also been working on a design essay for my Complex Weavers "Designing Fabrics" study group.  I think I am going to post my rough draft – with the hope of getting some input??
Nightmare?
In "No Momentum News" the coop progress has been temporarily stymied by the busy lives of the group – I also think the reality of the time/financial commitment has given pause . . . hopefully we can take a deep breath and regain some movement as the snow melts and spring hopefulness returns.
In "Forward Momentum" news, the Deflected Doubleweave class I am teaching at NEWS this summer has filled!! Whew! and Yikes!  I better get to work . . .