March Madness
I want to take the term March Madness and make it describe NOT the happy and longed for College basketball events, but the crazy whirlwind of intertwined weaving and weather madness that has been going on around here.
Here are a couple of pics of the 2nd Grand "In-structo-tion" event held at my house
We had a ball trying to fully master the "weave as drawn in" technique (previously blogged) taught by weaving master Ute Bargmann.  Ute "sat on us" until we finally understood how to read the warp so that we could weave overshot without a treadling draft and get the tabby order correct. Then we were rewarded with some yummy Red Lentil and Lime soup (a great recipe that I got from a member of my book group and blogged about on TasteSpace) http://tastespace.wordpress.com/2012/05/30/red-lentil-soup-with-spinach-and-lime-2/That was the virtuous part of the meal. The indulgence was Glazed Lime Cake http://www.epicurious.com/recipes/food/views/Glazed-Lime-Cake-351018
It was a Structo and citrus frenzy.
I finally finished my article for my CW Designing Fabric study group. I wanted to post it here to get some feedback, but it is LONG so I will post a pdf and you can open it only if you are super motivated to read A Scintillating Tale of Sitting at the Loom for Three Weeks . . . Can you tell that I am completely tired of it? Anyway, read at your own risk Designing Fabrics essay
I have completed the Dots and Dashes set of pillows and throw.  I am really happy with the set except for the sewing.  I am thinking seriously of buying a serger (oh no – another machine) AND taking a sewing class.  I thought that by the 9th or 10th zipper/pillow I would have it down, but what I realized this time is that I run into the same problems over and over and I can't solve them with practice alone.  I need to know how to make adjustments in the tension on my machine, what thread to use, what foot to choose, etc. I also need to learn how to do it with MY machine. I will try to read my manual again (I have had this machine for 20 years – so you would think I would have mastered it by now . . .) All of this learning to happen AFTER I have sewn 14 pillows. Sigh!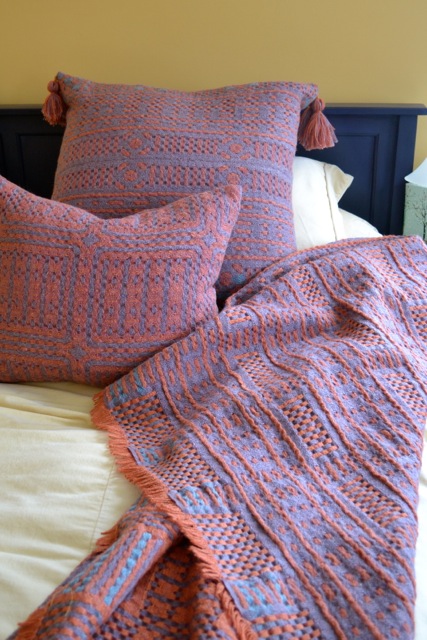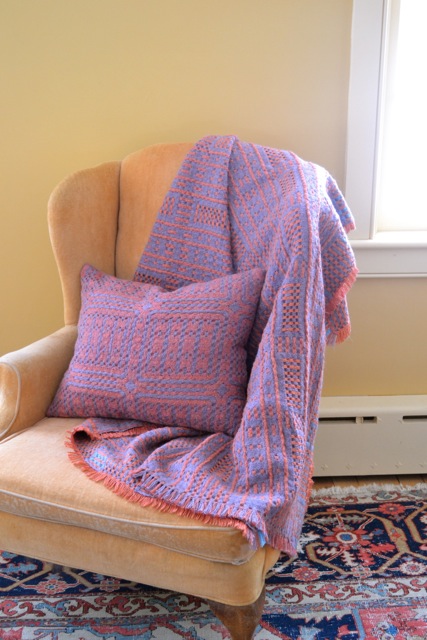 The Coop is still stalled with hopes (and thank you all for the great encouragement) that Spring will bring some renewed energy to the group.
And finally, I have created a youtube channel because my one (oh so primitive) video on Deflected Doubleweave Selvedges was no longer appearing on my Plain Weave site (????) If you are interested, it is:
http://www.youtube.com/watch?v=K8XfIOgcOMU
And finally, the new issue of Complex Weavers Journal has some really great pieces on double weave of all sorts – info packed! So if you get a chance – read it!