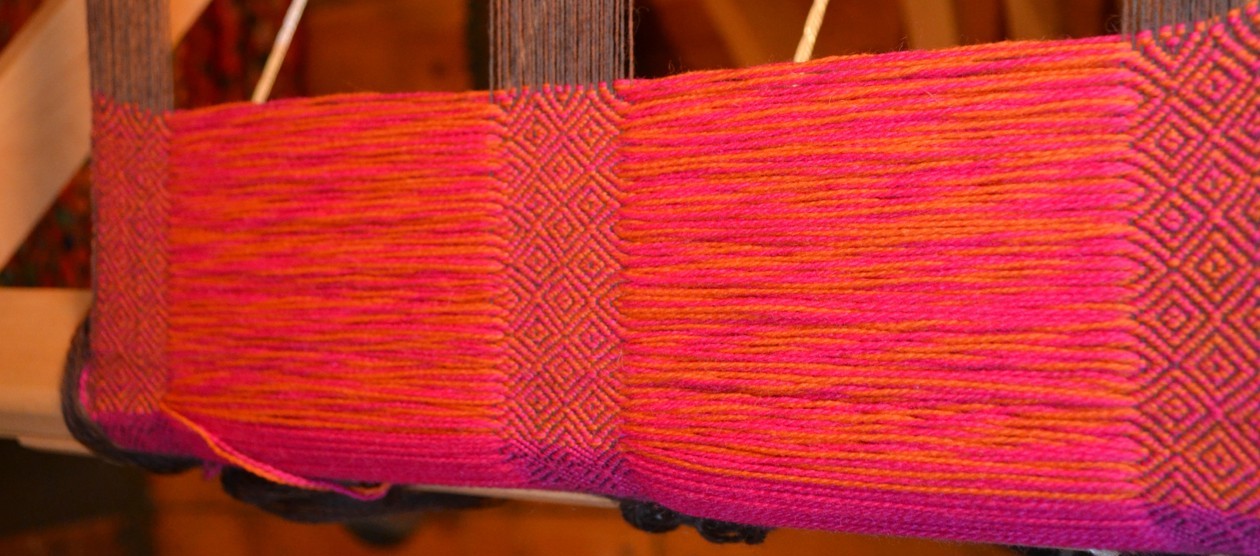 The Randomizer Speaks • Fringe Dwelling
First of all, I have reached 35 comments – hurray and thanks to all who have posted comments!  I activated the randomizer and came up with a warp winner.  And . . . the winner is . . . Sandy (luvstosew)!! Congratulations Sandy, I will email you to talk about what fibers/number of shafts, etc. you would like for your warp:)) Please keep the comments coming.  The next winner will get 2 beautiful skeins of hand-dyed yarn from the Kangaroo Dyer.
On to fringe dwelling.  Today I put on a warp for making fringes for the ddw pillows. The idea is to separate the sections of warp to twice the number of inches you want for your fringe length. Typically you would weave the two sections of warp with a single weft – you will have x number of inches of unwoven weft threads in the center – you then cut the unwoven part apart down the center and you have two bands with fringe. I tried three, so I have two bands with selvedges and fringe and the center band with fringe on both edges.  I was a little afraid that the fringe would be skimpy, so I thought the center (double fringe band) could possibly be folded in half lengthwise to get a fuller fringe.  This is illustrated nicely in Suzanne Baizerman's book, Finishes in the Ethnic Tradition.  It is out-of-print, but if you come across a copy, get it.  It has wonderful drawings of how to twine edges, how to do 3, 4, 5 strand braids, how to make tubular band edging, etc.  Anyway, you can make the fringe band very decorative if it is going to show or very plain if it is going to be tucked into a seam.  I will post the results of my fringe dwelling as soon as I get there.