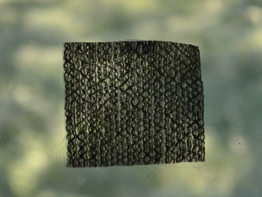 Wonderful Textile Letters
I recently received my second textile letter from Danish textile designer Karina Nielsen Rios
http://byrios.blogspot.com/
. Her weaving is awe-inspiring and innovative. I am sorry that I can't get photos that do these little jewels justice. The top two are fine, fine threads and the bottom are crazy rubbery "yarn" and monofiliment. Amazing.
Look at Karina's blog to see the textile letters that she has received from weavers and artists all over the world. Again, very inspiring.
It is quite a fun challenge to look for small items of beauty and inspiration to include in a textile letter. It is a great exercise in looking and thinking about color, texture, light, etc.
Karina's Textile Letters – Good!