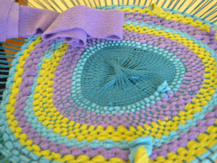 Hoop Dreams
I love good-natured optimists who look on the bright side even in irritating circumstances – I aspire to be one . . . BUT I am really annoyed!
I saw this great-looking, fun project on several sites on the internet that I thought would be the perfect end to my Youth Weaving Class at Hill Institute. I bought hoola hoops, I "warped" them, I cut strips of polar fleece in bright, kid-y colors. The kids loved the weaving, and they loved the promised product. We couldn't finish during class, so I assured them that I would finish for them and bring the resultant throw rugs to the final show. So, the night after the last class I wove away, completing the rugs. I then tied off the "warps" and excitedly took the rugs off the hoola hoops. Voila – polar fleece bowls! See above.
Of course I saw the possible problems – the warp threads get wider and wider as the weaving progresses – the weaving is much denser in the center, etc. but there was no hint on the "easy crafts for kids" sites that the product could only be a rug if you left it on the hoola hoops! In hind sight, I see that there are no photos of finished rugs off the hoola hoops. I guess I should have seen that as a warning sign.
In any case, I am a weaver, right? I can figure this out. So, over the course of the next few nights I doubled the warps so that I could use the two as single warps in the center and then divide them as I move out. No good. Okay, I started on a notebook ring and doubled the warp ends. No good. Doh!
I kept thinking of the disappointed kids who had been so excited about their great, colorful, throw rugs, plus I have all these strips of brightly-colored polar fleece. So, I warp up my no-circles-involved loom and weave some rectangular rag rugs using the colorful fleece strips. Big sigh – nice, FLAT, cozy fleece rugs.
I would love to hear from anyone who has made this work or who can imagine a way to make this work. The fact that I don't think I have ever seen it done in any weaving culture makes me doubt it as a possibility, but I want to be a good-natured optimist . . .