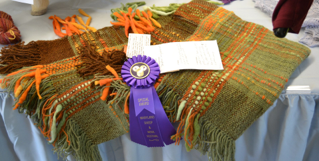 Maryland Sheep and Wool
Okay, many people might not consider taking their child and niece out of school for a day, driving ten hours, paying for a hotel and arriving home on Monday at 2:30 in the morning, all in order to enjoy two days roaming around a fair grounds filled with livestock and yarn. But I would and did, along with my very accommodating husband and enthusiastic son & niece.
And – it was worth it.
The highlights of the journey were: meeting some of my friends from Weavolution and Flickr in person, walking through the livestock barns with my son and niece naming and learning about the many, many different breeds of sheep, looking at, coveting, trying not to drool on lovely yarn, fiber and the gorgeous felted rug (above), seeing some really wonderful textile arts in the skein and garment competition (see green and orange blanket above) and winning the Mamie Francis Blanket Award (yay!) and a second and third place for my other entries. I saw the Mamie Francis award winner years ago, and have been thinking about entering an all-wool piece ever since. I am very proud.