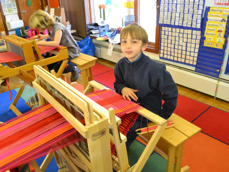 Youth, Vav, Spring, Rep & Pals
Lots of activity, some loveliness and some family worries forcing me to seek solace at the loom . . .
Pals
My wonderful friends Barbara and Mary Lou treated me to a weaving day at Becky Ashendon's Vav Stuga in Shelburne Falls, MA. It is only a few miles away from my house, but I have never woven there because I always felt that I should use my own pricey equipment and materials if I have weaving time. Wrong!