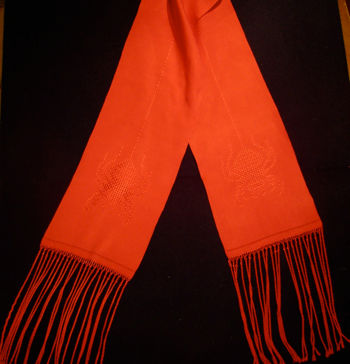 Everything Old is New Again
Today was a very interesting day. I was invited by my good friend Ute Bargmann to the Springfield Weavers' Guild for a presentation on Maori weaving and a presentation on Pick-up by Ute herself (also known as the "Pick-up Queen"). It was a great experience. The presentations were impressive and the weavers of the Guild were really warm, welcoming and clearly great friends themselves. I met such local heroes as Eunice Smith and Loris Epps. Ute's presentation was awe-inspiring. She has done some fairly large-scale pick-up pieces that have a complex, medieval, illuminated manuscript look to them. Many are picked up from a background of overshot, the motif of which is somehow connected to the pick-up design. Some of the themes are: St. George & the Dragon, A play on the German word for Dragon, Columbus' arrival in the Americas, etc. I will ask her for permission and post some photos – your mind will be blown.
This evening I got an email from Jannie Taylor from AVL asking if she could use my "Arachne" design for her lace class at AVL. As I told her, it is hard to believe that the little devil crawled all the way to California . . . I am looking forward to seeing some of her students' interpretations.
And last but NOT least, I have been asked to teach a class at NEWS 2012 in Deflected Double weave. I am so excited, I am already planning warps. But, first – FINISH THE MASTERS PROJECTS!!! So, back to the loom . . .