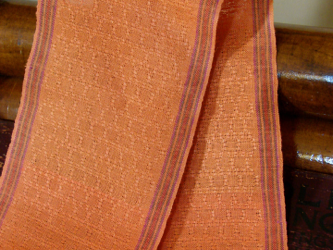 Turn, Turn, Turn
A sample of turned Ms & Os and an example of trying to kill 2 birds with one stone and somehow eating crow. My plan was to use singles linen for my Ms & Os requirement and have enough warp left to fulfill my singles linen requirement. I had some lovely 16/1 linen in the ol' stash and off I went. I started with a Strickler 353, which is a huck-ish Ms & Os and I messed around, turned the draft and made a couple of changes in the tie-up. I had two shades of orange that I wanted to alternate so that the vertical ribs of the turned Ms & Os would show different color warp – a trick I had seen on some larger scale turned scarves.
I read a few tips and tricks for weaving with singles linen – not a lot of agreement except in the wisdom of dressing the yarn with some kind of starch mixture – I have heard that a flax starch is very good – but I ignored all that and depended on my excellent tension to save me from breakage. Ha!
I wove some and a thread broke. I repaired it and wove some more, and a different thread broke. I repaired it and . . . you see where I am going with this? Not only was it very annoying and slow, but it was really hard to keep my treadling accurate and my beat even when I was repairing threads every inch or so. I got my mister and I misted the warp with water and that helped a bit, but I had to weave very gently and settle for a very open Ms & Os.
The good part was that I really like the shimmer of the alternating oranges AND I got to borrow my friend Ute Bargmann's cold mangle. It is a beautiful thing! I can hardly resist mangling everything in sight.
The bad news is no Ms and Os and no singles linen – Arghhh! However, I did learn a thing or two – I hope.