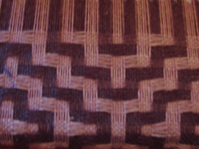 WIPed Out
My heart is broken. We are "reduced nesters." We took our middle son to college yesterday – unpacked him, met his very nice roommate, saw all the beautiful, wonderful, lively, full-of-potential youth swarming the campuses of RISD and Brown, and I am so SAD. My youngest son had an impromptu sleepover invitation once we got back from the college trip, and I didn't want him to go . . . I usually EMBRACE the "someone else's house" sleepover – ahh peace. Last night was overwhelmingly lonely.
Today, I am giving myself therapy with a series of assignments. Walk the dog, do the laundry, cut the youngest son's hair and FINISH THE WIPS! I have a 6-yard towel warp, a 1/3 finished summer & winter sampler blanket and a deflected double weave shawl. I want to weave some fabric to make pillows for my son's dorm room (additional therapy), so I need to free a loom!
On my towel warp I have woven one in Spanish Lace/plain weave, one in Bronson Pick up/plain weave, one in revised (unruffled – I hope) waffle, one in point twill, and now one in Basket weave with a deflected doubleweave border. These are all on a 6/2 striped organic cotton warp threaded in point twill on 6 shafts and basket on the selvedges. I never understood the "towel" impulse in other weavers because I see beautiful, interesting, useful towels for sale for $3.00 each all over the place- so why weave them??? Well, now I know. Addictive – highly useful, highly giftable, highly variable in weave structures that work . . .