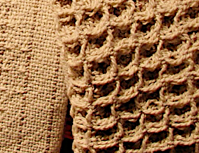 Waffle Redemption
I have been redeemed as a weaver through a series of organic cotton dish towels. My faith has been restored. I might be a little premature because they are being spun in the washing machine as I write. But I know they will come out beautifully
• because the yarn is beautiful: 6//2 organic cotton of a beautiful warm grey brown color – made even beatiful-er by the fact that I got 3 lbs/$10.00 at the Factory Sale of Textura Trading.
• because, I LOVE waffle weave. I think it is one of the best cheap thrills weaving has to offer. You can get super dramatic texture, super function and super aesthetic appeal all on 4 shafts.
• because I had exorcised all my bad weaving demons on the previous series of towels.
I threaded this set using shafts 1 & 2 for plain weave and shafts 3 – 8 for the waffle. I sley 2/dent in a 9 dent reed (18 epi) except for the last 6 threads on each side which i sleyed 3/dent. This made my selvedges firm and my beat even. I will post "after" photos tomorrow.
The after photos are added above – so okay – perhaps "redemption" is too strong a word. The major oversight in THIS project . . . is the incredible draw-in and shrinkage of the waffle portion of the towels (will I ever listen to wiser weavers than I ????) so that both the plain weave selvedges and the plain weave header/footer are fanned or ruffled. I am going back to the drawing board with two solutions. Thread the selvedges basket and weave very narrow headers with very fine yarn . . . we shall see.