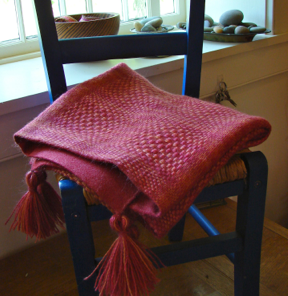 Back to the Loom • On Opposites
It seems appropriate that the first project I have woven since June (?) is an Overshot on Opposites because being back in the studio feels like the OPPOSITE of what I have been doing all summer which is not weaving. I made a little blanket of 2/18 Zephyr and Superfine Merino for the warp and then Brook's Farm Primero mohair in two colors for the pattern weft, 2/20 wool for the tabby weft along with some hand-dyed alpaca used single as the tabby and used double as the pattern. The fiber lessons are:
✦ Don't use variegated yarn as weft – My brain keeps tricking me! I look at the gorgeous yarn, and in a zombie-like trance – forgetting all previous experience, I wind the bobbins and weave. But no matter how subtle the variegation the striations are too hard to control and end up looking cheesy (somewhat like a beachside tee-shirt sunset nightmare.) Somehow, the striations look so much better when in the warp?
✦ Stash Bust With Care – In weaving for my personal use I really like serendipitous texture and the organic results of mixing different fiber and weights. However, when trying for a "controlled result" such as for one's Master Weaver certification . . . all differential shrinkage and stretch should be anticipated and planned for. NOTE TO SELF!
✦ Eyeballing is Not an Accurate Measuring Technique
✦ Don't Count on the "I will just Get More if Eyeballing Proves Inaccurate" – You might be wondering how the hand-dyed alpaca got into the mix of the already pretty mix-y fiber combo. Well, there is an answer, and it has to do with "eyeballing" my stash of Brook's Farm Primero with the back-up plan of getting more of the (fiber-festival-acquired, many-year-old, hand-dyed and as it turns out, discontinued) yarn.
✦ Using Beautiful Yarn in a Beautiful Draft is Nice – despite all the above the little blanket has a wonderful hand and looks pretty.