Honeycomb by Any Other Name is Just as Sweet
I am poised to publish a pattern for Grand Honeycomb pillow shams (awaiting the final eagle-eyed perusal by Véronique Perrot – stellar weaver, colorist and tech editor), and in response to a question from @eroticmacrame on IG, I wanting to talk about Honeycomb.
Insert gratuitous pic of Bee Blanket – structurally nothing to do with honeycomb, but couldn't help myself.
Honeycomb isn't really a structure. According to Madelyn van der Hoogt, it is,
"a term we use to describe a cloth in which some threads wiggle around others to make wavy shapes. Usually, alternate groups of warp threads weave plain weave while the other (alternate groups) don't weave at all. When this is preceded and followed by wefts that weave plain weave with all the warp threads, these two wefts outline the plain-weave cells."
Traditionally, something like this:
And the nomenclature is pretty fuzzy. The Brits use honeycomb to refer to what we know as waffle weave, and cell weave is another very broad term for many of these interlacements that is often used in Scandinavian weaving books.
I have woven honeycomb on many threadings (it is doable on most block threadings that allow you to weave true plain weave in each block), overshot, block doubleweave, dimity, etc.
The draft I used (adapted to the American drafting system, and treadled in several variations) for the pillow shams is a structure that I originally saw in curtains hanging at the Vävstuga weaving school. Becky Ashenden and I then adapted it for yardage for a class called Nordic Deflections.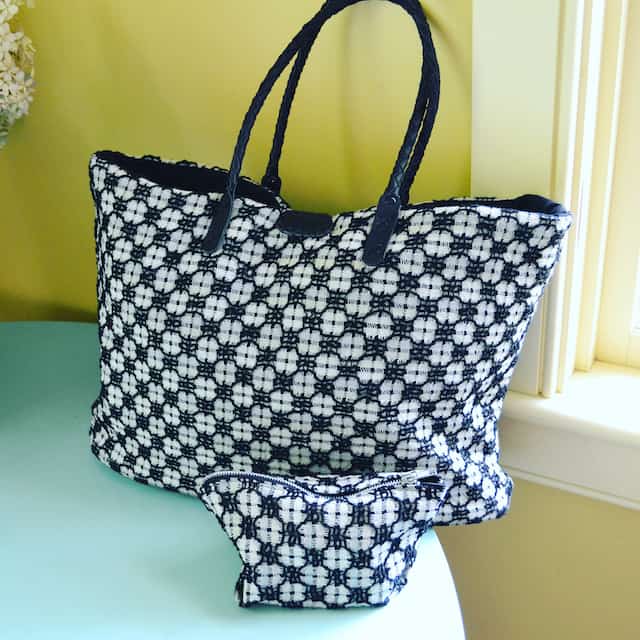 The draft (in the Swedish style) is published in the Book Vav and Weave by Mariana Erikddon & Kerstin Lovallius (Jan 1, 2008), but I have seen it in draft books by Malin Selander and Sharon Alderman as well. Sharon Alderman's book Mastering Weave Structures: Transforming Ideas into Great Cloth also has a draft for this honeycomb variation (below) as well as a few others that will give you some idea of the variety to be seen in how this can be drafted and woven.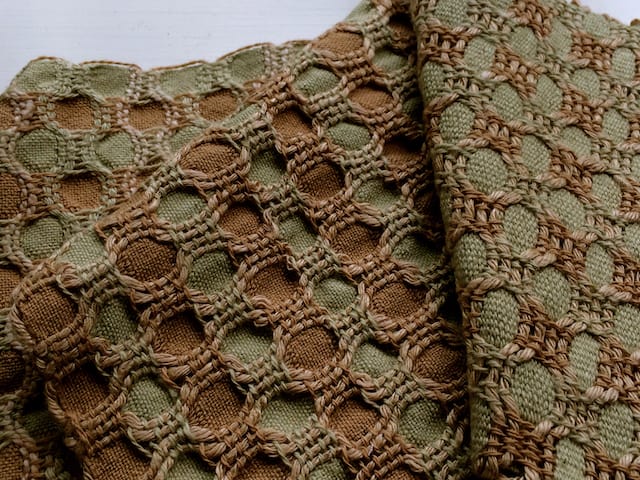 But, I wanted to plug the notion that we really can't let ourselves as weavers be hemmed in by the (often confusing) nomenclature when it comes to structure and interlacement. We really need to observe what is (and isn't) happening in the cloth. For example, we may have learned that threading 1,2,3,4,5,6,7,8 is an 8-shaft twill, but until we observe the tie-up and treadling, we really have no idea what the cloth is going to be. That threading can yield and 8-shaft twill (2/2, 1/3, 4/4, fancy), but it can also yield waffle, crepe, collapse, mini deflected double weave, mini block doubleweave, etc.
I am a huge fan of learning as much as possible about structure including the standard terminology and how my illustrious foreweavers worked on defining and categorizing various structures, but I do think that we sometimes limit ourselves by looking at drafts as already finished things. I am not talking about inventing or re-inventing structures (pretty hard given the 12,000 (??) year history of humans messing with thread). I am speaking of feeling free to play around without worrying too much about whether we are "really weaving (insert structure)", but instead looking at the cloth you are weaving and assessing based on things like, is it stable, what kind of hand does it have, is it cloth I want or shall I change a few things. We can then go back and ask ourselves, "what did I just weave?", and there may be a defined structure that works or it maybe something that falls a little bit in the cracks.
And I have a few questions for the crack dwellers. Is it honeycomb without the outline weft? Maybe, but the similarities (some blocks weaving pw while adjacent blocks float) are intriguing, and I could weave it as honeycomb.
Is it still honeycomb, if I tie-down the crazy long floats to make it reversible?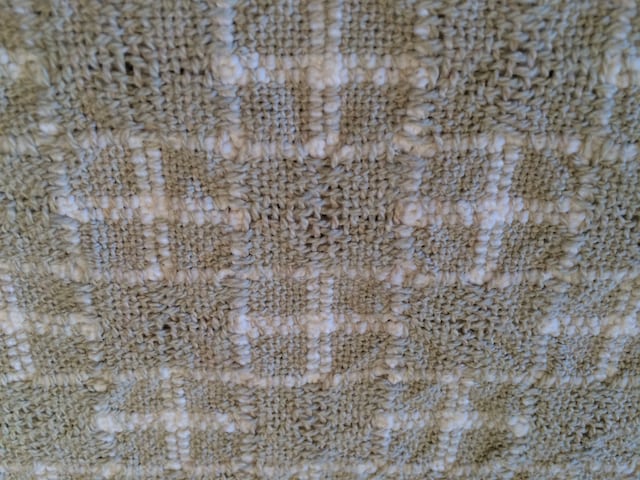 Is it honeycomb if it is turned Ms & Os (weaving plain weave in one block while the adjacent block floats(ish) and it has an outline.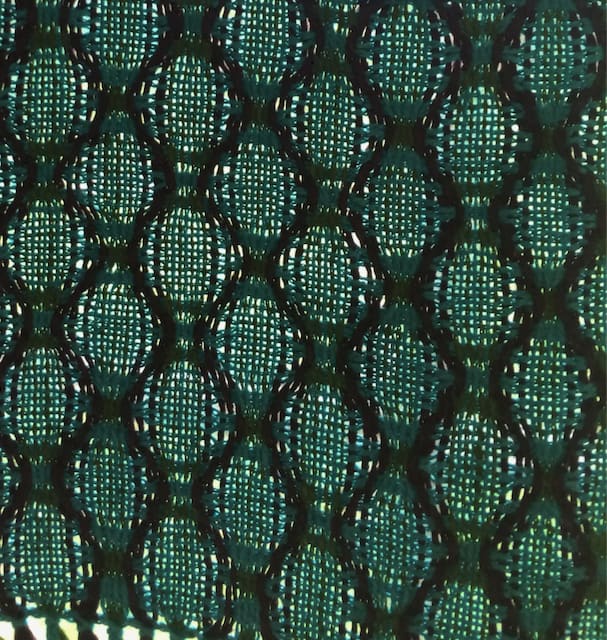 Is it honeycomb if it is a wall in Minneapolis?
And here are some pix of the pillow shams with treadling variations that include warp float stripes of various lengths, and spider weave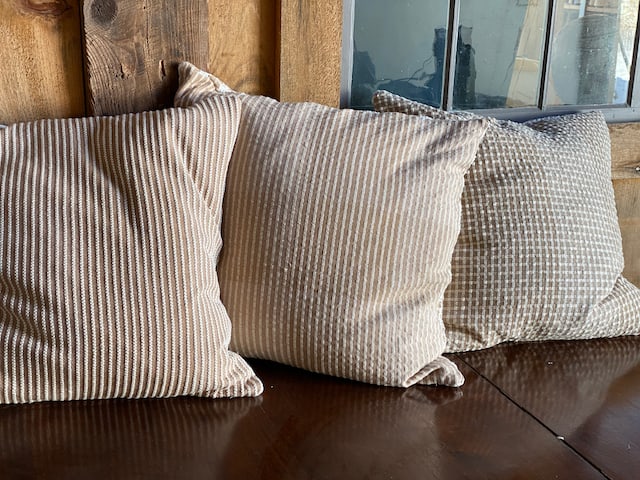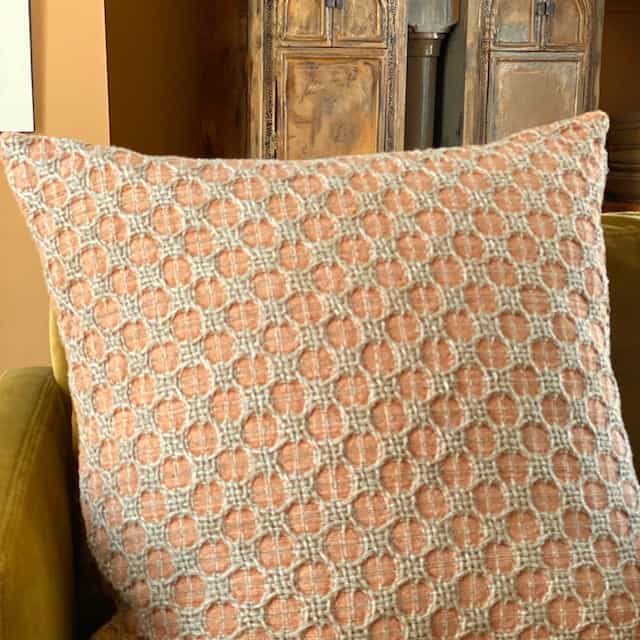 And I hope, I will be sampling from the sweet, sweet honeycomb (family) for years to come, and maybe I will have more answers than questions in the future.