The Old and The New
I recently took a quick trip to Texas for the multi-purpose of cuddling the newest addition to our family – my cousin's daughter, TRULY ADORABLE Sammie (I am totally objective too) . . .
spending some time with the oldest member- 101- year-old, remarkable Mam-ma Hazel (my daughter's namesake) . . .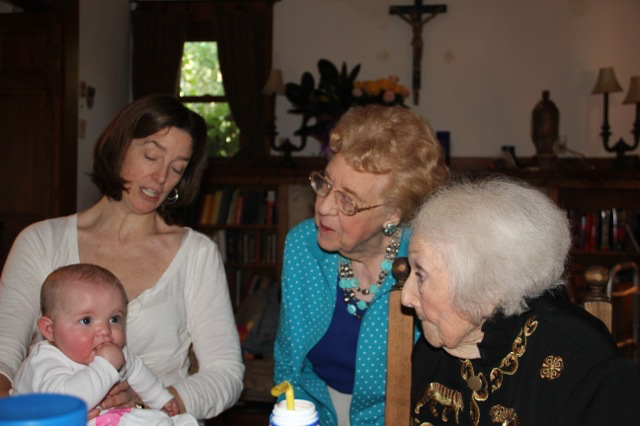 And attending my mother's art opening in La Villita in San Antonio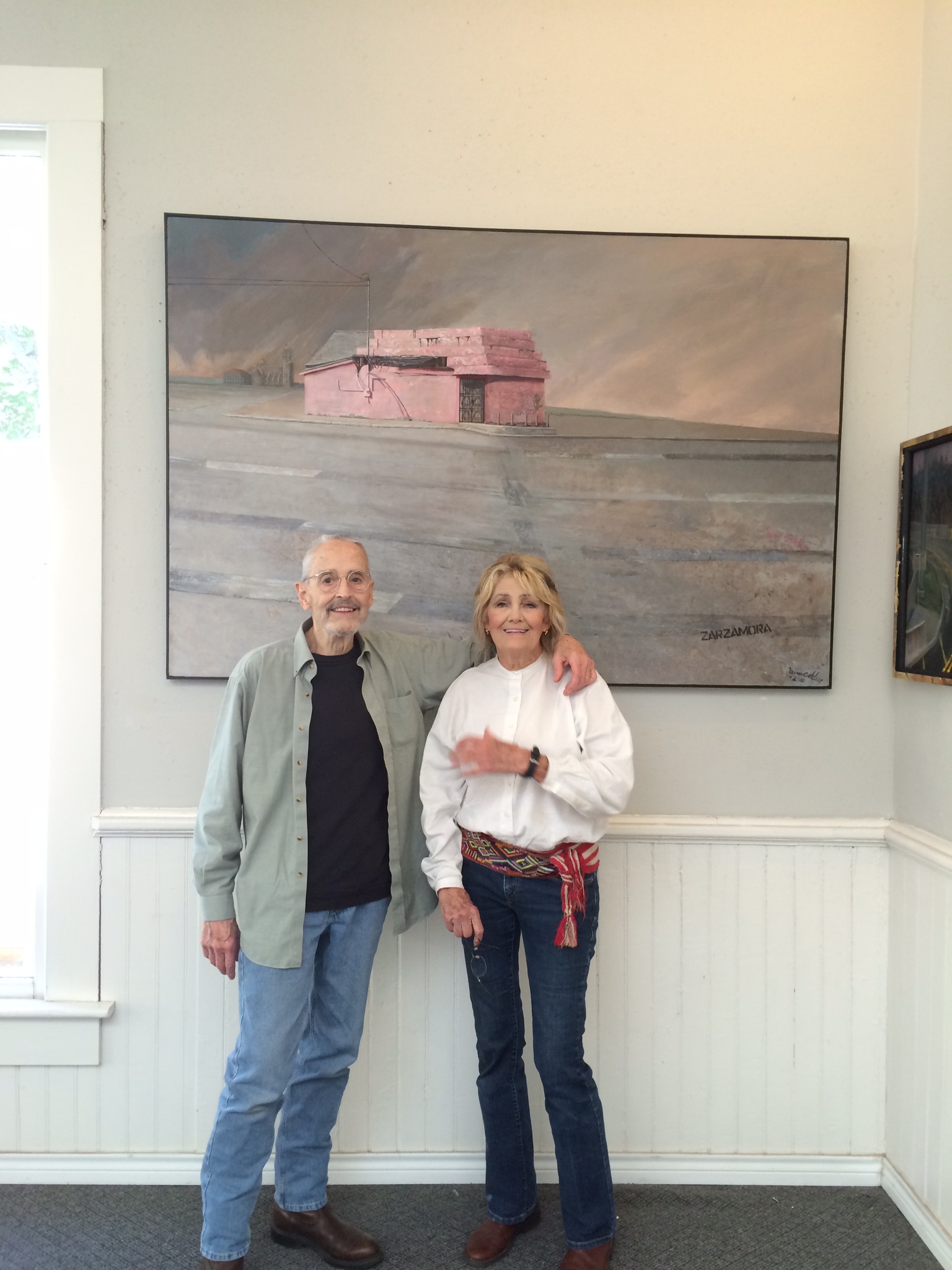 Below Sammie is doing her best Elvis impersonation.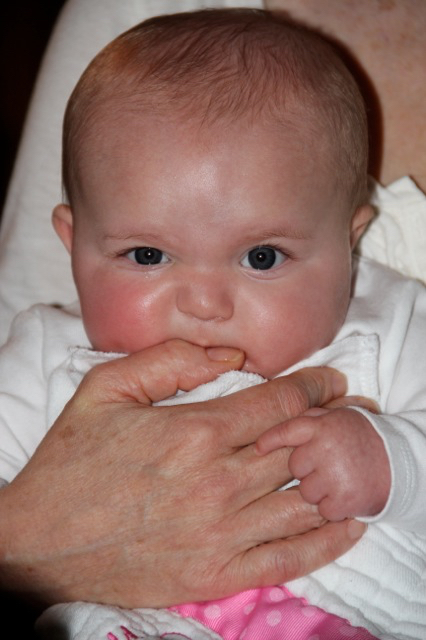 It was a wonderful (too brief) trip and I got home just in time for the delivery of my NEW LOOM!!  I have succumbed to shaft envy and a bum hip and indulged in a 24-shaft, Toika with countermarch action that will allow me to weave well into my dotage.
Before I left and in a crazy scramble, I disassembled, labeled and stowed my old buddy the 16-shaft AVL. Which I now have to sell . . . anyone interested??
And I found this apropos quote:  The difficulty lies not so much in developing (acquiring) new ideas (looms) as in escaping from old ones. John Maynard Keynes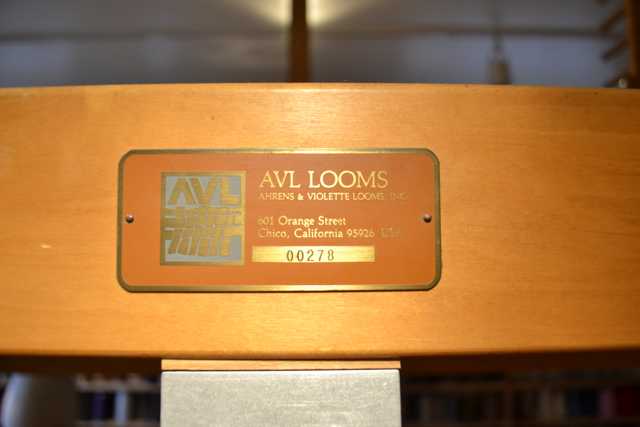 The new loom arrived when I was working in North Adams (scheduling mix-up) and I assembled it with the help of DH the next day.
So beautiful –  I think I'm in love.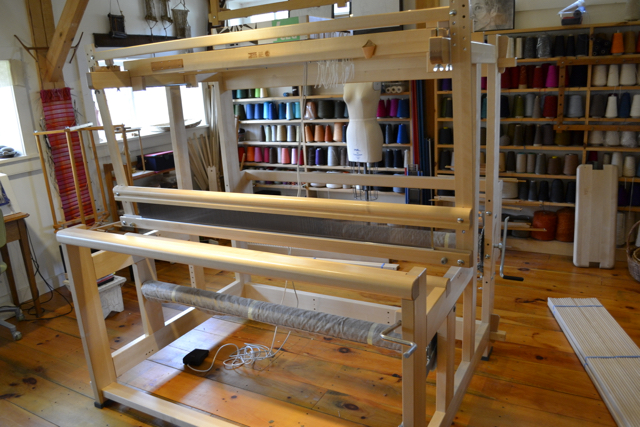 Because of the scheduling confusion, I have to wait until Friday to get the dobby box set up and working, so I have a few days to bask in the beauty (and sand my heddle bars!!) before I take it for a test run. I am winding the warp today though . . .
All of this made me think about the old and the new and the joys and sorrows of both. Getting to hold, and play with Sammy was so happy-making, as the comedian Jim Gaffigan puts it:  Babies should be classified as an antidepressant. It's pretty hard to be in a bad mood around a 5-month-old baby. It was a treat to see how animated and excited my grandmother got around the baby. She tends to fade in and out of clarity, but when she was around Sammie, she was totally clear and engaged, and she made Sammy laugh, and Sammie made Mam-ma laugh.
My mom's show made me so proud. The paintings were beautiful and a little mournful and totally in keeping with the old and the new theme. My mom grew up in San Antonio and her heart, mind and aethetic life are filled with her sense memories of the art and architecture, the missions and little groceries she grew up among.  Her paintings document those little, unsung, un-renewed corners of San Antonio that mean so much to her, but might be considered unsightly to the casual observer.
Seeing my AVL in pieces in the barn makes me feel sad, like I let her down a bit, replaced her with a new hottie . . . . [I might just anthropomorphize my weaving equipment a little. I did notice that everything is female until it misbehaves; for example, my warps are female "she's so beautiful, she beamed like butter . . ."  until I have a troublesome thread, then it is "he is such a pain . . . what a nasty fellow", etc.] But I am also so inspired and excited about my new loom – I can't wait to see it warped, I can't wait to see fabrics come rolling off.  I guess that is the crux of it.  New babies (and looms) are all about exciting future possibilities while old folks (and looms) make me feel great tenderness and gratitude for all they have given me, what I have learned from them and the wonderful memories (and yards and yards of fabric) I have.