The Efficient Weaver
I have had the good fortune lately to encounter two really efficient weavers – one in person and one via video.  As you know (if you read my blog) I have been working with Becky Ashenden of Vav Stuga Weaving School. She is almost superhuman in her speed and efficiency, having spent many years earning her keep as a production weaver followed by years honing her skills managing projects/classes/students at the school.  She has really thought through every knot, tool placement and gesture to maximize efficiency – it has been the only way she could possibly do all she does.  Becky is also a musician and dancer and seems to have great command of her physical space.  Even though I don't currently have a Swedish loom, I have taken home many tips and tricks that I have learned from Becky.  A few examples, are "the magic string" tie-on method, her method of using the warping reel (she forced my out of my comfort zone by insisting that I wind a warp for a class holding 12 threads at once – and it WORKED!), her method of starting and ending new bobbins and more.   I am sure that I will continue to learn from Becky's years of attentive, thoughtful experience.
The second of the "Efficient Weavers" from whom I have sucked info recently is Laura Fry. Laura Fry is a Canadian weaver who has made her living as a production weaver since the late '80s and is now a weaving guru. She has a great website, and seems to be completely generous in her responsiveness to weaving questions and queries. She coincidentally?  also came to weaving as a musician/dancer I downloaded her video called . . . "The Efficient Weaver"  from the Interweave site a couple of days ago, and have really enjoyed trying some of her tips and tricks.  Her set-up is similar to mine in that she is working on a jack loom, but she does a rough pre-sley at a table then beams using a valet, transfers the cross and threads back to front – very similar to the Swedish method at Vav Stuga.
So, I had one day in a somewhat fraught schedule to try to be "an efficient weaver" , so yesterday I decided to try to recreate a set of very sweet napkins that Becky wove and that are often seen adorning the table at the Vav Stuga lunches.  I'm not exactly sure of the materials used by Becky, but I had some 22/2 natural cottolin and some cream softball cotton that I decide to use.  I wound a warp of 300 threads, 5 yds long for 8 – 14″ x 14″ napkins.  I only had two spools, so I only wound with 2 threads, but I did do a rough pre-sley ala Becky/Laura/Ute, beamed using my valet (a rod mounted on my studio ceiling and horse shoes as weights), transferred the cross and threaded from the front. I used Becky's "magic string" method of tying on (she explains it in her awesome little book  http://store.vavstuga.com/product/book-ashedressy.html  affectionately called "flippy" or Dress Your Loom the Swedish Way. I had a coffee break and proceeded to weave.  True, they are small napkins, all in plain weave – no floating selvedges, no temples and 22/2 so no fine threads, but efficiency worked.  I got a 5 yd project warped, woven and washed (yet to be hemmed) before having to rush in to make dinner for ravenous teen. 
Using twill tape as the napkin template – hems and accent yarn placement marked.  Becky uses grosgrain ribbon – more elegant!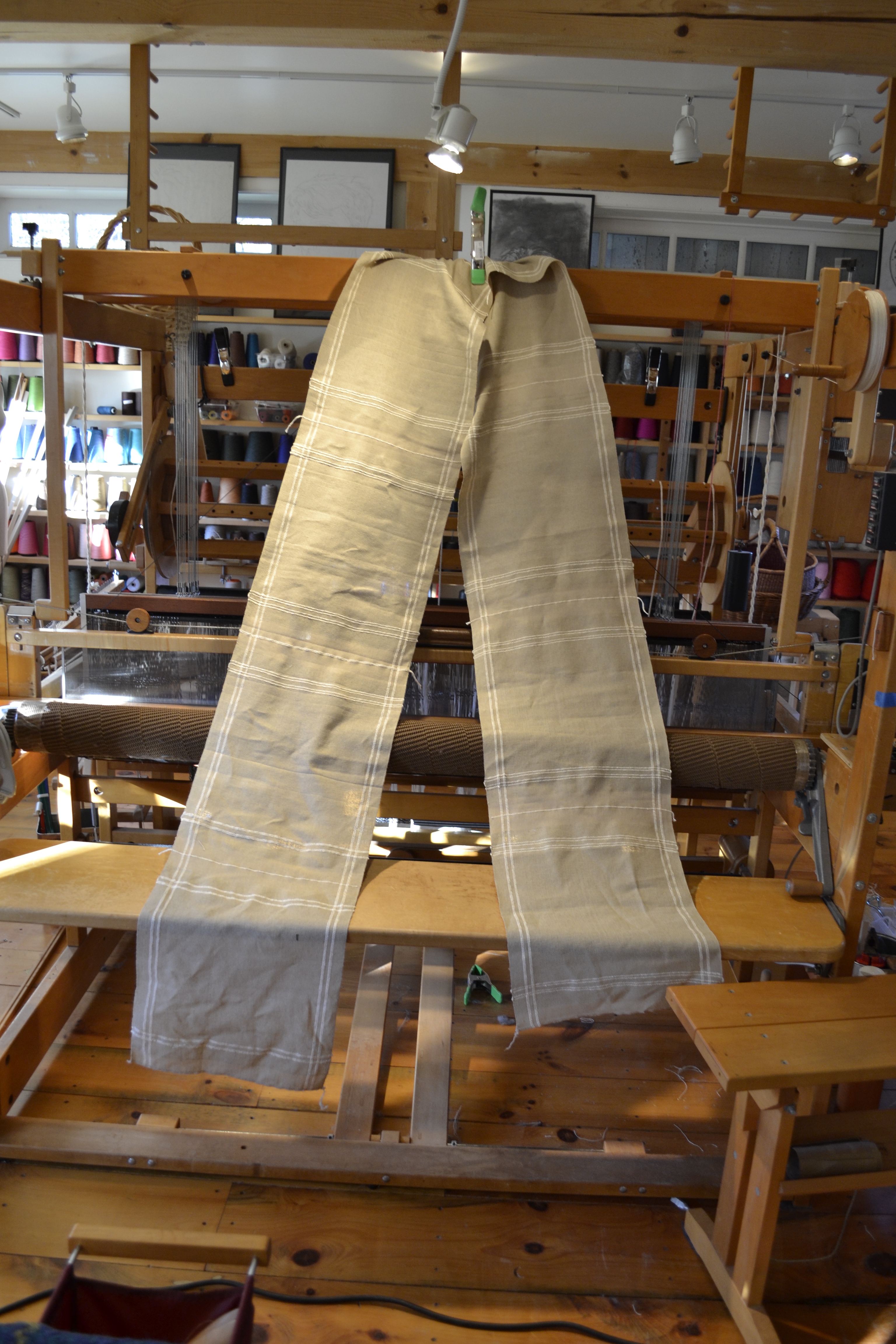 right off the loom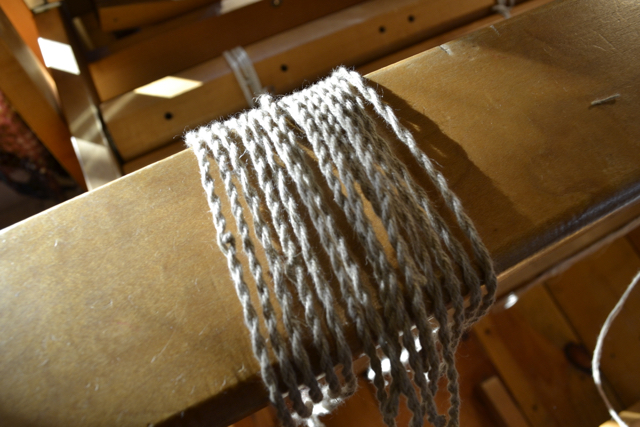 Every inch of warp used (again Becky's great notion to use thrums to create lovely, useful choke ties)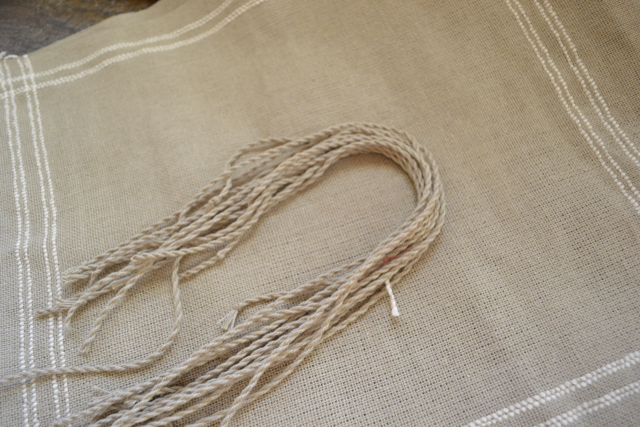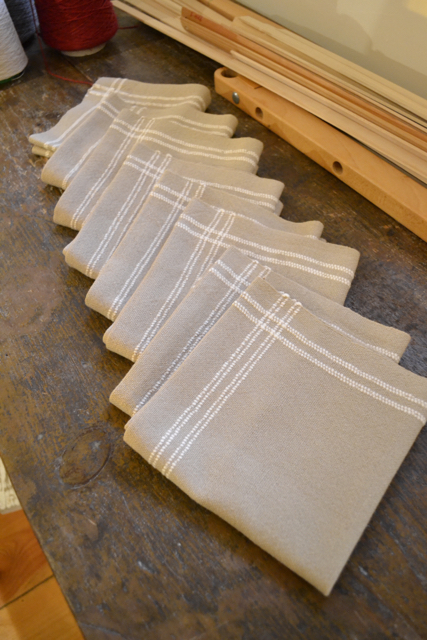 Washed and ready to be hemmed (by hand right Ute:))
Oh how I love those that figure out all the hard stuff and pass it on.