Textiles Are the Body's First House • Ann Hamilton
Oh no – another "philosophical" blog post.
Sorry, I can't help it.  Aprons have been absorbing me in an unexpected way.  I had to dig out a program called "Apron Strings" that I did for my guild a couple of years ago in order to revamp it to present to the Michigan Guild in March. My idea of handwoven aprons came from an apron of my sister's that had the ingenious element of a working towel that could button on the front, get covered with food and be easily unbuttoned to make the cook look less messy for serving a meal.  I took the idea a step further thinking that all those beautiful handwoven dish towels that weavers have stored in drawers for fear of staining them could be brought into use as the "serving towels" i.e. once you unbuttoned your working towel you could button on/snap on/hook on your beautiful serving towel to display.
Above is a linen apron woven to show that you could have intricately worked towels as a decorative element. One towel is in dukagang and the other in pick up bronson.
Anyway, I saw a "Studio Apron" described in Peggy Osterkamp's book "Weaving for Beginners" that I really liked.  I have my studio set up so that all my useful tools are at hand, but when I am at a workshop I find that keeping my glasses/notebook/pencil/stray bobbins/phone all where I can reach them is difficult. Peggy's apron is designed to be put on as one prepares to weave so that all necessary tools are already in the apron and handy.  Great idea, especially since I desperately want to NOT need the cooking and serving apron – and I want to be in my weaving apron all the time. You can see that the "weaving apron" can kind of be a state of mind as well:)
So, in preparation for the workshop I made a couple of different "weaving aprons" testing out different designs. You can see them below.
The Brown and Green is an adaptation of Peggy's design with wonderful details from her book like the protective leather patch and the dangling pin cushion. It is woven in cottolin in an unbalanced twill so that I could get the warp colors to be more vivid and dominant. The straps are threaded through a d-ring at the sides for total adjustability.
Below is an apron woven in cottolin in plain weave and sewn using a commercial pattern that has the nice touch of the straps being threaded through a binding tube that makes for great adjustability.  I added Peggy's pin cushion to the strap.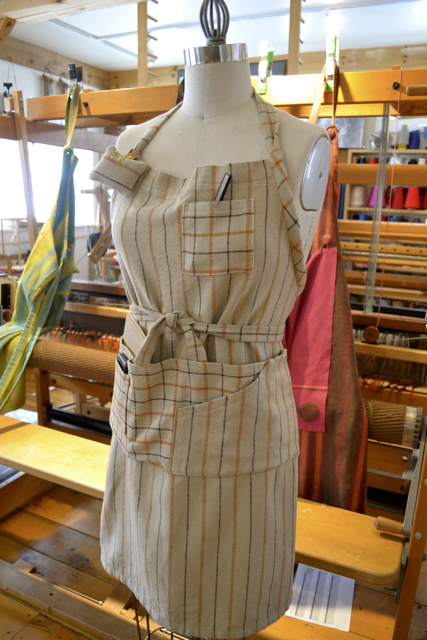 Below is anothert apron in cottolin plain weave that I wove for the original program, but that I have adapted into a studio apron using some coordinating inkle bands for reinforced pockets and loops.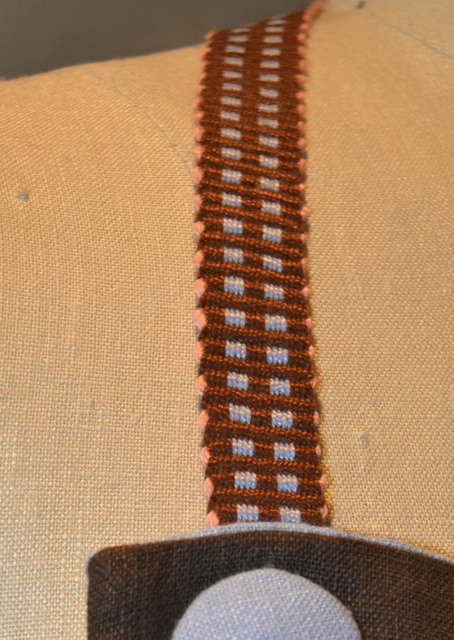 The Chocolate brown/light blue apron is in process.  It is commercial linen (testing a design using commercial fabric:) without the bias binding. It is reversible and the edges are finished because two layers are sewn together and then turned inside out.  It makes a really nice weight and very clean edges.
Here come the musings . . .  I began reworking this apron project as a bit of a chore – I had a speaking contract with the guild, etc., but as I proceeded I found real joy.  Why?  I think in part it is simply what weavers know well – delving into the process brings pleasure especially when there is a balance of challenge and rote, etc.  But the surprising part was the "aprony" part.  Aprons can be kind of magical.  They are easy to sew, they are clothes that are focused on function rather than fashion, so all the "does this make my butt look big?" anxiety that we carry with us in relation to most clothes is totally suspended. We can be free to focus on the cloth and function/whimsy/color all the fun stuff while actually making something wearable and useful. Maybe the other part is that in our modern world there are few gender-specific items of clothing that aren't sexualized.  Aprons mostly escape this. Please keep the lacy, non-functioning aprons of the "french maid" out of your minds!
I have to add that some may see the apron as a vestige of the "bad old days" when they represented the women's confinement in the home.  I certainly felt that in the funny way the "studio apron" felt so exciting to make, while the "cooking and serving" apron was more of a chore. Could it be that I love to weave and hate to be dragged away from my studio to cook the millionth meal? No!
As I was meditating on Aprons (who knew??) I heard this program on the Sunday morning radio show On Being http://www.onbeing.org/blog/world-through-hands/3931
and followed the show's links to the work of Ann Hamilton – check it out http://www.annhamiltonstudio.com/
She uses many different textile techniques in her art and provided the statement that I used as the title of this blog.  "Textiles are the body's first house." So great!
Since the domestic realm has been a topic – this won't be a total non-sequitur. I have finished hemming 7 of the 10 hemp linen napkins that I have been planning/mulling/weaving/finishing since about a year ago . . .
seems like there would be machines to do all this more quickly . . .