Everything Old Is New Again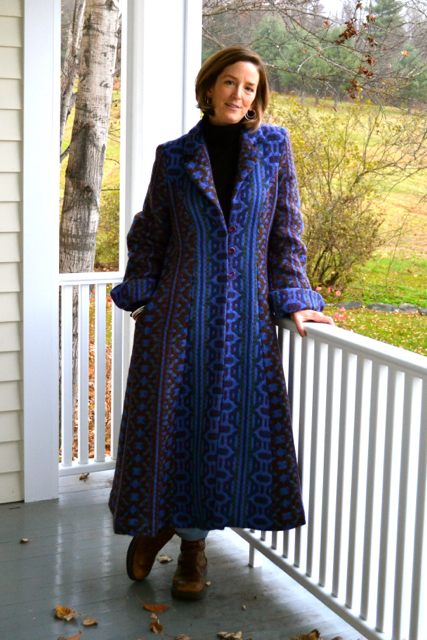 After two year languishing in a plastic box my coat has been resuscitated by the efforts and generosity of Shirley Bergert.  Shirley took my deflected double weave class at NEWS this year, and when she saw the sad "fit fail" of the coat she offered to help me re-tailor it. Incredible generosity! After a couple of months of schedule wrangling we got together at Shirley's house in Connecticut.  I had a fabulous couple of days – after we seam ripped together Shirley toiled away while I enjoyed her lovely house filled with her amazing creative projects, fresh cappuccinos made by Shirley's husband, homemade bread and vegetarian delicacies. Shirley adopt me! The above pic is of the "new" coat.  It fits, and it is warm and perfect for the coming winter.  I love my fiber buddies!
After finishing the coat I headed to Texas to see my grandmother who turned 100 in July. She is a real firecracker still fretting over her jewelry – can you see those sparkly shoes? She never wove, but she embellished every garment she ever had with beads and embroidery, sewed for us and made the best dolls and stuffed creatures when we were little.  I credit her with a lot of the "make-y" qualities in our family. My mom and sister are to the left.
We saw a couple of my mom's paintings in her gallery in Las Villetas. One of my favorites is below – seen with our German exchange student and charming fellow Tobi.
And another fantastic piece as seen with my dad (another charming fellow) and Tobi.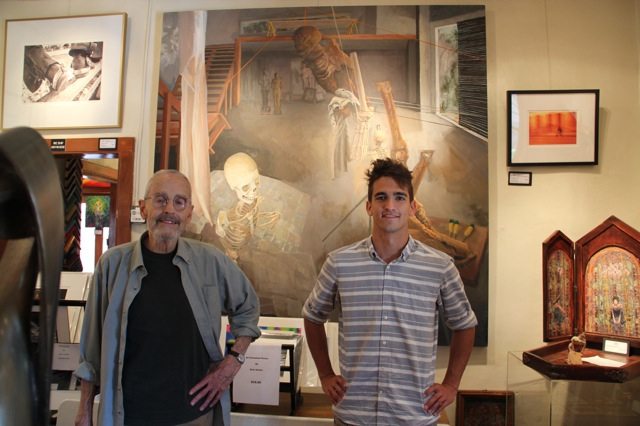 We went into downtown San Antonio to see some of the Dia de los Muertos celebrations.
After getting home I got some lovely studio time to get a rep warp on the loom for a set of placemats I have been wanting to weave.  The warp is mixed linen and raw silk in three lovely grey/brown colors. I set the warp at 40 epi, and used 12 strands of the silk as the weft. The warp is slightly loosely set for rep, but looks really good with the silk weft. I planned for eight placemats, but (again-doh) didn't quite account for the large take up in rep – so I have 7 and 3/4 placemats ready to be hemmed.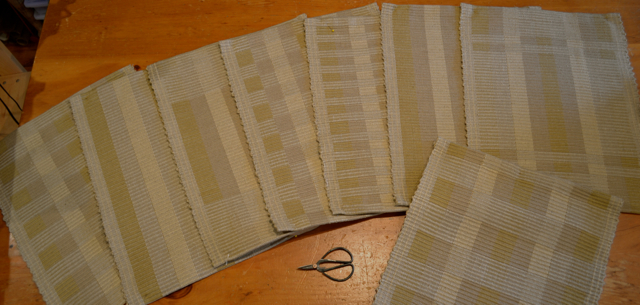 These are a re-do of a set I wove a couple of years ago and gave away.  I wanted to make another set, and recently found some more of the mill-end raw silk that I wanted for the project. Some might shake their heads at the use of silk for placemats, but the former set has been in use for years and just wiped to clean – who knew?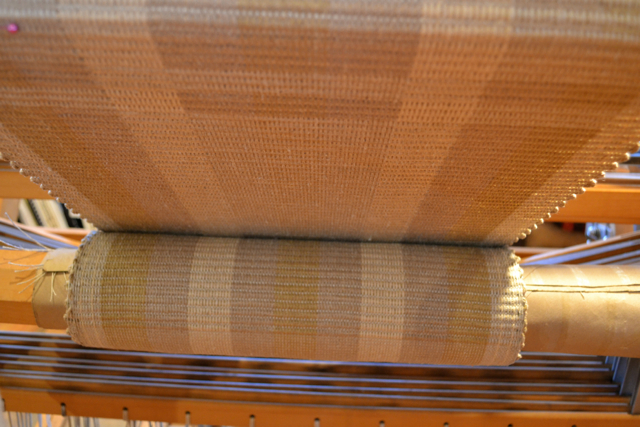 So my revived coat, my sweet, lively 100-year old grandma, the remembered dead of the Day of the Dead celebrations and my re-created placemats are all my personal All Souls celebration – a joyful embrace of the old and the new.