Where Have all the Weavers Gone – My Annual Lament
This weekend was the annual New York State Sheep and Wool Fair held in Rhinebeck, NY.  I have gone to most of these fairs since the early 90s when I would knit sweaters for the family (not matching!), and we would head into the autumn splendor and enjoy lamb sandwiches, lovely livestock and more wool than you could imagine.  I was a knitter at the time with a slight suspicion of "those complicated machines" I now know as looms.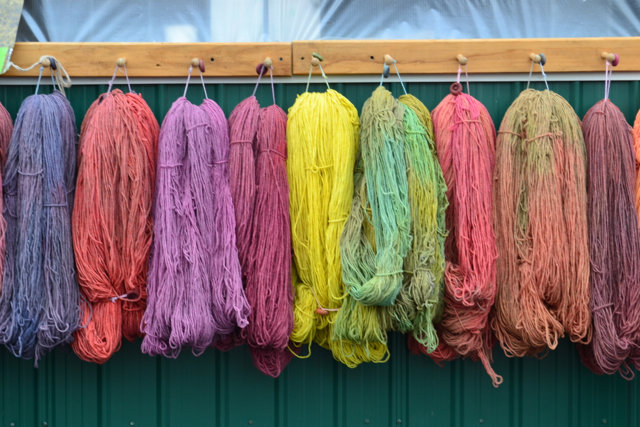 For the past three years I have gone to Rhinebeck with my good friend Gail Callahan (aka Kangaroo Dyer) who teaches excellent dyeing workshops during the fair.
I am the official Super Schlepper.  So while Gail teaches I am able to cover every inch of the fair, talk to people and fondle fiber.  This year was a special treat because another friend, Mary Lou joined our twosome so I had a partner to schlep and wool oogle with.  
We saw the Tortoise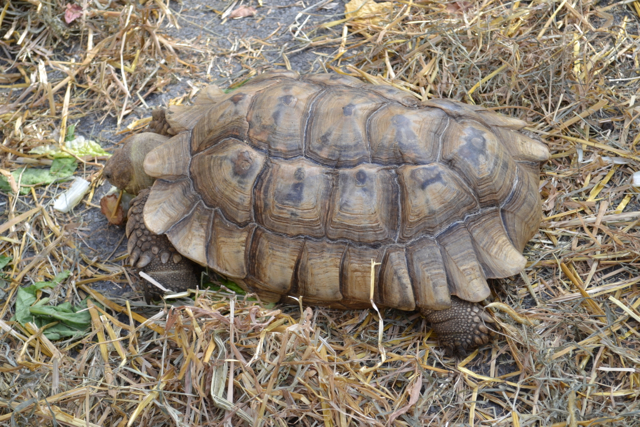 and the Hare
And got our yearly livestock fix which might be the reason we have happy marriages i.e. petting fiber animals at Rhinebeck staves off the acquisition of our own herds = happy husbands.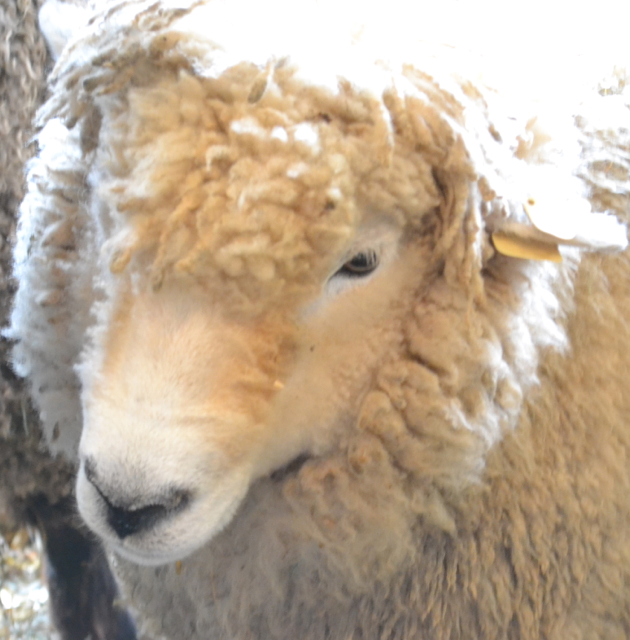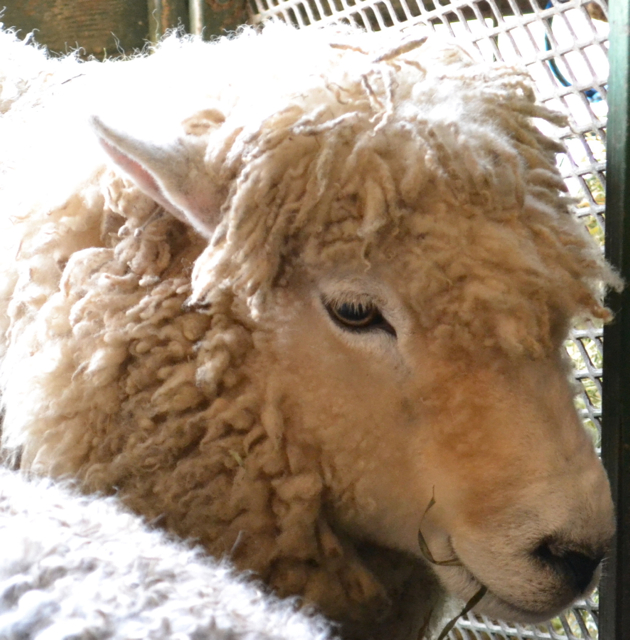 We stopped at Moonshine Designs first thing so we could get the pick of the socks. Cynthia Herbert and her husband Robert Ramirez run Keldaby Farm near us. They have a lively herd of angora goats from whose fleece Cynthia weaves gorgeous ruanas and scarves, but more importantly creates the greatest socks in the world.  I bought 4 pairs last year which I rotated from October through early June. I wash in the washer and hang to dry – but unless you have super stinky feet you don't even have to wash them – just air them out for a couple of days, and they are good to wear again. I told you they are the best socks in the world! So, even though my socks have shown no signs of wear, I bought 4 additional pairs in beautiful hand-dyed colors.  These are for gifts . . . yup . . . gifts.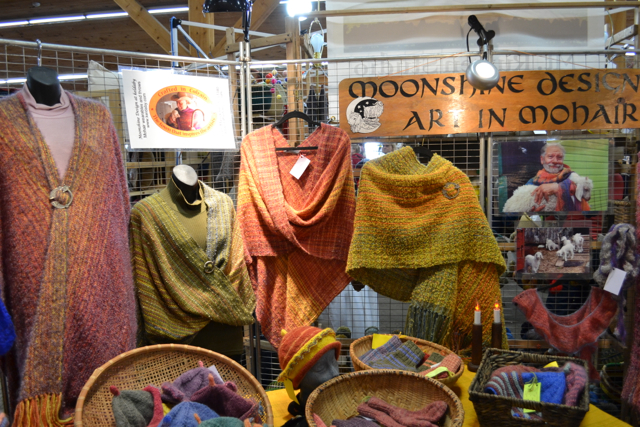 The photo below is "the last weaver standing" booth at Rhinebeck. Sylvia Graham brings shuttles, reed hooks, pirns, and all the little weaving necessities from her shop called Fiber Kingdom in the Adirondacks.  She has one of or the only booth with an equal focus on weaving supplies in the entire fair.  There are myriad knitting/spinning and felting booths, but the weaving-focused booths are rare. Thanks for holding the line Sylvia!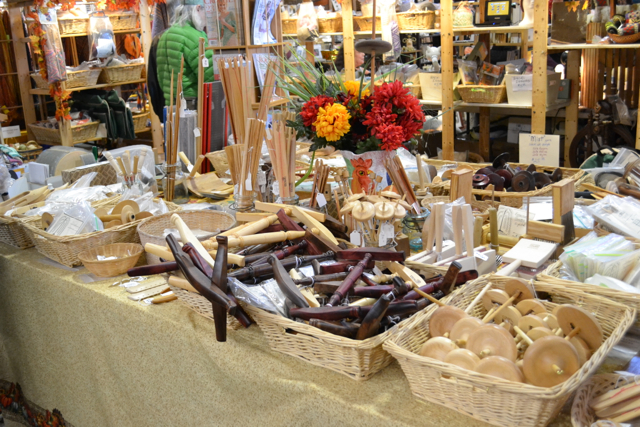 The weather was perfect – cool, sunny, autumn-y – New England at its best.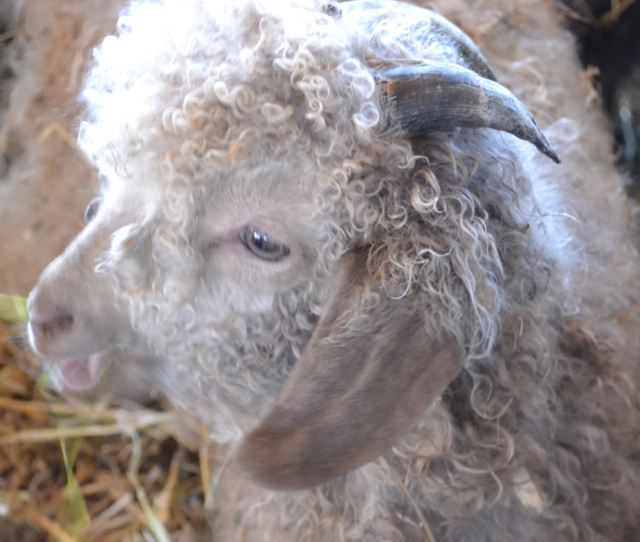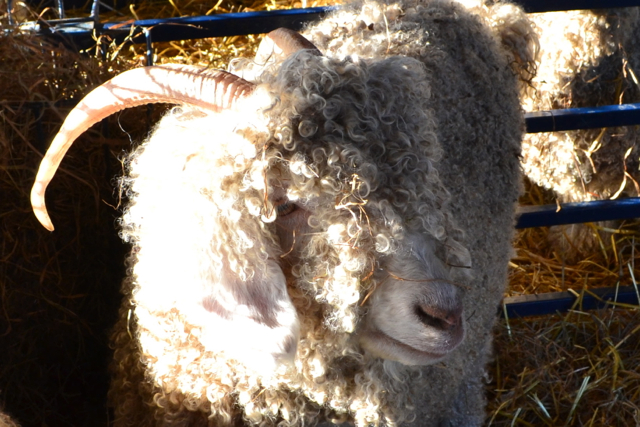 In addition to enjoying all the fiber-y eye candy, we had dinner with a passel of powerhouse fiber women: Nancy Bush author of "Folk Socks" and "Knitting Estonian Lace" among many other knitting books; Abby Franquemont author of "Respect the Spindle" and daughter of the anthropologist Ed Franquemont who studied the Chinchero weavers of Peru among whom Abby grew up; Judith Durant author of "One Skein Wonders" among others; Laura Nelkin who is currently writing a book on knitting; Gail Callahan author of "Hand-Dyeing Yarn and Fleece" and creator of "The Color Grid"; and Mary Lou Splain knitter and weaver par excellence. Can you guess what we talked about?  Anyway, it was a lively and fascinating dinner. These women are not playing around.  They are pros and want to make that clear.  I decided that I needed some of that spice.
Did you notice the balance at the dinner?  Weavers, where are you? Mary Lou and I were the only active weavers there, and there were certainly no weaving books being promoted among the huge number of knitting books, dyeing books, felting books, cook books, children's books, fiber novels and memoirs at the book signings . . . Weavers? Where are you??
Finally, I will end my tale of joy and sorrow with what I pulled off the loom before I left home . . . it might not be thrilling, but it is WEAVING, and that is a good thing.