Skirting the Issues
I have been intending to make myself some clothes using hand-woven fabric for a while, but a couple of issues have stalled me. One was my disappointment in my ability to fit myself when I made my coat (it is giant – what is it with pattern sizing?), another is my state of indecision about what clothes I want to wear now that I have passed the 50 mark.  I live/work out in the country, with animals and kids and an old farm house that seems to exude fluff/lint/dust, etc.  I have a few nice dress-up clothes (rarely de-closeted), but I tend to wear everything I have for everything I do.  I will have a meeting at my son's school and then come home and dye some yarn without bothering to change my clothes. In any case, I cannot have clothes that need to be babied.  I want to create a wardrobe that is both practical and good looking and flattering.  Not easy. So every time I go to the fabric store I look at patterns and occasionally buy one that I think I might like to make.  So, when I took the black dimity yardage off the loom (I had intended it for this dress
but was derailed by the take-up and shrinkage – I wound 6 yards 58″ wide and ended up with 3.75 yards about 47″ wide), I had another interesting pattern that I could make using the fabric.

I was a little taken aback by the sizing on the pattern.  I am about 5'11" tall and (since middle age) have worn a medium-ish size, but according to the envelope I should be about six sizes larger. Seriously?? Have I been in some kind of fog of denial?  I didn't even have the correct pattern for the size recommended for me.  I went on the internet and read a blog that said the sizing was weird, so plunged in and sewed my usual size using some commercial linen (great bargains on FabricStore.com). It fits beautifully. Whew!! I haven't gone up six sizes without noticing – at least not yet.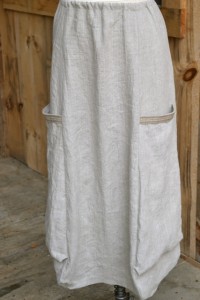 I really liked the look of the skirt – and its cargo-ish styling. The pockets are supposed to be zippered, but I used some inkle bands I had on hand for the linen skirt pocket edging and a few inches of glitz I had woven to make the pocket binding and bottoms for the dimity skirt.  I had also woven 1/2 yard of the dimity in a honeycomb treadling which I used for textural contrast on the pockets of the black skirt.
Here's the critique:
I wrote (in my Designing Fabric study group) about how one of the pitfalls of design is not being able to see when something is not working because you have your (very convincing) idea in your imagination. Well, clearly knowing about a pitfall doesn't stop one from falling into a  . . . pit . . . fall – what? I really expected the silk noil (beaten silly in a dimity structure) to produce a stiff-ish fabric that would act like linen. However, it is surprisingly (and pleasingly – for anything but this skirt) soft and squishy.  I regret the glitz, because, again it was imagined for a stiffer, more formal fabric, but is weird on this floppy skirt.  I think I will like wearing it because it is soft and casual, but it is not what I had in mind for my black silk garment.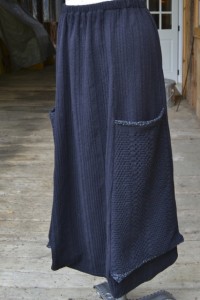 So in an attempt to weave good after bad – I am working on a silk noil collapse shawl to go with the skirt. I am using 5 different weights (from 1/30 to 2/20) and styles of silk noil (a la colourmart mill ends) and am hoping for the best.
I am using fine singles for the weft – hell on the fingers when winding bobbins –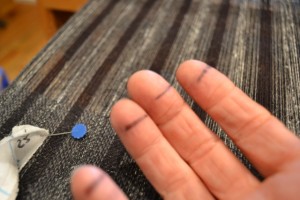 and I am getting some breakage, but I took Marg Coe's excellent advice and ordered cheap hemostats online at Fire Mountain Gems for clamping and weighting broken warp ends. They work great!