The Bad News or the Good News?
Drat!  The bad news is "Broken" washed into a nice (but not too interesting) alternating-tilted-boxes diagonal pattern, completely losing the interlocking square motif I was so excited about.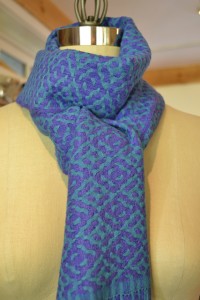 But . . . the good news is that I quickly put on another warp – this time in 8/2 cottolin @ 24 epi instead of 20/2 wool @ 30 epi – using a variation of the previous draft which is DDW threaded using a broken twill as a profile draft.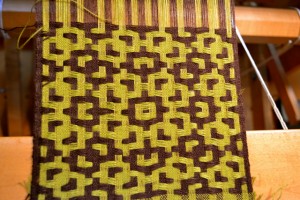 Let's hope that it remains interesting through the washing and drying process.
The OTHER good news is that while the kids are at camp tomorrow, I am sneaking off to my own version of summer camp – a one-day intensive tablet weaving immersion session led by my oft-mentioned mentor and friend, Ute Bargmann. The Fairy Godmother of New England weavers and fellow Ute groupie, Barbara Hurley, will be our host. The owner of Westfield Yarns and our guild's President emeritus, Kathy Furst Coache will be there along with jack-of-all-crafts and master-of-many Mary Lou Splain. We will have a great time!
More pics of "Interlocked" washed and dried soon – along with some stunning tablet-woven samples (let's hope).