NEWS•report
I have to report that NEWS 2013 was fantastic.  From start to finish I was amazed and delighted at the spirit, talent and humor of the Trustees, faculty and participants.  I taught a class in Deflected Doubleweave from Fri-Sun.  I had ten wonderful participants who made my first on-loom teaching experience (other than youth classes and private students) pure joy and pleasure. As you can see below  – excellent ladies.  We are sadly missing Gwen Steege from the picture because she had to leave early, but managed to weave her entire sampler and scarf nonetheless.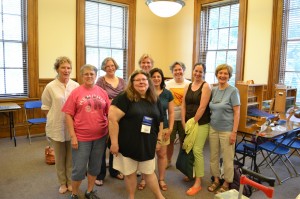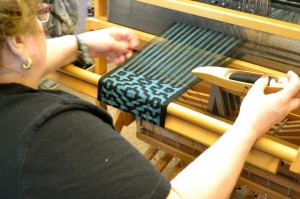 I put together a unique warp and threading for each student, and they worked through 9 (or 15) treadling variations before beginning on a scarf based on their experiments. Quite a challenge right?  But they got through it with great good humor, patience and aplomb.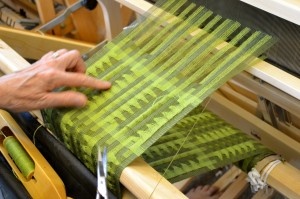 You can see the working hands of accomplished weavers.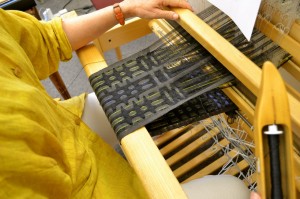 Diligently weaving away.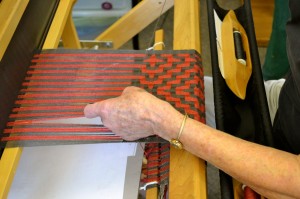 We had people on floor looms and table looms, but everyone managed to grasp the principles and teach me a thing or two.
There may have been a pause or two for contemplation, but then back to action.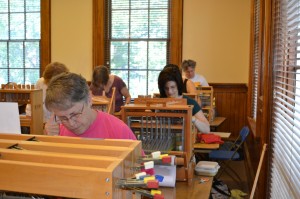 Our guild and many of my pals had great showings in the gallery and fashion shows. Barbara Gordon, Barbara Hurley, Georgia Hadley, Deb Kaplan, Cathy Russell & Anita Thompson all won a prize or many prizes.  Look for them on the NEWS website soon. Kudos!
I met several wonderful weavers whose work I have "virtually" admired:  John Mularkey of Malarky Crafts http://www.malarkycrafts.com/, Norma Smayda of the Saunderstown Weaving School http://www.saunderstownweavingschool.com/, Margo Selby http://www.margoselby.com/, Kristin Kelley-Munoz – The Skiing Weaver https://www.facebook.com/handwovenbykristinkelley. And got to know others whose work I now admire: Kathy Grant who has been working hard tracing the roots of Southern Dimity with my mentor Ute Bargmann and Virginia Dow who teaches weaving and fiberarts to youth with special needs at http://triform.org/ AND the list goes on . . .
All in all, I am convinced that hand-weaving endures in New England in the skilled hands of a small but incredible group of enthusiasts.