Towel Tale
Neglecting my blog has become the norm lately and IT HAS GOT TO STOP!  So I have an interesting "towel tale" to tell.  This is both an interesting (to us weird weavers) weaving story and a happy reintroduction of me to my loom – I mean sanity – I mean physical therapy.  As has been apparent, I have been busy not weaving or blogging about weaving, but the clouds parted and I had a wee bit of sunny time to fondle fiber.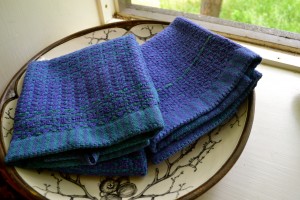 A good friend of mine, fellow master weaver, lauded weaving teacher and incredible cook Barbara Hurley gave our (somewhat flagging) weaving group a challenge.  She would give every member two 8 oz. tubes of 8/2 cottolin to use to weave three towels.  We would bring the three towels to the group in September, keep two, put one in a towel exchange within the group. The challenge was in the fact that we had to pick blind from a bag of tubes.  We had no idea what colors we would get and we weren't allowed to add any other color or extra yarn. We had to use our colors very wisely in order to get three towels out of 1 lb. of cottolin.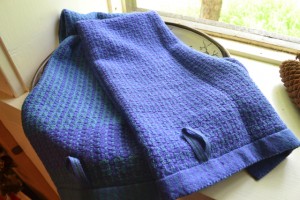 My approach was two-fold.  First, I used a test warp of some 8/2 cottolin I had on hand to see if I could get three towels (they had to be 18″ x 30″ ish) out of one lb. of cottolin in 2 colors.  And also to see if I would like what I drafted up and how many variations I could get from my threading.  So I wove the blue/green set as my test set.  Lucky I did too because I got about 2 and 1/3 towel out of my yarn.  I realized that I needed to lighten my beat and resley my selvedges. I had sleyed the selvedges a little closer than the rest of the warp as I often do, but in this case, because my interior structures had many fewer interlacements the selvedges were ruffling.
I cheated on the hems in the first set because I used a 16/2 cottolin, so they wouldn't be so bulky (no no!)
On the positive side, I liked my draft and the variations so I used the blue/green warp as a dummy to tie onto.  This saved me at least 12 -15 inches of loom waste which I needed as you can see.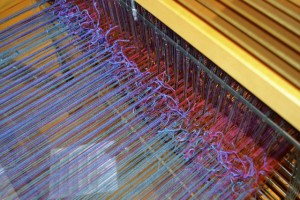 I used a method to tie the warp onto the tie-on rod that was taught to me by Ute Bargmann (wonder weaver) that allows one to use the least amount of warp to get a secure and even warp tension. This helped save some warp.  I wove three towels with three different tie ups.  One was a basket weave variation, one a dimity variation and one a I don't know what floaty variation.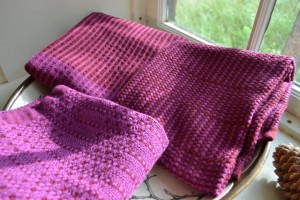 I have a couple of skips on the last towel because I wove up to the knots and my sheds were mingy.
I will have to pay Barbara for the cottolin because I cheated on the hems again – using a finer yarn for the interior of the hems (sorry Barbara). Ute taught me a double weave hem technique that you can use with a straight draw threading (mentioned in my "Hempiness" blog post), but I didn't want to the a straight draw threading.  Ute then (very generously) offered to set me up with an easy pick-up system to use in order to get a double weave hem.  This is all to reduce bulk without cheating and using a finer yarn.  I will still learn the technique, but because I was so weaving deprived and wanted to use my little window to get these towels done . . . oh the rationalizations of the criminal mind . . . I cheated!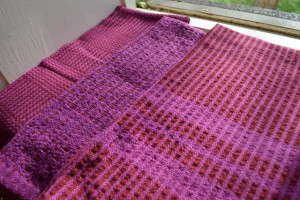 But – I have enough yarn left over to weave some inkle tabs for the towels so I am waiting to finish hemming until the inkle bands are done.  That is my towel tale (confession), and such a fun challenge.  Also, wasn't I lucky with my random colors??? It could have been so much worse!