Unraveled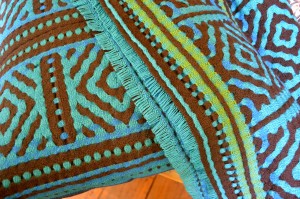 I know . . . old pics, but if you will notice I have been tweaking a bit to finish up before the Faculty Show at NEWS. I hemstitched the selvedge edges and removed about 12 ends on each side in order to create a fringe around the entire perimeter of the throw.
Then I cut the long pillow into two, added inkle bands and tassels.  In the tassels below I inserted large-ish wooden beads for a nice firm top.  I think I am going to add a brown bead tie around the "necks" tomorrow.
Also (on the sage advice of my weaving mentor Ute Bargmann) I removed the hemstitching from the blanket ends.  It was teal against the brown edge of the blanket, and it was somewhat unsightly (right as always Ute:). I was going to try to restitch with something less noticeable, but I fulled the blanket in the washing machine, and once I took the hemstitching out there was no instability in the fringed edge so I think I will just leave it as is.
I wish I could think of something to do with all the crimped warp I removed.  It looks so interesting.  I also like that the selvedge fringes are slightly crimped.  I am such a texture sucker.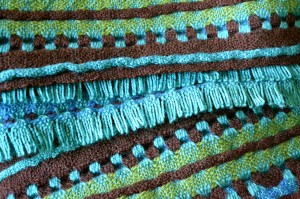 I
I am working with an (adorable) crew of fellow guild members to hang our Guild Show "Heddles & Treadles" on Friday, and I will take many pics so this stumbling old blog will have some items of visual interest – so don't give up on me!!