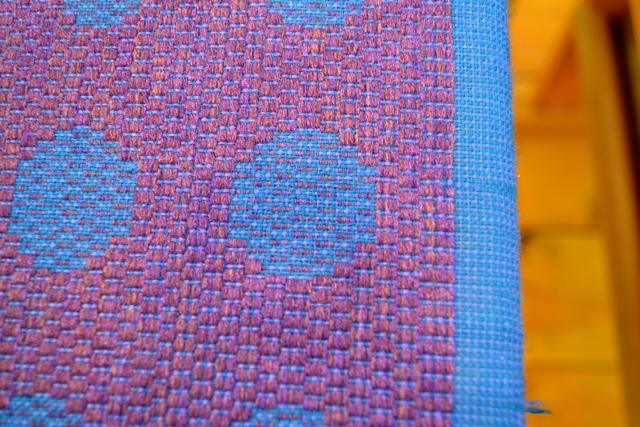 Smoothing The Rough Edges
I needed a break from the pillow pile-up and had a request for a baby blanket.  I did a quick (and familiar) blooming leaf, but wanted to do something a little more modern and fun.  I decided to re-visit Dotty on 8 shafts in Summer and Winter.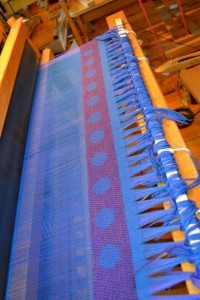 I am having some fun.  The threading is a slightly tweaked S & W threading of 1,3,2,3,1,4,2,4,1,5,2,5 . . . just repeating the sequence 1,8,2,8  enough times to get  nice spaces between the dots.  Then by modifying the tie-up and or treadling you can smooth the circles, flatten or elongate as well as add vertical or horizontal stripes – in other words – have fun and design on the fly. I don't have pics yet but I have done several rows of small polka dots then horizontal stripes and am now working on a couple of rows of larger polka dots offset from the small dots.  Very entertaining.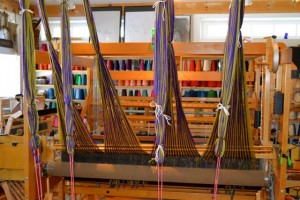 I also have a blanket warp ready to be threaded on the AVL and a quick and (so far not-so-pretty) series of throw rugs on the loom in the house.  I am using multiple strands of cotton chenille as weft and the color mix is a bit vomit-y at the moment. I am hoping to correct that before posting pictures.
Another project that has been on my mind quite a bit lately, and about which I have ranted to anyone kind enough to lend an ear is A Weaving Cooperative.  The idea has been sparked and inspired by many things, not the least of which are the weaving program that my friend Kim has set up at the University where she works (see pictures in Paying It Forward) and the weaving program run by my friend Barbara at Yale. These two inspirations in addition to the a conversation that keeps happening between my husband and me that goes like this:
Husband –  "We only have one more child to launch, and he will graduate from high school in only 6 years. The pets aren't getting any younger, and this is a lot of house to clean and paint and heat. . . we should really be thinking of downsizing.  
Me: "I agree – wouldn't it be nice to have less to clean and maintain? Wouldn't it be great to be closer to town?  . . .  Wait! What about all my looms? NO, I need space for the looms . . . believe me, you do not want to spent your golden years with me in a small space if I don't have access to my therapy in loom form!"
So the combined effects of my inspiring weaving mates, the desire to downsize house while keeping looms, and the desire to create an opportunity for younger (college-age) people to weave without having to face the daunting space and $$$ commitment that buying and owning a loom (and bobbin winder and warping board and shuttles and lease sticks and bench and  . . . . ) entail, have made we want to start a weaving cooperative.  I have a super-charged group of weaving buddies who like the idea (and actually have real-world skills and knowledge to bring to the table) who are willing to participate to make it happen.  We are looking at some spaces and thinking about how to organize, run and PAY for this dreamy dream.  Just think, workshops, seminars, pooled fiber, a brain trust of power weavers plus a public space to weave, display and (sell?) our handwovens.  There couldn't be a downside – right?