Pillow Pile Passion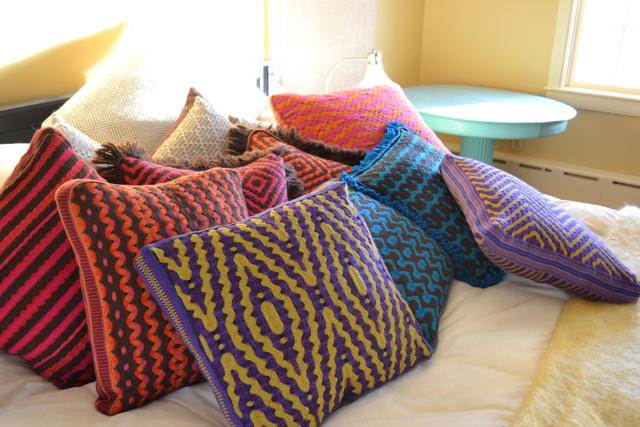 I was out and about today with my extraordinary husband (chauffeur) taking advantage of the last days (hope) of immobility (read – can't treadle) to do some long awaited errands.  Like getting my hair cut.  "How long have you been growing this?" asked the dismayed barberess. The answer is, "I can't remember because I have had my mind on other things such as animal fiber." "What? – Weirdo!"
In any case, I now have a sassy new haircut, some serious bags of yarn for my transition from passionate pillow production to breakneck (not really please) blanket begetting and a hope that I won't have trouble when my knee and my AVL meet.
We just had our Jan. Guild meeting and several interesting items came to my attention.  One was a program presented by Lisa Green on finishing techniques for handwovens. We got a great tutorial on how to use hemstitching to define a mitered edge and how to hemstitch and hem simultaneously off loom.  Lisa does some extraordinary "white work" (I think that's what it's called) And she suggested looking up Marion Scoular who is a Needlearts Lifetime Achievement winner.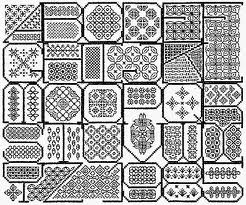 She does hemstitiching, hardanger and blackwork on prewoven cloth, but many of her techniques can be used to beautifully finish handwovens.  Here is a link: http://www.needleartworks.com/dsgnr/mss/mssimages.htm
Another Guild-related news item is that our Guild – The Weavers of Western MA – is that we are sponsoring a juried weaving show prior to NEWS on the weekend of June 22nd & 23rd. There will be prizes and acclaim so email me if you would like to enter a piece or two and I will get the entry materials to you.  Fun!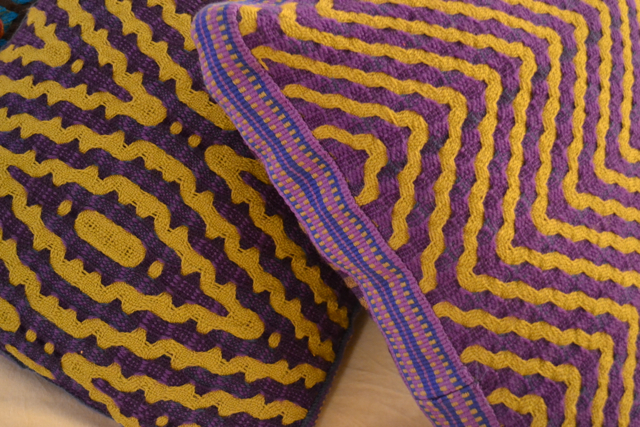 I also need some help.  I will be teaching an 2.5 day on-loom class at NEWS on Deflected Doubleweave and I would LOVE some feedback.  I am winding and sending warps and instructions to the enrollees.  I am wondering if you have taken on-loom classes working only on your own loom/warp and also round-robin style.  Which do you prefer?  What do you see as the advantages/disadvantages of each? I am also thinking hard about the materials.  I have been advised that everyone should have a warp in the same material to make teaching easier and more streamlined,  But I would also love the opportunity to show the class the wild array of possibilities in combining fibers this structure offerts . . . ideas? opinions?