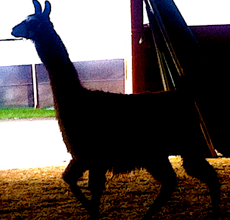 Sheepy Wool on My Mind
I just spent the last three days immersed in the New York State Sheep and Wool Festival – dubbed "sheepy wool" by my kids years ago when I used to take them to every one in the New England/Midlantic Region.  I was helping my friend Gail Callahan (Kangaroo Dyer and inventor of the Color Grid) set up to teach two days of dyeing workshops.
My mind is filled with issues, concerns, ideas and stories that I would like to share.  I would love for you to read and weigh in (via email) if you are not too caught up in the Presidential debates.
Story one might resonate with any fiber fanatics reading.  Gail and I left our homes in Western MA mid-morning on a rainy, nasty Friday after schlepping and loading all the myriad supplies necessary for a weekend away from home, a complex dyeing workshop, and the Kingston Holidome Spinning, Knitting, & Drinking extravaganza that happens at the Holiday Inn in Kingston NY every NYS Sheep & Wool Festival weekend.  Let me tell you that I have a pretty high capacity truck for times like these, and it was packed to the rafters (what are car rafters called?).  We arrived at Rhinebeck after a drive that should have been terrible because of the torrential rain, but was fun because of the company.  We unloaded the truck, carted all the supplies in my handy yellow garden wagon and rambled through the fairgrounds handing out Gail's Amazing Colorgrid.  It was really fun for me because in the fiber world Gail is a bit of a celebrity . . . "Oh, you're her!  I love your grid . . ."  Anyway, we headed back to the Holidome, but we were a little too worn out to join in the festivities, but said hello and headed for the bar for a night cap before bed (is it called a night cap at 7:30?)
The next morning we left at about 6:30 so we could have some breakfast and make sure that Gail had plenty of time to organize everything before her class.  I set my navigation system for "Sheepy Wool" and started driving.  The Holiday Inn is about 6 minutes from the Fairgrounds in the early morning, so Gail and I were yakking away when we noticed that 30 minutes had gone by and we weren't at the fairgrounds.  What?? OMG!  I had set the nav for "Sheepy Wool", but it was Maryland Sheepy Wool, not NY State Sheepy Wool.  Poor Gail . . .  we were traveling along the Hudson river heading to Maryland, so it was about another 20 miles before we could even turn around.  Needless to say, I was abject and Gail was (is always) kind and forgiving even though it was incredibly nerve-racking trying to make it back before her class started.  6 minutes away and we left with 2.5 hours to spare and Gail got to her class 20 minutes before it started at 9:00 am.  Sorry again Gail!
After that exciting start we got absolutely beautiful fall weather and the festival was a true sea of people.  I was so lucky to have been able to peruse the booths prior to the opening of the fair because you could not get near many of the booths once the crowds arrived. Here is what I saw – beautiful and abundant yarn for knitting, creative and lovely booths with spinning fiber and felting supplies, many very young "yarn-trepreneurs" with great style and colors, fiber animals and finished products and very, very little weaving:(  Among the 20 or so instructors, only one – Daryl Lancaster, was teaching weaving.  Among the abundant contest entrants, I only saw three in the weaving category.  What is going on you all?  There was only one booth in the whole fair that had a fair array of weaving supplies.  Believe me – I applauded her efforts on our behalf. This is an event that had (I hear tell) over 12,000 visitors (fiber fiends) on Saturday alone.
I was so taken aback at how much the weaving community had receded (I have been going for about 15 years) that I started asking young knitters if they had ever thought about weaving.  Mind you these are young women who are serious knitters.  No bulky weight for them – complex, time-consuming, process-oriented knitting.  I expected to hear what you always think you will hear . . . too expensive, too much space required.  No!  The response was, "Yes, I would love to learn, but I don't know where to go to get instruction."  So there seems to be this vicious cycle.  Weaving shops/loom manufacturers/textile classes are closing due to lack of interest, but the lack of interest might be exacerbated by the lack of instruction available.  What to do?  What kind of outreach works?  I have a friend in CA that started a program at the University where she works (Hi Kim!)  What else?  The guilds don't seem to be reaching the young knitters and spinners, and why not?
I would love to hear from people who have seen some young additions to their guilds.  We have one or two who are younger than me  . . . so that makes me one of the youngest in my guild and that is SCARY!