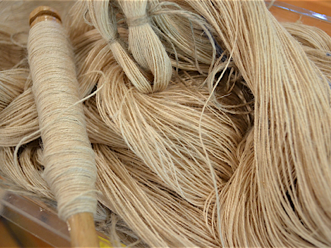 Hemp Happiness (Hempiness?)
I just got a LARGE cone (2.2 lbs) of hemp yarn from
http://www.hemptraders.com
in the mail, and I am filled with hempiness. Hemp traders were mentioned in Handwoven and I visited their website and was enthralled. Once I overcame my brief fear of having to figure out what 10nm meant (7th-grade metric system PTSD). If my calculations are correct, they sell (10nm) 4545 ypp weight – which I purchased and am currently waffling with at 24 epi – and (16nm) 7200 ypp. I haven't yet washed the first towel, but I will report the outcome. But so far the hemp is lovely to work with. It has a great sheen and is very strong.
My second cause for happiness is a telephone interview I had with Anita Osterhaug, Editor of Handwoven magazine. We talked (or I rambled and Anita very nicely listened) about sewing with handwoven fabric. I think I will have a wee corner in their upcoming garment issue.
Finally, have you seen the Fashion 2012 Catalog by Bloomsbury Academic 
http://www.bloomsburyacademic.com? It was lent to me by my friend and weaving mentor Ute Bargmann. It has some really covety books on pattern making and dyeing/printing textiles as well as an endless array of inspirational books on fashion designers, clothes history, design in general and many more. As usual, Ute is my resource goddess. Whatever I stumble upon in my weaving life, she will have or know or have made a great book, pamphlet or set of samples on just that topic. What a friend!!