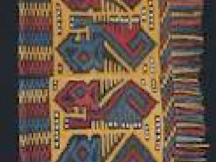 A Very Happy Birthday
As part of a wonderful birthday weekend with my sister in New York, I was able to see a small but spectacular exhibit called "The Andean Tunic: 400 BCE to 1800 CE" at the Metropolitan Museum of Art. It will be up through October 16th, and I urge all weavers and textile enthusiasts to take a jaunt to NYC. The photos above don't even come close to showing the incredibly fine and intricate work on the Andean garments. One of the tunics is woven using discontinuous warp and weft in a beautifully and mysteriously woven piece that one could look at for hours. There were tapestry-woven pieces so fine it was hard to tell the direction in which they were woven, there were fine lacy leno pieces of incredible intricacy woven using hand-spun cotton and alpaca and on and on . . . well worth a visit.
Heading toward 50 didn't seem so bad because I also got to see a preview of the movie "Anonymous" and hear one of the foremost Shakespeare scholars in America duke it out with the top-grossing film director in America on the Stratfordian vs. Oxfordian Issue – Go Stratfordians! Also . . . thanks to my sister's best friend I got to sit six rows away from the stage while Sting, Bruce Springstein, Stevie Wonder, Lady Gaga, Robert Downie Junior, Herbie Hancock, Mary K Blige, Rufus Wainwright, will.i.am and Billy Joel celebrated Sting's 60th birthday (a charity concert to benefit The Robin Hood Foundation). I have to say that seeing Sting's 60-year-old (and pretty incredibly gorgeous) bod gave me hope for my next decade – yoga, yoga, yoga. My daughter just wished never to hear (or read) me using the word "bod" ever again.
The grand finale of the weekend was a road-trip (with home-baked goods) from NY to New Haven to pick-up my niece and proceed to Providence to pick-up my oldest son, go to lunch and hear all the hilarious trials and tribulations of modern frosh. A Really Happy Birthday.