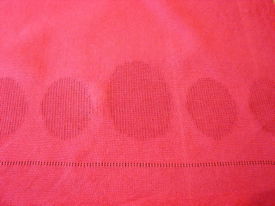 Brilliant!
I just got a gift from the fairy godparents of weaving in Western Ma – Barbara and John Hurley!! John made it, and it is a deluxe Rya jig. You use it for wrapping the pile for the rya knots so that it is uniform. It also has an ingeniously designed groove along which you run the rya knife – making cutting swift and even. Fabulous!
I have been using a wee little wooden jig that shoots splinters every time I run the (also ingeniously designed by John) rya knife over it. I know it will speed my SLOW cloth along. Yippee!
Also new deflected doubleweave scarves using hand-spun, hand-dyed blue-faced leicester and bamboo.
Also, a new (7th) towel to add to the (now 5 rejects, 2 possibles) apron project. Egg-y – just not in time for Easter .. .