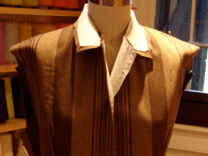 Coat
I am in the lining stage of the coat prototype project and this is what I have learned: 1. I failed to match stripes – I better research how to match plaids before the real project. 2. The fabric is nice but lighter then I want for the final coat. 3. The size is just right for the light fabric over a thin shirt but will be too small for a heavier fabric over a sweater for winter. 4. Sewing the lining is pretty much as time consuming as sewing the coat so I better choose/weave an interesting lining.
I have two used couture sewing books coming, and I hope I can find some tips and tricks in them before the fabric is woven so I can ACTUALLY match the plaid (which – mind you – doesn't yet exist).
I am thinking of using 3 or 4 colors of Jaggerspun Heather 2/8 fingering weight in plain weave for a warm medium weight fabric. For this project I will sample or die – I swear!