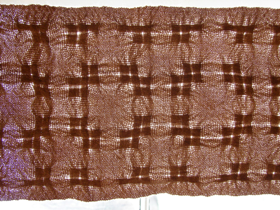 Back in the Saddle
I have been away from the studio and consequently away from my "fiber diary" for some college visits, family time and necessary, but painful non-fiber work. However, I have been percolating some ideas and here are some of my experiments. The blanket is something I have wanted to try for a while. It is a mohair/wool blend threaded in a 2/2 point twill using four threads as one and then vigorously fulled. I made a fairly novice mistake (I can't quite follow my own thought process when I try to reconstruct how I ignored what I know happens – the ruffling effect – when putting a plain weave border on a twill structure???). I will get better photos tomorrow, but the texture is soft and drapey while being very thick and cozy – I like it!
The next is my own draft inspired by the "fulled merino scarf" article by Sandra Rude in The Best of Weavers – Fabrics that Go Bump. I used a lace-weight baby alpaca and drafted it so I would get plain weave at the selvedges. I don't like it as much as Sandra's draft that creates the great curves, but I like having more predictable selvedges. It is slightly more sedate – my son loves it and took it when he went back to school – very soft and warm.
I now have three naked looms ready for the next "big idea" – can't wait.