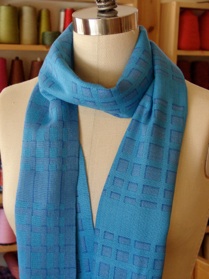 Leah's Windows
Windows scarf washed and dried – I just have to finish the fringes. I don't know what got into me – I am a fringe dweller – I love the long fringe. For this scarf I only left 6" – I must have been possessed by a minge fringe conservative at the time. Who knows. On the other hand I think the scarf is good – 3-D effect works, no errors, silky, soft and very blue.
Now back to the warping reel for a tie-on version. Same threading – wild color changes. Wait and see.
Last note – I am (with the help of oh so close to my heart youtube) learning drop spindling after many years using a spinning wheel. I am learning in the privacy of my studio and the results remind me of when I started spinning on the wheel. My wee (at the time) daughter said that my yarn looked just like the yarn in her book. I – glowing with pride – responded, "which book, sweetie?" She proceeded to show me her DK book on prehistoric cultures with ancient artifacts such as a bundle of fat, bumpy, hairy yarn in a big knotty lump. Thanks honey.