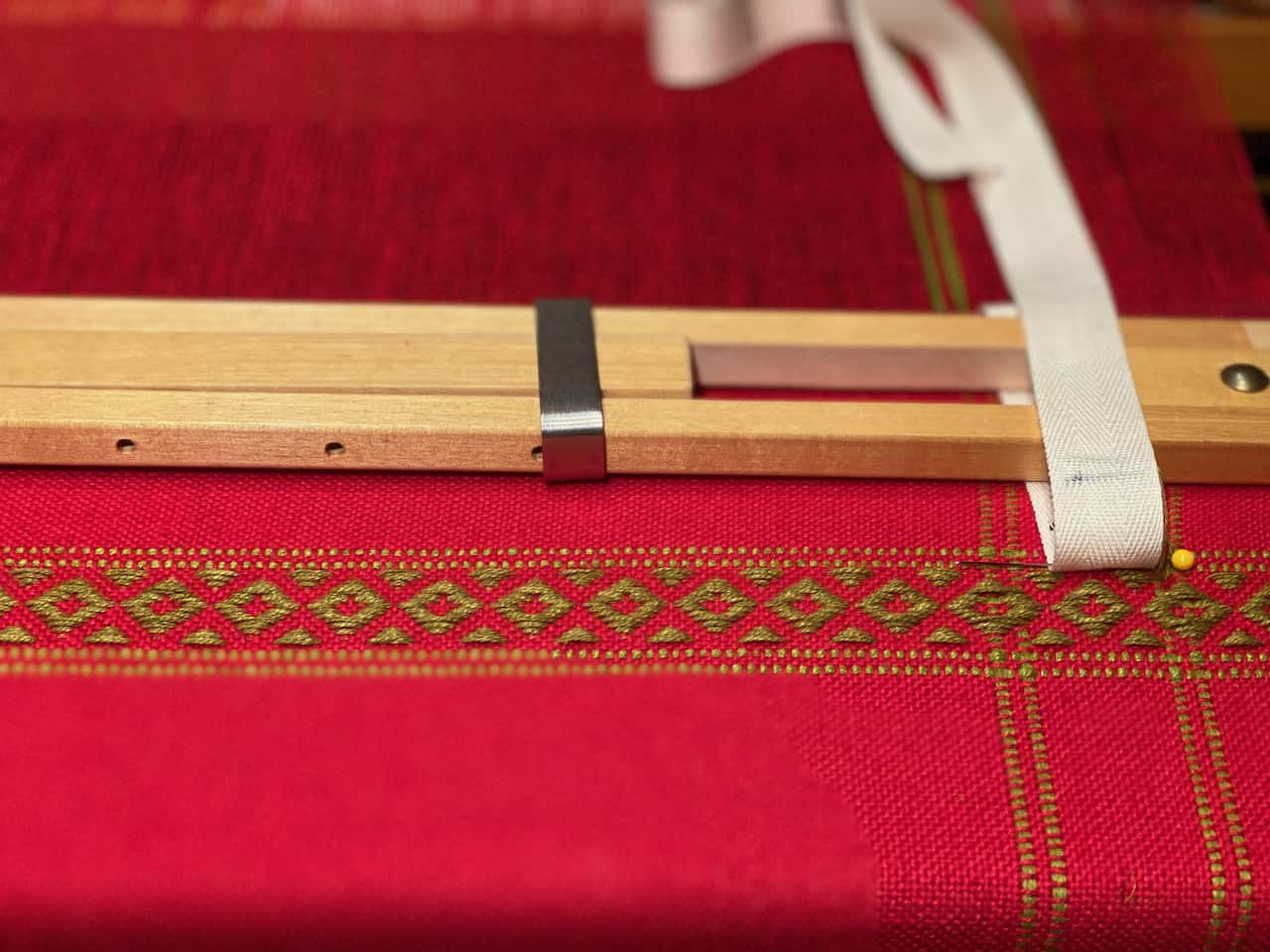 Twill Me Now!
Hello Weavers
I hope your holiday season is shaping up to be relaxing and filled with good will and kindness. I am happily anticipating the arrival of kiddos with their partners and pets, and am trying to check off as many of the "gonna dos/wanna dos" as I can before the chaotic pile-in commences.
I have delayed the first part of my promised Twillogy for months and not only due to procrastination . . . although this quote rings a bell.
I think of myself as something of a connoisseur of procrastination,
creative and dogged in my approach to not getting things done.  Susan Orlean
There has been a lot going on for all of us in simply trying to navigate our new reality. For me, an introvert by nature, who really did not need an additional (scary) incentive to live my life in my barn with my looms, re-emerging "post" covid has been fraught and thrilling and more fraught and more thrilling. Teaching in person again, traveling again, and traversing our country feeling the very weird mask shaming/no-mask shaming rollercoaster of tension, has made me simultaneously realize how much I had missed working with weavers in person and what a sweet bubble I had in my barn.
And what made it sweet (other than the misty, moisty, windy, hot, cold, green, gray rollercoaster of western New England) is the always intriguing, eternally frustrating, (almost) never boring pursuit of cloth.
SO let's get to some twill fun and games.
The definition of twill is from Wikipedia is: Twill is a type of textile weave with a pattern of diagonal parallel ribs.
We weavers pretty much know this, but I want to talk about 3 random twill notions that have charmed, fascinated or helped me in my weaving life.
#1 The Twill Circle
The twill circle is a simple visual aid that can not only help weavers understand the nature of twill interlacements, but free them to play. It also comes in handy for other weave structures like deflected doubleweave, but that is for another time. The idea is that you can roam freely around the perimeter of the circle and still get a continuous twill line.
The twill circle works equally well for 8 and more shafts and can definitely help you when starting to investigate things like network-drafted twills – see Robyn Spady's March 2019 issue of Heddlecraft for some great info and an intro how-to.
#2 Twill on Opposites
I am a weaver who loves investigating interlacements, but in my cloth I am often seeking SCALE. I love the "weaver's handshake" – the idea that weavers greet each other by zooming in to examine a scarf or jacket that has an interesting structure, but I find myself wanting to make fabrics or patterns that can be seen without "zooming in". So if you have a twill draft that is dreamy up close, why not make it dreamy from a distance? You can do it by using the concept of twill on opposites. The basic idea is that for every pick you weave of your twill treadling, you follow it with a pick on the opposite set of shafts in a contrasting color.
So you can go from this
to this
I haven't experimented with different weights for the 2 wefts, but I am interested to see if I can get an equally bold design with a less elongated motif if I use a finer weft for the "opposites."
#1/3, 3/1 Collapse
Another twill thrill I love playing with is the warp-faced/weft-faced delight of collapse weave. Collapse weave can be accomplished using a variety of structures and fibers, but a classic is using stripes of 1/3 twill next to stripes of 3/1 twill. Because the stripes have what I think of as "different surface tensions," the fabric will accordion when the tension is taken off the loom. There are a few rules you have to abide by to get the most collapse in the fabric, such as a weft that is about half the grist of the warp, and blocks that aren't too wide, etc., but it is another example of twill magic.
I'd love to hear what twill adventures you have been on. There is a vast world of twill out there, including plaited twills (oooh there are some marvelous "metas" among those plaited twill drafts), fancy twills, undulating twills, advancing twills, fancy twills, tartans and more.
I am hoping that another four months don't go by before I say hello again, but I am "creative and dogged in my approach to not getting things done," so we shall see. In the mean time, I have an announcement that is super exciting for me, and I hope for you too. We have a couple of new patterns ready to launch, as well as a revised version of Mosaic with a new colorway, and lots of new information. Véronique Perrot has woven a beautiful vivid set of towels in the Mosaic pattern, sett slightly more tightly and using 8/2 cottolin instead of the original Italian cotton/linen from Gist. And we have added all the new deets in a supplement, and will be sending the updated pattern to anyone who has already purchased. Take a peek at these beauts!
In addition to that, we have a super fun, fast and fluffy scarf pattern called Asymmetry Ahoy in Brooklyn Tweed Loft in two colorways.
And on top of that, Véronique has come up with a cozy, plump, 4-shaft, log cabin blanket pattern perfect for the winter season. It is designed using a plethora of purples, but Véronique has given very clear instructions for creating your own colorway . . . a bundle of blues? a gathering of greens?
So if you have the urge to take a peek, the link to the Plain Weave Etsy page is in the Portfolio.
And finally, I want to wish you all the most wonderful holiday season and an abundance of health, good cheer and twill as we head into 2022!