Taxonomy – Tax on Me Nerves!
I have an exciting project on the loom.  It is a 20/2 wool dimity in three shades of brown.  Having learned a lesson with the black dimity skirt, i.e. make sure to enjoy the rich texture yourself because if it is black, no one else will be able to see it. I decided to make another dimity fabric (thank you Ute!!) highlighting the vertical ridges with color variation. BTW I love my new 1/2″ raddle sections!
The side facing up is the wrong side.  This Southern dimity is not really a reverseable fabric. You can see the two browns in the warp, and they show on the face of the fabric, but because the back side has all the dark weft floats, you can't really see the color of the stripes very clearly.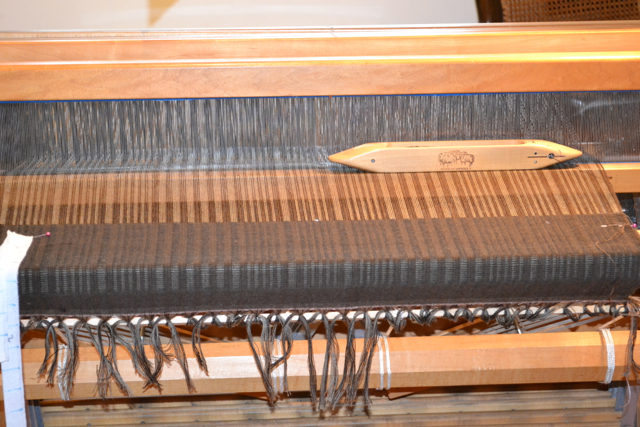 This is the back side (again, the color in the pic is wrong . . .) You can see the structure clearly. In one set of stripes every weft pick weaves plain weave.  In the other set of stripes one weft weaves plain weave and the next weft pick floats.  This causes the densely woven stripes to recede (on the front) and the others to pop up thereby causing lovely textural ridges once it is off the loom and washed.
I can't wait to get it off the loom, but I had to warp 6 yards, and it is weaving at about 40 picks per inch, so I have miles to weave before I sleep . . .
In other project news, I have finished sewing the proto-coat-o that I wanted to make to see if it would make a good pattern for a hand-woven garment.  I like it!  It is a "Today's Fit" by Sandra Betzina through Vogue.  It allows you to alter the pattern according to your body type.  So, I could make the top part a size smaller than the bottom part (sigh!) easily without really knowing how to alter a pattern. I sewed this in a heavy-ish commercial linen, faced with a green accent.  I think it would be great in a textured light wool . . . I wanted the colors to match the scarf, but the linen was a much less saturated brown then the scarf. Oh well – check out the flourishing hydrangeas!
I debated about adding snaps on the placket – too Matrix?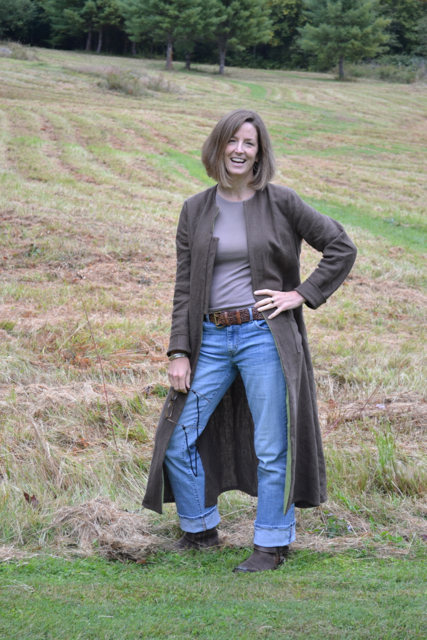 Anyway, On to the latest mind scramble.  I have very recently had at least three little tiffs over the correct naming of weave structures.  I would like to talk about this.  I always want to be as accurate as possible, use the available terminology clearly and purposefully, and I admire weavers like Bonnie Inouye, Laurie Autio, et al who have a very deep understanding of structural nuances and are able to explain things clearly – not so easy in the hand-weaving world in which threads have been interlaced for millennia under hundreds of different names in different languages, and sadly there has never been the giant weaving editor in the sky who insisted on consistency, continuity and agreement on taxonomy. I may be kicked out of the hand-weaving world for writing this, but (for my own purposes) I don't really care what a structure is called. I want to know what its characteristics are, how is works and how it looks . . . just like I don't care if teal is a blue or a green, as long as I have teal to work with. Blasphemy! You may find me dead on my studio floor with a heddle through my heart . . .
In Madelyn van der Hoogt's recent workshop she lamented the lack of language available to weavers to describe structures clearly and accurately.  She made an excellent point when trying to describe alternate blocks in an A,B,C,D sequence as odd blocks.  She said that she knew full well that the letters  a & c are not "odd" but there needed to be three or four variations of the word "alternate" for weavers to use in order to be clear.  I know I have heard practically every weaving teacher I've had say the following, "It is so much easier to weave then it is to explain . . ."  This has to be because the language is so poor in this realm.
Anyway, I am curious to hear your thoughts on this whole issue of weaving taxonomy and terminology and how useful, accurate and important they are.