The Joy of the Mundane
I was going to write about how neglectful of my blog (and my weaving) I have been in the face of holiday preparations.  I was going to lament the arduous task of making up for a year of housework delinquency in a one-week scramble.  But, my perspective has shifted a bit, and now I am grateful that my worries and woes are so cozily mundane at the moment.
The above photo is of the studio chaos – many looms, many in-process projects – nothing can be cleared up or put away because they are all semi-interconnected.  I am still experimenting with edgings for the pillows – very slow – very frustrating – very few "yes!" moments. The photo below is of the experiment in brown wool fringe.  The fringe edge has been stabilized thanks to a tip from Barbara and her reference to Virginia West's book Finishing Touches for the Handweaver.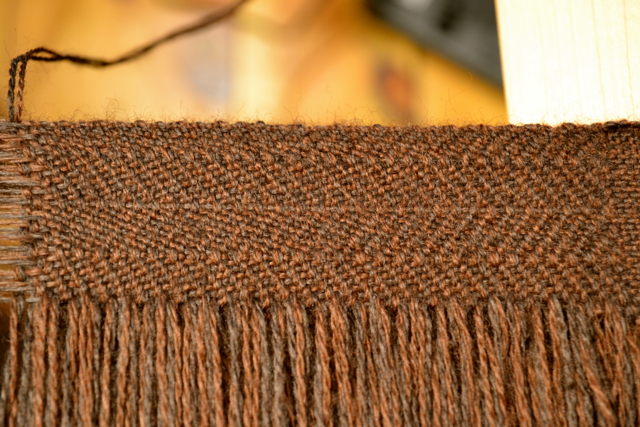 The photo below shows one advantage of he serious pre-holiday culling that my husband and I have been doing for the last week or so.  This was a pretty lame wine rack that we bought and didn't use for many years.  Makes a pretty good temple/raddle/warp stick/lease stick holder right?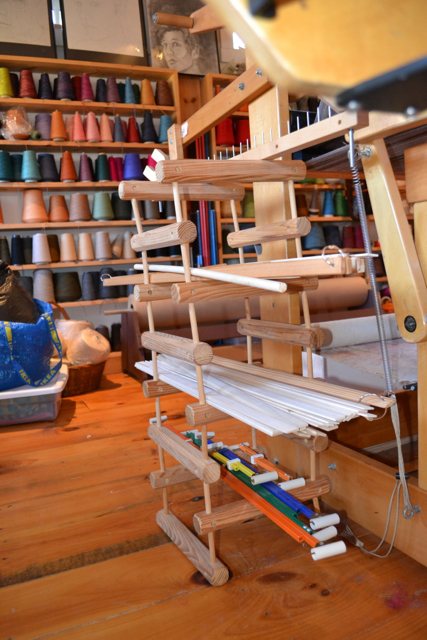 Another (funny and nostalgic) find in the purge was this . . . a pre-computer, early attempt at drafting by me.  I was about to recycle it when I thought it might make funny blog fodder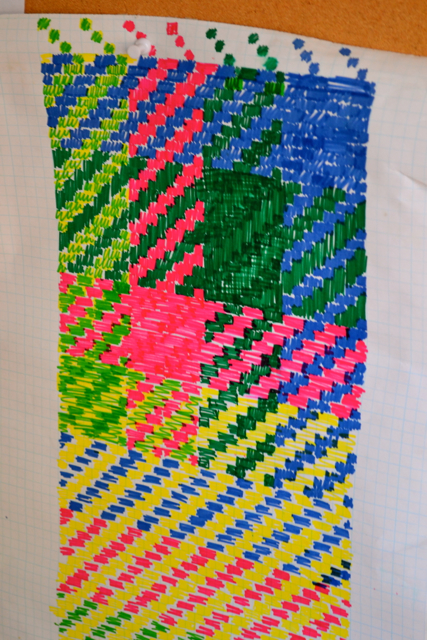 I think my mom might still have (and use!) a set of placemats in that very colorful design. Bless the supportive parents.
Finally, there are still prizes to be awarded, so, at this busy, busy time of year drop me a line and let me know if you are doing any holiday weaving. If you have any early experiments in drafting – please share.