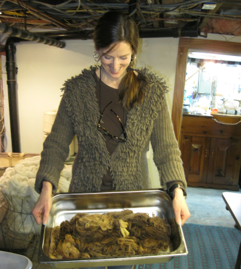 Which Is It?
Sorry to have neglected my blogging for a couple of weeks, but I have been slowly working through this project with a few fits and starts. I wound 4 warps and 4 wefts in 3600 yds/lb merino to dye with my weaving buds at the studio of Gail Callahan aka The Kangaroo Dyer. We wanted to learn warp painting, and Gail generously volunteered to teach us. We had a ball and even though my warp looks like some very baaaad cooking project in the photo 
I was excited to warp it up and try a double weave experiment I had conceived on paper. Now for the "what went wrong" segment of the story . . . (why is this always the biggest part of my story?)
• Problem 1: there is the problem of drafting double weave on Weavemaker. It won't. You can set up the threading/tie-up, etc. but the drawdown looks very little like your cloth will look. This was particularly true of this DW because I planned to weave the different layers at different widths.
• Problem 2: I wanted to dye three different warp colors for my design, but we had 4 dyers and limited time so I dyed the main color and planned on dyeing the other two at home without the expert help/eye of Gail. The result was a slightly paler turquoise than I planned and a third "Chocolate" that turned out "Plum" and had to be edited from the design.
• Problem 3: After I redesigned I began to warp the loom and noticed that there had been quite a bit of "fulling" of my warp during the dye process. I am not sure why, but dressing became a three-day process because the design was double weave so it was densely set and each thread had to be manually separated from its clingy neighbor. Patience, patience . . .
• Problem 4: After endless dressing, the warp looked pretty good. The painting was subtle, but really added interest. Now to weave, tie up 1 – oops no – the center back is getting double weft, tie up 2 – oops no – the center back isn't getting woven at all, tie up 3 (you see where I am going with this – the first day of "weaving" was spent largely under the loom) Anyway, all I can say is that it is a good thing that I was coming down off tapestry when I did this because every step was slow and painful.
• Solution: I ended up weaving a double weave using three shuttles and some discontinuous weft technique (again, thanks tapestry) to get an effect I liked. Or I think I like . . .
And that is the question. Which is it? Rich, interesting and dramatic? Or gaudy, garish and harsh? I can't see it – all I can see are the problems and the solutions.
Thoughts?