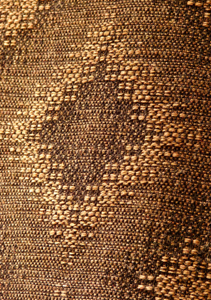 Cracking Crackle
I just got the crackle upholstery fabric off the loom. It needs to be measured, examined for errors and washed. Then I have to learn how to upholster – yikes!
Once again, the Master Weaver Certification process has forced me to embrace a weave structure that I had previously spurned. I really like the halo effect and the little motifs hidden in the larger scale design. I used a draft by Susan Wilson from Carol Strickler's Weaver's Book of 8-Shaft Patterns pretty much without any changes – just my choice of fiber, sett, etc. It is actually the draft from the cover of the book. Anyway, I learned a little about crackle, I learned that I want to revisit it as a structure and I learned that Susan Wilson has a book on crackle that is supposed to come out this year.
I also wanted to talk about a recent download from Handweaving Today. I downloaded "Weaving Well" by Madelyn van der Hoogt last week. I watched it over two evenings and initially thought that it should have emphasized that it was for beginner weavers – tying on, using a temple, winding a bobbin, etc. However . . . I have since incorporated several of her suggestions into my weaving and I am very happy with the results. I really recommend watching it.
I will post the upholstery process as I learn and do it. Wish me luck!