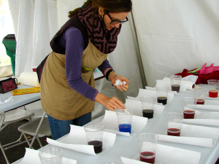 Sheepy Wool
I spent the weekend with my good friend and dyer extraordinaire, Gail Callahan, at the NY State Sheep & Wool Fair (called Sheepy Wool by my kids when they were little). We had a wonderful weekend – dramatic, windy weather – perfect for everyone's hand-made woolies. Gail taught 3 classes on dyeing, and was energetic and fast on her feet (as usual) when dealing with power issues and the somewhat nerve-wracking set-up of many pots of boiling water next to billowy tent walls. I helped with the schlepping and was left with a luxurious amount of time to wander the endless fiber feasts.
The evenings were spent with a raucous crowd of knitters and spinners who would gather to knit and spin in the "holidome" of the Kingston Holiday Inn. Gail & I brought our wheels so we really "needed" to buy some spinning fiber in order to join in! Needless to say we found something lovely to spin at the fair.
It was really wonderful, and although I did miss the fam a lot, a bit of a comedown today to return to piles of laundry and a "mom's been away" house. Hopefully, I will get out to the studio tomorrow to translate all that inspiration into a woven something.