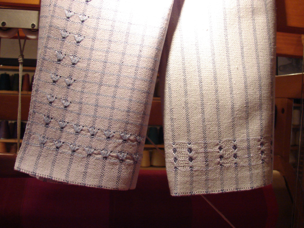 You Dirty Dish Rag You
I am weaving the last towel on a 6-yard towel warp using my new love, Brassard 16/2 cottolin. I wound a warp with three somewhat desaturated colors: lilac, pale blue and periwinkle. I wanted soft, absorbent towels so I doubled the yarn in the warp and set it at 15 epi (problem # 1). I threaded in an 8-shaft point twill in order to do several towels in hand-manipulated lace accents on plain weave and then an waffle for the last towel. I planned to weave at 15 ppi (problem # 2) using the 16/2 doubled as weft (problem # 3). I have cut off some sampling and two complete towels, washed and ironed them and here is what happened.
I was not able to get a 15 ppi without weaving gauze – more like 20 ppi. The washed towels have a great hand – secure but soft – so mission accomplished – right? Well . . . The weird consequence of the unbalanced weave is that the nice desaturated colors in the warp got even more desaturated to the point of being kinda "dirty dish rag" (see above). Granted the photography isn't the best, but the colors are boring at best and dirty-looking at worst.
Another issue was the doubled weft. No matter how many ways I wound the bobbins I couldn't get the doubled thread to unwind evenly. Eventually a loop would develop causing me to have to clip or the bobbin to tangle on itself. I often use doubled threads in the weft wound on the same bobbin with no problems. In fact, I gave away my double bobbin shuttle because I found I had better success doubling the weft threads on one bobbin. The only variable is that I have been using an end-feed-shuttle for these towels which may be the source of the looping agita – really nice selvedges though. I need to investigate further why this is happening.
Yesterday I wove one towel using a really nice Brassard Hemp/Organic Cotton as weft. I will finish this warp today and report on any other developments. I love weaving with this yarn despite my color? sett? miscalculations.