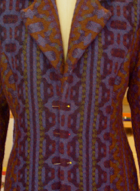 Almost There
Well, I cut and cut and cut and sewed and sewed and sewed. I am somewhat happy with the results, and I still have a lot of handwork to do . . . oh no! buttonholes – again! These are the areas I struggled with and didn't really resolve:
Matching patterns – as you can see I matched in some crucial areas, but no matter how much I shifted and measured and placed – I couldn't quite figure out how to match the pattern vertically when the pieces are curvy. I guess that will be a question for my Convergence teacher.
Fit – I made a muslin which was of very little use because it was muslin – a thin fabric – that didn't really give me an indication of how a thick, lined wool coat would fit. Then I took all my measurements and compared them to the pattern measurements and came up with a size that seemed correct, but the coat is much too big ??? Also, I really want to reduce the shoulder size – a little too 80's for me, but I am not really sure how to do it.
Stretch – as I am hand-sewing the final bits of coat fabric to lining I see that the wool coat fabric is fairly stretchy and will start to bunch where it is attached to the un-stretchy silk lining. Again, perhaps a question for my Convergence teacher. Should I have fulled it more thoroughly? Interfaced the whole coat?
All in all, a pretty good experience except that I need more professional guidance – so the question for the next project is whether I should take some tailoring/alteration/pattern classes or whether I should hire a professional seamstress to do the sewing for me? Now for the hems and buttons . . .
I should be finished with my fully-lined, full-length, wool coat just in time for the first 90 degree summer days.